What are the Best Exercises for Seniors?
Exercising is good for the body as people age, helping to ensure good overall health, strength, and flexibility. Among the best types of exercises for seniors are those that build strength and stability. They help build muscle, boost the metabolism, and prevent falls that can be dangerous for senior citizens. Stretching and endurance workouts are also healthy exercises for seniors, helping older people maintain mobility, flexibility, and stamina.
Strength workouts are among the best exercises for seniors. They help to not only build muscle and strength, but also to make the bones stronger. These exercises can also boost a senior citizen's metabolism, which can be important for the maintenance of healthy blood sugar levels and normal weight. Strength exercises can even help slow the muscle loss that is a common part of aging. A senior citizen who isn't used to exercise may start out performing strength exercises without weight and then add weights as he gains strength.
Balance exercises are good for senior citizens as well because they build muscles in the legs and strength in the lower body. They can help a senior citizen have better stability, translating into lowered risk of serious falls. It is very important for senior citizens to avoid falls, as such accidents can be debilitating as a person grows older.
Stretches are also important exercises for seniors. They help improve flexibility, making it easier for an older person to remain physically active and move around without stiffness and pain. Additionally, stretching exercises help senior citizens avoid muscle-related injuries, which can occur in the course of exercising as well as during daily living.
No list of the best exercises for senior citizens is complete without endurance exercises. These exercises help a senior citizen build stamina and boost metabolism. They also help to keep the heart and circulatory system healthy.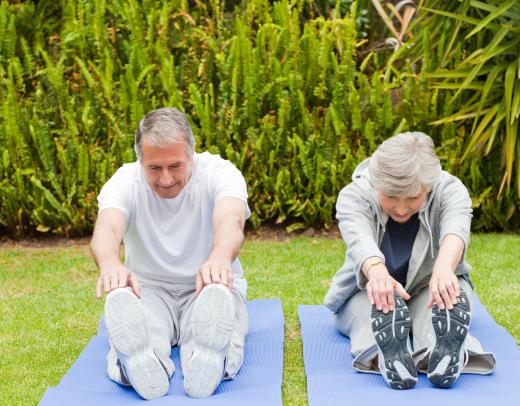 Regular exercise can mean the difference between staying healthy and independent and a severely decreased quality of life during the golden years. Not only can it help ensure that seniors can get around and continue to do the things they enjoy, but it also helps to prevent serious health conditions, such as heart disease and diabetes. It may even help make a person less vulnerable to pain from arthritic conditions and depression.
Though exercise is good for senior citizens, it is smart for seniors to speak with their doctors before starting any new exercise program. A doctor may suggest specific exercises or make recommendations regarding exercise frequency. In some cases, he may also recommend avoiding certain exercises altogether.
AS FEATURED ON:
AS FEATURED ON:

By: Paul Maguire

It's important for seniors to have good balance, as this may help prevent falls.

By: WavebreakMediaMicro

Some seniors enjoy yoga.

By: Monkey Business

In addition to physical activity, it's important that older adults keep their minds sharp by doing crossword puzzles and other "brain games."

By: beeboys

Walking can be a good exercise for seniors.

By: Lisa F. Young

While intense exercise is not always recommended for the elderly, exercises that improve flexibility, balance, strength and cardiovascular health usually are.