What Are the Common Causes of a Swollen Eyebrow?
Swollen eyebrows can be alarming, often stemming from infections, allergies, or skin conditions like dermatitis. Trauma or insect bites can also cause swelling. Have you ever wondered how your daily habits might influence the health of the delicate skin around your eyes?
A swollen eyebrow may be caused by an infection, irritation from tweezing, or an ingrown eyebrow hair. In addition, a new or infected eyebrow piercing can cause swelling. If the eyebrow piercing causes pain, swelling, bleeding, or drainage, a healthcare professional should be called because these symptoms can indicate an infection. When there is an infection, the medical professional may remove the piercing and recommend an oral or topical antibiotic. To further relieve symptoms, the piercing may need to close completely.
Other causes of a swollen eyebrow include an allergic reaction to cosmetics or facial products, and injury or trauma to the area. Sometimes, when a new cosmetic, such as an eyebrow pencil or eyeshadow, is used, the individual may experience swelling. Applying ice is generally helpful in bringing the inflammation down, but if ice is ineffective, an over-the-counter anti-inflammatory medication may be used. The medical professional should be consulted before taking anti-inflammatory medications, however.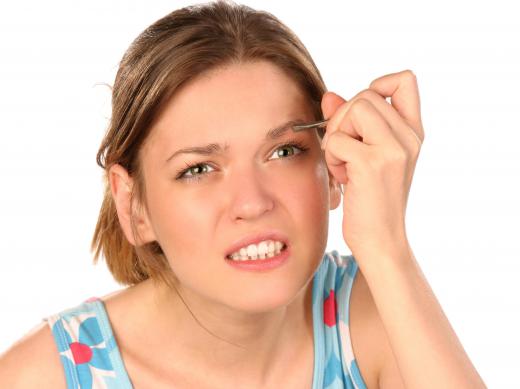 Eyebrow waxing or other means of hair removal can be irritating to the eyebrow, and it is not unusual for these treatments to cause allergic reactions that can lead to facial swelling and swelling of the eyes. If this occurs, a medical professional should be seen for evaluation and treatment. A skin condition called dermatitis can also cause chronic eyebrow swelling, as well as itching and flaking of the skin. Sometimes, topical steroids are helpful in relieving these symptoms.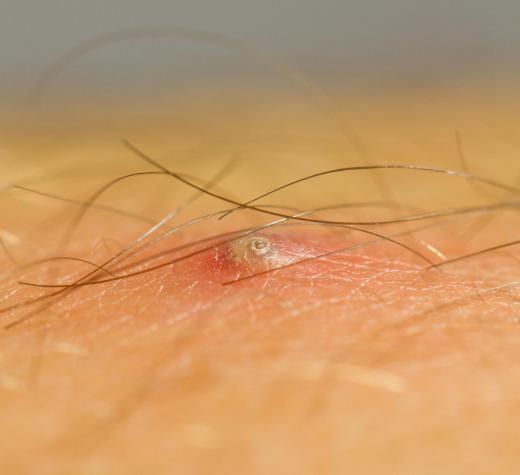 When an infection is present, one of both of the eyebrows can swell. Ingrown hairs and pimples can sometimes cause a bacterial infection, and when this happens, an oral or topical antibiotic may be prescribed. In addition, the person with a swollen eyebrow should refrain from touching or scratching the area and avoid the use of cosmetics, facial washes, and hair-removal products.
Fungal infections can also lead to swelling and can cause itching, redness, and elevated patches of salmon-colored plaques. They can also cause a loss of eyebrow hairs, as well as scarring. Typically, this is treated with a topical anti-fungal cream, but occasionally, an oral anti-fungal medication will need to be prescribed. Oral anti-fungal medications, however, can cause nausea, diarrhea, abdominal pain, and vomiting.
Is Eyebrow Swelling a Migraine Symptom?
There is a chance that your swollen eyebrow could be a symptom of a migraine.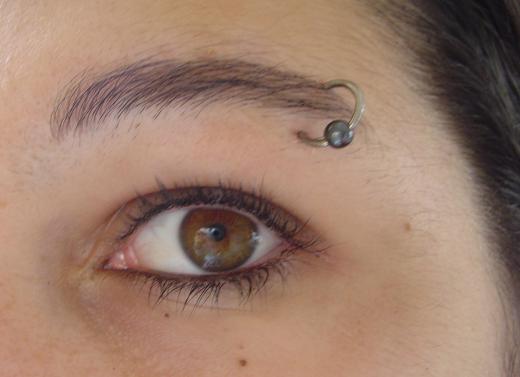 A migraine is not like a typical headache. It is a neurological condition that can be completely debilitating. Migraine headaches can occur in isolation, rarely, or chronically. They usually prevent you from working or participating in other activities.
Individuals who experience migraines describe the feeling as a painful throbbing or pulsing in the head. Migraines also cause a strong sensitivity to light and sound, dizziness, nausea, and vomiting. 
Migraine headaches are often genetic and are more likely to affect women. The pain usually lasts hours and sometimes can last days in the most severe cases.
Unfortunately, there is no cure for migraines at the moment. They can be treated with over-the-counter pain medication and can be prevented with lifestyle modification and stress reduction. 
Many individuals also find that resting in a dark, quiet room and avoiding phone and computer screens helps alleviate symptoms. You can talk to your doctor about prescription pain relief for severe or chronic migraines.
Is My Swollen Eyebrow Glaucoma?
Glaucoma is a group of eye diseases that, if left untreated, can ultimately cause blindness. Glaucoma usually affects older individuals, and the onset of symptoms usually occurs gradually. Often, patients don't even know that they have glaucoma because the progression of symptoms is so slow.
Doctors believe that glaucoma is caused by pressure within the eye that damages the optic nerve. It can occur in only one or both eyes and affects everyone differently. 
The most common symptom is a slow loss of vision. Other symptoms include headaches, dizziness, eye pain, nausea, vomiting, and redness around the eye. 
If you are at risk for glaucoma and experiencing these symptoms, it's time to visit your eye doctor. They will be able to administer a comprehensive eye exam and diagnose whether you have glaucoma or your symptoms are a sign of a different issue.
The good news is that if caught early and treated, individuals with glaucoma can go on living healthy, long lives and retain most of their vision. In worst-case scenarios, glaucoma can cause complete blindness. 
How To Treat a Swollen Eyebrow
As we mentioned earlier in the article, there are different treatments for eyebrow swelling depending on its cause. Here, we will summarize and expand them.
Some common methods include ice, anti-inflammatory drugs, antibiotics to ingest orally or apply topically (if you have an infection on or around your eyebrow), and avoiding further irritation to the area.
If any pain accompanies the swelling in your eyebrow, you may use an over-the-counter medication such as Tylenol or Advil for pain management. Never take more than the recommended dose. 
A cold compress or ice pack may also help reduce inflammation. Ice also has the added benefit of numbing the pain in the area. A cold compress will constrict the blood vessels around the swollen area, thus decreasing swelling. 
Medical experts recommend using ice for no more than 20 minutes at a time on the affected area. Never put ice directly on your eyeball or skin. Doing so can cause burning or tissue damage.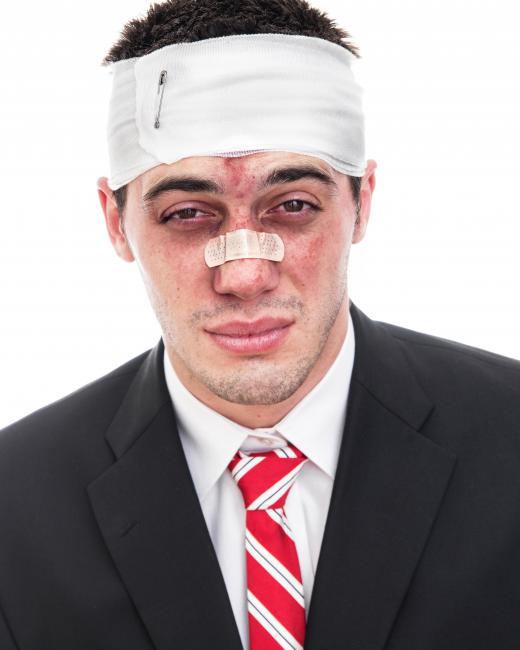 If the cause of your eyebrow swelling is an infection or irritation of the area from hair removal, acne, or piercings, you should refrain from touching the area. Keep the skin clean and well-hydrated. You may apply a topical cream or salve as needed if instructed by a medical professional. 
Avoid consuming alcohol and caffeine when you are experiencing any abnormal swelling, as these substances can increase inflammation. 
You may also find relief from drinking cold water, spending extra time laying down, and sleeping more. Try to relax, as excessive stress may also worsen your head pain.
When To See a Doctor
If at-home treatment methods do not help alleviate pain or inflammation and the discomfort is getting in the way of your work or daily activities, you should consult your doctor. 
Additionally, if you experience any kind of vision loss or blurred vision accompanying a swollen eyebrow, you should see a medical professional, too. When it comes to loss of eyesight, an early diagnosis is key to preventing further degradation.
A doctor will be able to give you an official diagnosis and come up with a treatment plan for the issue at hand.
Frequently Asked Questions
What are some possible causes of a swollen eyebrow?
There are several causes for swollen eyebrows. They include skin problems, injuries, infections, allergic responses, and underlying medical issues. Exposure to things like cosmetics, drugs, or particular foods can cause allergies. The region surrounding the eyelid and brow may become inflamed as a result of infections such styles. 
An enlarging eyebrow may also be brought on by skin diseases like eczema. A cut or direct hit might cause trauma, which can result in bruising and swelling around the eyebrow. 
A swollen eyebrow occasionally results from an underlying medical issue, such as an infection or an autoimmune illness.
How can I reduce swelling in my eyebrow?
Addressing and locating the underlying reason is the best strategy to minimize swelling in an enlarged eyebrow. Avoiding the allergen is essential if the swelling is brought on by an allergic response. Topical or oral antibiotics can be used to treat infections like styes. Ointments or creams may be needed to treat skin disorders like eczema in order to lessen the irritation. In some circumstances, undiagnosed medical issues may need treatment. Using a cold compress on the region can assist in minimizing edema brought on by trauma.
Is it normal to have a swollen eyebrow?
A normal reaction to some stimuli, such as an allergic reaction or a cut, can cause the brow to swell. But if the swelling persists or is accompanied by other symptoms like pain or redness, it can be an indication of a more serious illness. It's crucial to get medical help if the swelling doesn't go away or becomes worse.
How can I tell if my swollen eyebrow is a cause for concern?
Occasionally, a swollen eyebrow may go away on its own, necessitating no more care. A medical practitioner should be seen if the swelling is accompanied by additional symptoms like discomfort, redness, or discharge since these might point to an underlying medical issue. It's crucial to get medical help if the swelling persists or gets worse.
Are there ways to prevent a swollen eyebrow?
By avoiding probable triggers such as allergies, irritants, and trauma, swollen eyebrows may be avoided. While engaging in activities that might cause eye injury, using safety goggles can help lower the possibility of developing swollen eyebrows. Also, limiting the sharing of personal care products like cosmetics and maintaining excellent cleanliness might help lower the chance of infection. A swollen eyebrow may occasionally be caused by an underlying medical disease that has to be treated.
AS FEATURED ON:
AS FEATURED ON:

By: Ana Blazic Pavlovic

Irritation of the eyebrow from tweezing can cause eyebrow pain.

By: F.C.G.

Ingrown hairs cause pain and irritation.

By: Serhiy Kobyakov

Some people may experience swelling after using unfamiliar brands of eyebrow pencils and other makeup.

By: Concept web Studio

A swollen eyebrow may be caused by a new or infected eyebrow piercing.

By: agephotography

Antifungal creams can often help clear up eyebrow infections caused by fungus.

By: Alen-D

Any kind of injury or trauma to the area can cause a swollen eyebrow.