What Are the Common Causes of Dry Skin Bumps?
Dry skin bumps, which might resemble pimples and could be red or white in color, can be caused by many factors. The most common cause is a skin condition called keratosis pilaris, but they can also develop because of an allergic reaction, where the affected area can become itchy and swollen. Other skin-related irritations, such as hives and eczema, can also look like dry bumps. Similar to an allergic reaction, hives and eczema can also cause redness, swelling and extreme itchiness. People who have other symptoms, such as a raised temperature, as well should seek medical advice.
Keratosis pilaris, a skin condition that is most commonly responsible for dry skin bumps, is a result of excess proteins in the body blocking hair follicles. The result is raised, hard, white bumps on the surface of the skin, which often have a red or pink edging. This condition is most likely to occur on the upper arms and thighs and can be a result of having very dry skin or a deficiency of vitamin A in the body. Keratosis pilaris cannot be immediately cured completely, but it can be treated topically. It is known to be a hereditary condition.
Other causes of bumps on the skin include eczema and hives. These conditions have differing symptoms, and the affected area can become scaly, red and painfully itchy. Both of these forms of irritation can be caused or exacerbated by allergic reactions, food intolerances and stressful situations. Unlike keratosis pilaris, these conditions can be treated effectively with the use of antihistamines and dermatitis creams and lotions.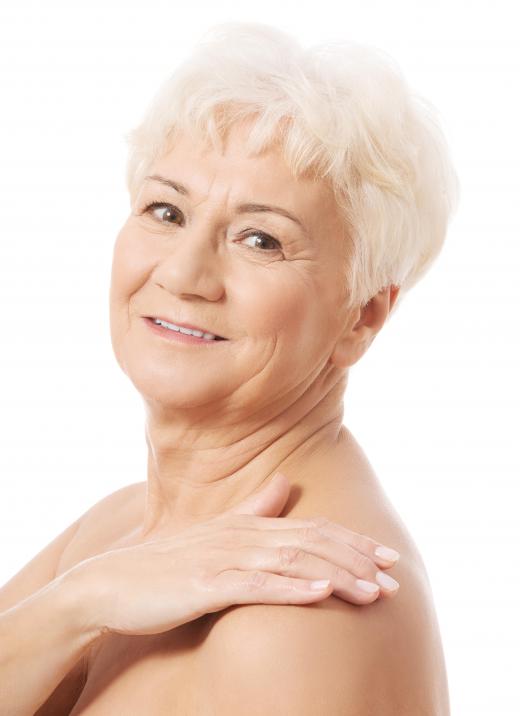 Allergic reactions can also cause dry skin bumps without the ongoing symptoms of eczema or the deficiencies that can cause keratosis pilaris. Allergic reactions can stem from contact with irritating materials such as wool and rubber, from intolerance to certain food types, or as a result of seasonal weather. Some reactions can be controlled through the use of antihistamines, but this is not always effective. Generally, however, the bumps will go away when the causing factors are removed, such as when the person no longer comes into contact with irritant materials or the season changes and the amount of pollen in the air decreases.


By: laboko

Eczema often causes skin bumps and itching.

By: kmiragaya

Frequently washing dishes by hand can cause dry skin.

By: Jasmin Merdan

Dry skin can cause dandruff.

By: Piotr Marcinski

The elderly are particularly susceptible to dry skin.

By: burnel11

Dry skin bumps may be caused by an allergic reaction to laundry detergents.

By: stockshoppe

Hypothyroidism may cause dry skin.

By: Rob Byron

Hives may cause bumps on the skin.

By: vgstudio

Drinking plenty of water can help keep the skin hydrated.