What Are the Common Causes of Gel in Semen?
The most common causes of gel-like clumps and globules in semen are dehydration, poor diet, and low testosterone. In some cases gel may also be related to protein coagulation, particularly if a man hasn't ejaculated in a while or doesn't have a regular pattern of consistent discharge. In rarer cases it can be a sign of semen "allergy" or rejection, or may also be a symptom of infection. Gel in semen can be unsightly or alarming, but it doesn't usually cause any discomfort, and isn't a cause for concern in most cases. Medical experts usually say that, in general, gel-like semen is only something to worry about when accompanied by other symptoms, such as pain or bloody discharge.
Understanding Semen Consistency
Men who report gel in their semen are usually talking about the ejaculate's appearance and texture, not it's actual composition — it is rare to find true gel in semen. A man may have noticed small, gel-like clumps in his semen or be noticing that his semen is thicker than normal. Gel-like pieces or particles aren't all that uncommon. They often appear as small clumps, but can also come as long threads or strands, often resembling spaghetti. In some cases, the entire ejaculate is thick, often with the consistency of sticky mucus or soft rubber.
None of these things necessarily means that a man has unhealthy semen or otherwise impaired sperm, though nailing down the exact cause is usually a good idea in order to rule out possible problems. Healthy men usually find that their semen changes consistency somewhat regularly, and gel accumulations are often traceable to specific events, stressors, or changes in diet. In these cases the gel will usually go away on its own after a few days or weeks.
Dehydration and Diet
Semen, like most of the human body, is made up primarily of water, and clumps are usually caused by dehydration. Men who don't take in enough water often risk dehydrating many of their moistest membranes. The body usually begins self-preservation by "robbing" water of certain sources before others, and semen is often a ripe source. Without enough water, the semen grows thicker, cloudier, and may begin coagulating. In most cases this can be solved in a day or so by increasing water intake, which is particularly important in the warmer summer months and for people who participate in strenuous exercise.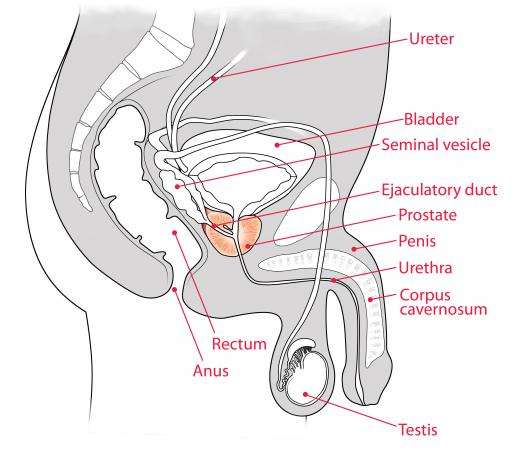 Consistency changes may also be caused by a change in diet. If a man is consuming more protein than usual, for instance, his semen may appear thicker. Increased caloric intake or dramatic changes in the sorts of foods a man is eating can also contribute, but again things will generally return to normal after the body acclimatizes. This can take a week or more; longer if the dietary changes are sporadic or inconsistent.
Hormone Problems
Thick or lumpy semen also might be because of a problem with a man's hormone levels, particularly where testosterone is concerned. This sex hormone is responsible for controlling much of the male reproductive process, as well as contributing to more masculine features like facial hair and muscle mass.
There are a couple of reasons why men might suffer from low testosterone, including fertility issues, prostate problems, and general chemical imbalances in the brain. Even stress can cause the consistency of a man's semen to change. If low testosterone is to blame for semen consistency, the appearance of the gel is often accompanied by fatigue, irritability and decreased libido. Men should consult their physician if these symptoms persist for more than two weeks since this could be a sign of a more serious hormonal imbalance or other issue.
Protein Coagulation
Infrequent ejaculation can also cause the semen to appear lumpy. If a man ejaculates on a random pattern, usually separated by intervals of several weeks or months, protein might begin to build up inside his testicles. Many men compare the consistency of the gel-like particles that come out in these instances to tapioca pudding.
Infection
If the semen has become so thick that it is difficult or uncomfortable to ejaculate, an infection might be to blame. Prostate infections will frequently affect the color and consistency of semen, and epidytimis, a medical condition related to swelling in the scrotum, can also cause the semen to appear gel-like. Sexually active males who are suffering from epidytimis should be screened for sexually transmitted diseases, since this is a common symptom.
Agglutination
A rare but nonetheless possible cause of gel in semen is an overabundance of antibodies in the sperm, which is known as sperm agglutination. Sperm agglutination is caused by a man's body mistakenly recognizing his sperm as a foreign substance. To rid the body of this substance, the immune system releases antibodies to cling to and fight the sperm. This condition is rare enough that it usually is diagnosed only when a man is tested for infertility.
Consequences and Context
Most of the time, gel-like semen is not a sign of a larger problem and needs no special treatment. In fact, in terms of fertility, gelatinous semen is often biologically preferred. Thin, watery ejaculate is less able to adhere to the vaginal walls. This can make it difficult for sperm to reach a woman's egg during intercourse, which in turn can make it harder to get pregnant. Unless a man is concerned by the gel-like appearances or is experiencing other symptoms like pain or discomfort, his condition may be considered normal. If other symptoms do arise, though, or if things don't return to normal on their own or with a few lifestyle changes, men are usually advised to consult with a healthcare professional to determine the cause.
Why Is Sperm Sticky?
Sperm is a male reproductive cell and is rarely ever isolated from the substance it is found in, which is the human male ejaculate. While the sperm itself might not be sticky, the ejaculate compound typically has a tacky or viscous quality when it comes into contact with air or water.
Ejaculate, also known as semen, is comprised of a complex mix produced by the male reproductive organs that include sperm cells. Sperm travels in semen, made from protein, sugar, and other minerals and vitamins. While the substance the ejaculate is made of is primarily water, mucus, and plasma, it has other contents that complete its overall makeup.
Sperm cells are housed in such a sticky, viscous liquid so that everything it needs to successfully make it to the end goal, which is to fertilize an egg, is readily available along the way. Though many sperm, if any, do not make it to the end goal, they still travel by upwards of 100 million per teaspoon of ejaculate.
Why Is My Semen So Jelly-Like?
Semen is a complex composition. For most healthy men, the consistency of semen will fluctuate regularly with no cause for concern. Since the male reproductive organs produce semen, small changes in diet, routine, testosterone, or illness can change the appearance of semen. A jelly-like appearance is simply an indicator that changes are happening in a man's life and being aware of other symptoms should they arise.
Dehydration can cause many different issues in your body, most of which are easily remedied with appropriate water intake. It is important to note that one of the primary indicators of dehydration is thicker, jelly-like semen, communicating that more water is required to operate your body successfully. Most changes in the look and feel of semen should not cause immediate alarm for men or their partners. However, if other symptoms occur with the jelly-like semen, a doctor's visit is likely in order.
Bloody discharge
Trouble urinating
Pain or discomfort
Color changes
Fatigue
Irritability
Decreased libido
Swollen scrotum
Why Is My Semen Chunky?
Chunky semen, just as jelly-like semen, indicates that changes are occurring within a man's body. Generally, lumpy semen rather than gel-like semen is attributed to protein coagulation, hormone levels, infection, or agglutination.
Protein Coagulation
Protein coagulation in semen is the result of infrequent or irregular ejaculation patterns. Many studies have returned results that suggest that the average male that ejaculates at least 20 times per month is at a decreased risk for certain cancers, including prostate cancer. With that information in mind, an irregular ejaculation pattern might be a number far less than the studied amount. When ejaculation is irregular, protein can build up in the testicles. When the next ejaculation does occur, it is a concentrate of protein build-up, giving a chunky or coagulated appearance.
Hormone Levels
Low testosterone can also be the culprit of chunky-like semen. Testosterone is necessary for most male reproductive processes. It contributes to the foundational male features such as the growth of facial, chest, and back hair, development of vocal depth, and muscle mass development. Testosterone also guides a part of a person's libido or sex drive. Libido is, in part, also managed by hormones and brain function and learned behaviors that play out like preferences and desires.
Lower levels of testosterone in a man can cause a change in the appearance of his semen. Symptoms that accompany low testosterone include fatigue, decreased libido, and irritability. The semen may appear chunky or cloudy in appearance. Consult a doctor if you exhibit the accompanying symptoms with lumpy semen because low testosterone can be the result of serious issues including:
Chemical imbalances
Prostate issues
Fertility problems
Hormonal imbalances
Infection
Semen may also appear chunky if a man is suffering from an infection. The infection may result from a sexually transmitted disease or another more extended illness that affects the whole body rather than centralizing the reproductive organs. No matter the sickness, if there is a change in the color of the ejaculate, pain, or a foul odor combined with a chunky-like quality of the semen, consult a doctor immediately.
Agglutination
Globular semen is the result of the rare condition, agglutination. Agglutination is a rare disorder wherein a man's immune system overproduces antibodies with sperm. During agglutination, antibodies attach to the sperm in production and ejaculation and, in a case of mistaken identity and begin battling the sperm to rid the body of what it perceives to be an unwanted enemy. The disease is not typically diagnosed unless a man undergoes extensive infertility testing.
AS FEATURED ON:
AS FEATURED ON:

By: DragonImages

Dehydration is one of the most common causes of gel in semen.

By: Brent Hofacker

Dietary changes, such as consuming more protein, can be the cause of gel in semen.

By: Danilo Rizzuti

Gel in semen accompanied by fatigue can be an indicator of low testosterone.

By: kocakayaali

Semen is produced in the testes, which are contained in the scrotum.

By: Ambrose

If low testosterone is to blame for semen consistency, the appearance of gel in semen is often accompanied by fatigue and low libido.