What Are the Common Causes of Thin Semen?
There are two common causes of thin semen: low sperm count and fructose deficiency. The reasons for the former depend on either a man's age or his current level of sexual activity. Neither of these causes have an affect on a man's overall health. Even if low sperm count is the cause of thin semen, modern reproductive medicine can still give a man the chance to father a child.
Thin semen is a condition characterized by watery looking semen that may have a different texture than previously normal semen. Appearing suddenly without an apparent reason, a man may think that its presence is a sign of decreasing fertility. In the vast majority of cases, the cause is something else entirely.
The most common cause of thin semen is a fructose deficiency. Nearly half of all ejaculate is made up of fructose, a sugar. Fructose enters the ejaculate through the seminal vesicle. A diet low in sugar and/or carbohydrates contributes to the condition. It is quickly remedied by increasing carbohydrate/sugar consumption.
During puberty, young adulthood and middle adulthood, thin semen is a sign of regular sexual activity. The testes require up to 72 hours to replenish sperm. Daily masturbation or sex reduces the amount of semen available during each ejaculation. Though a man's sperm count is lower in this case, it is in no way related to male infertility.
It is very rare that a man experiences thin semen due to complete infertility. Most men, if they live to their 80s or 90s, still have the reproductive capacity to father a child. Yet as a man grows older, his sperm count gradually declines by as much as 30-40%. This decrease can have a noticeable affect on semen appearance and texture. This change should only concern a man if he has not passed middle age.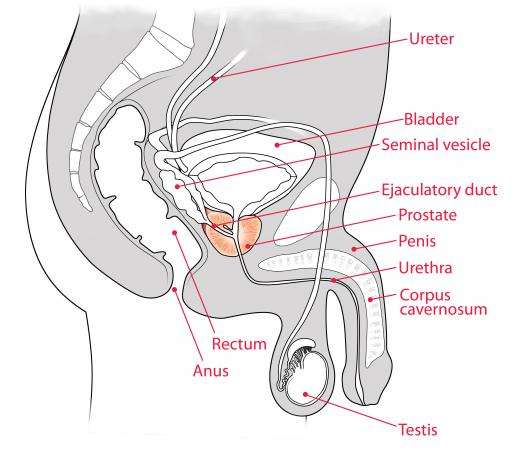 If a man has consistently thin semen despite changing his amount of sexual activity and/or diet, consulting a physician specializing in reproductive medicine may be necessary. This is especially true if one is trying to have children. If a physician discovers a low sperm count and/or sperm with low motility, further testing may be necessary to determine the underlying cause.
A man may still be able to father a child if thin semen is due to reduced fertility, through artificial insemination. In this procedure, viable sperm are isolated and directly inserted into a woman's uterus while she is ovulating. This procedure raises the chances of fertilization.
AS FEATURED ON:
AS FEATURED ON:

By: fotoliaxrender

Thin semen is often due to low sperm count.

By: Wisky

The more often a man has sex or masturbates, the less semen he'll have for each ejaculation.

By: kocakayaali

Semen is produced in the testes, which are contained in the scrotum.

By: baibaz

Fructose is a sugar found in nearly all fruits.

By: WavebreakMediaMicro

Thin semen can reduce a man's fertility.

By: ognianmed

Taking guaifenesin, which is a cough expectorant, can be used to make semen thinner.

By: auremar

Wearing tight pants may lead to a low sperm count, which can cause watery semen.

By: Blind Shot

Unprocessed beef contains large quantities of vitamin B12, which is one of the best vitamins for semen.

By: TEMISTOCLE LUCARELLI

Exposure to pesticides may lead to a low sperm count.

By: nito

Further testing will be necessary if a doctor discovers a low sperm count or low sperm mobility.