What are the Dangers of Large Platelets?
The dangers of large platelets vary, depending on the underlying cause for the increase in platelet size. In some patients, they may not cause any symptoms or problems, while others may develop bleeding disorders and other medical issues. Because an array of conditions can be responsible for an increase in platelet size, it may be necessary to conduct several different medical tests to find out why a patient has large platelets.
Macrothrombocytopenia, as it is formally known, occurs when the normally small and highly fragmented platelets are bigger than usual. Many people who have large platelets also have a reduced platelet count. The platelet size can be genetic, as seen in people with Bernard-Soulier syndrome, gray platelet syndrome, and May-Hegglin anomaly. In other cases, it may occur in response to problems in the bone marrow, such as cancers that disrupt the production of blood cells.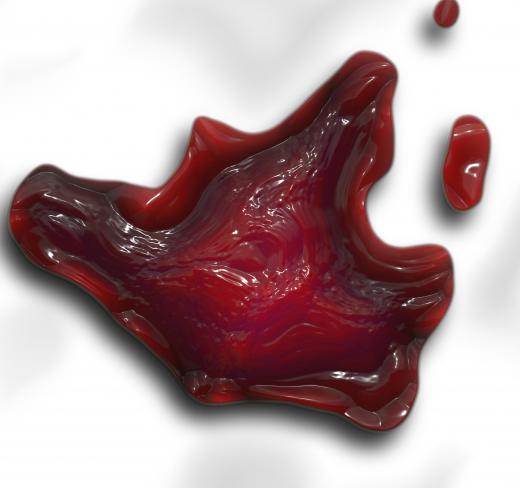 The most common problem experienced by people with large platelets is increased bleeding. The oversized platelets cannot clot properly and as a result, the patient may bleed freely from even small injuries, develop substantial bruising, and experience internal bleeding that is difficult to stop because the blood does not clot. This can become very dangerous if the bleeding is excessive and when it occurs internally, the patient may not be aware of it until substantial blood loss has occurred.
There can also be risks associated with the underlying disorder that is causing the large platelets to develop in the body. Progressive diseases involving the bone marrow can become fatal, and some genetic bleeding disorders are associated with issues ranging from hearing loss to joint deformations. Knowing the cause for the variation in platelet size will help a doctor identify additional risks for the patient, in addition to developing a treatment plan.
For genetic disorders, a cure is not possible. These disorders are usually diagnosed in childhood when parents notice that their children have signs of a bleeding disorder. Techniques to manage such disorders can include medications, transfusions of blood, and lifestyle adjustments. People with bleeding disorders need to be careful about exposure to injuries, and it is important to make sure that the condition is noted in patient charts so that care providers are aware of it. In cases where the cause is something that can be treated, resolving the cause should compel the platelets to return to a more conventional size, and the patient's clotting problems should come to an end.
AS FEATURED ON:
AS FEATURED ON:

By: clearviewstock

Large platelets cannot properly form blood clots.

By: designua

Many people with large platelets also have a reduced platelet count.

By: Monika Wisniewska

Even a mild nosebleed can require medical attention if the sufferer has large platelets that interfere with clotting.

By: alma_sacra

Blood transfusions may be part of the management of genetic disorders involving large platelets.