What are the Differences Between Antagonist and Agonist Muscles?
The difference between antagonist and agonist muscles is that they work in the opposite direction to complete an action. Agonist muscles react in response to voluntary or involuntary stimulus and create the movement necessary to complete a task. Antagonist muscles act against the agonist muscle and help to move the body part back in place after the action is completed.
Six hundred muscles make up the human body's musculoskeletal system. Tendons attach muscles to bones, allow muscles to move bones, and give joints their flexibility. Antagonist and agonist muscles work in pairs to accomplish a full range of movements and actions. Muscles, however, are not specifically antagonist or agonist.
Depending on the movement required, a muscle can be an agonist in one motion and an antagonist during another action. The agonist always contracts to initiate movement and the antagonist stretches and lengthens to allow the movement. To return the body part to a normal position, the agonist muscle that initiated the original movement will need to become the antagonist to allow the original antagonist muscle to contract and return to normal positioning.
Common pairs of antagonist and agonist muscles exist. In the upper body, the biceps and triceps work to complete actions related to movement of the arm. The quadriceps and hamstrings in the upper leg work to help move the knee joint and perform exercises, such as squats and leg extensions. Other examples include the pectorals and latissimus dorsi in the chest and back area, and the trapezius and deltoid muscles of the upper back and shoulders.
Agonists are often referred to as the prime mover. They initiate the contraction necessary to move a limb through the joint's range of motion. Examples of agonists in action are the biceps during a bicep curl and the quadriceps during a leg lift.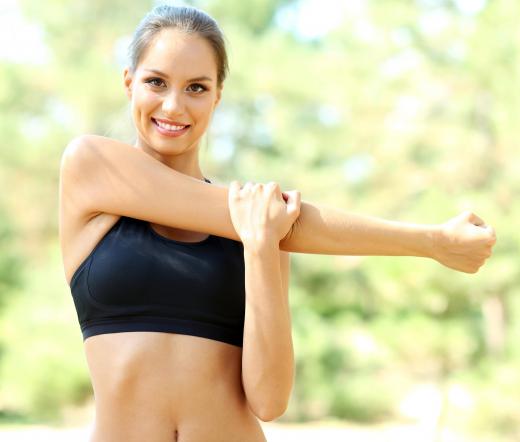 Antagonists are typically reactionary. This means that they lengthen or stretch to allow the agonist to complete an action. In the case of the bicep muscle contracting to do a bicep curl, the triceps would be considered the antagonist muscle. The hamstring becomes the antagonist when the quadriceps contracts to do a leg lift.
Other types of muscles help antagonist and agonist muscles perform necessary movements. Synergist muscles often assist the agonist in making the initial movement within the joint. Another type of muscle, a fixator, helps stabilize surrounding structures during movement of both types of muscles.
AS FEATURED ON:
AS FEATURED ON:

By: Donald Joski

In a bicep curl, the biceps work as the agonist, while the triceps are the antagonist.

By: jamirae

Antagonist muscles lengthen to allow agonist muscles to contract, such as the hamstring and quadriceps, respectively, in a leg lift.

By: Africa Studio

The majority of the body's 640 muscles are part of agonist/antagonist muscle pairs.

By: high_resolution

Antagonist and agonist muscles work in the opposite direction to complete an action.