What Is an Antagonist Muscle?
An antagonist muscle is one that works in opposition to the movement initiated by an agonist muscle. The antagonist muscle in a muscle set brings a limb or other anatomical part back to its initial position of rest. These muscle sets are referred to as antagonistic pairs, which are needed by the body because muscles can only inherently exert a force that pulls on ligaments and bones; it needs the opposite muscle in the pair to bring it back to its original position. The muscle responsible for moving the body part away from its position shortens or contracts, and the antagonist muscle responds by stretching, which then enables the second movement.
The majority of the 600 skeletal muscles that make up the human anatomy exist in agonist/antagonist pairs. One example of this pairing includes the biceps brachii and triceps brachii. When the biceps brachii contracts, the triceps brachii relaxes, which enables it to stretch back to its resting position; the opposite occurs when the triceps brachii contracts. The agonist/antagonist pairing can also be identified as a flexor/extensor pairing. The flexor moves to open a joint, whereas the extensor does the opposite, decreasing the joint angle. The antagonist muscle is especially important when a person extends or contracts limbs, holds objects against gravity, and tries to maintain balance while standing erect.
The movement of agonist/antagonist muscle groups is coordinated by the central and peripheral nervous system. The motor cortex inside the brain sends a message through the spinal cord and peripheral nerve system to the agonist muscle. The motor cortex in the right hemisphere controls movements on the left side of the body and the one on the left controls the right. This signal begins the complex movement, which eventually leads to antagonist muscles bringing a body part back to its place of rest. The antagonist muscle helps the body maintain a state of relaxation.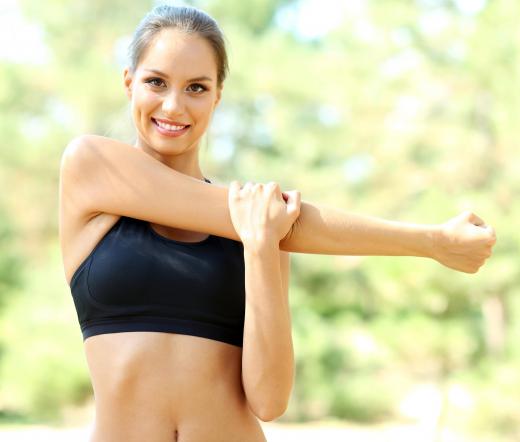 All muscles contain receptors, or muscle spindles, that receive the specific messages from the motor cortex. Muscle spindles located in this muscle receive signals which inform them of a muscle that is in a state of contraction. It begins a stretch in response to this information. Sometimes muscle signaling can work the other way around; the agonist muscle receives a message that the other muscle is in a state of stretch and then contracts or shortens to reverse the stretch. Most muscle systems in the body work in a way based on this basic principle.
AS FEATURED ON:
AS FEATURED ON:

By: Jiri Miklo

The triceps branchii relaxes when the biceps branchii contracts.

By: Africa Studio

Most of the body's 600 skeletal muscles are part of agonist/antagonist pairs.

By: high_resolution

The majority of the 600 skeletal muscles that make up the human anatomy exist in agonist/antagonist pairs.