What are the Different Types of Bed Wetting Pants?
The two main types of bed wetting pants are disposable and reusable undergarments which are worn beneath the bed clothes. Both feature multiple layers of absorbent materials to prevent leaks onto the clothes and bedding. There are sizes available for both children and adults.
The most commonly used incontinence pants are disposable undergarments which can be purchased in most grocery stores or pharmacies. There are versions for children who wet the bed, and for adults who suffer from nocturnal urinary incontinence. Some brands are bulkier than others, but there are newer designs which are made to look like real cloth underwear. This may be especially important for children who may become self conscious at sleepovers and other situations if bed wetting is a frequent problem.
There also reusable pants for those with chronic conditions that cause bed wetting. They are usually made of cloth and look exactly like normal underwear. The main difference is that they feature layers of absorbent cloth in the areas most likely to be affected by bed wetting, which is normally in the front for males and toward the center or back for females. Various designs and cuts are also available.
The type and style of bed wetting pants needed for each individual will vary based on the frequency at which bed wetting occurs. Those who only have an occasional accident may be better off buying disposable pants since they are convenient to use and do not require constant washing. Reusable types may be better for those with frequent loss of bladder control because they are more economical and they look and feel more like regular underwear.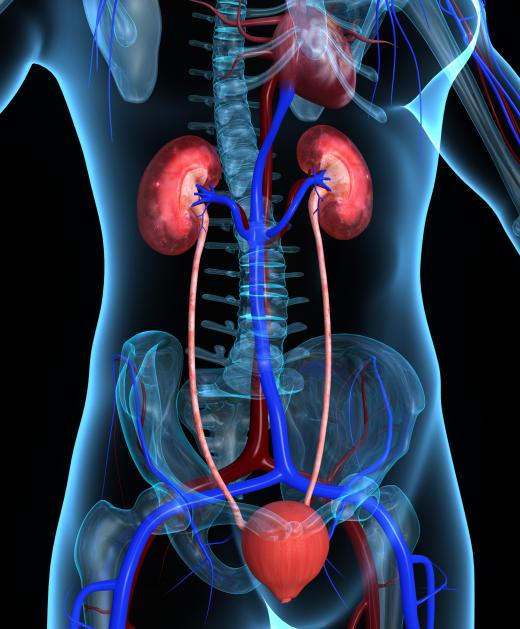 Some specialty retailers may have additional types of bed wetting pants. Full pajama bottoms are sometimes available, as well as shorts. Additionally, underwear often comes in various cuts such as boxers, briefs, bikini, and high rise varieties. This allows more style options and greater comfort for consumers.
Whether or not a consumer wants to use disposable or reusable bed wetting pants is a matter of taste and lifestyle. Although reusable options more closely resemble regular underwear, disposable options are often more absorbent and may help to prevent leaks more efficiently. This is not always the case, since different brands work differently for each individual.
AS FEATURED ON:
AS FEATURED ON:

By: joshya

Bed wetting in adults may be caused by bladder cancer.

By: Ariwasabi

Bed wetting pants can come in the form of pajama bottoms.

By: 7activestudio

Urinary tract infections can cause bed wetting in adults.

By: Picture-Factory

Barrier creams can be used in conjunction with incontinence pants to prevent skin rashes in individuals suffering from incontinence.

By: Photographee.eu

Incontinence may occur in the elderly.

By: Langstrup

Pregnant women who may experience delays in getting to the bathroom at night may choose to wear bed wetting pants.