What are the Different Types of Gauze Sponges?
Gauze sponges are used in wound care for absorbing body fluids and providing protection from dirt and bacteria. There are several types of gauze sponges to choose from, including ABD pads, non-adhering dressing, gauze fluff rolls, self-adhering foam, and 2 x 2 inch (5.08 x 5.08 cm) and 4 x 4 inch (10.16 x 10.16 cm) gauze sponges. The type you choose is dependent upon the size and location of the wound.
ABD pads are used for treating and protecting large wounds. This type of sponge has three layers, including a non-woven facing, cotton filler and hydrophobic backing, to prevent body fluids from striking through. Due to the large array of sizes available, this dressing can be used for applying first aid to wounds located on any part of the body.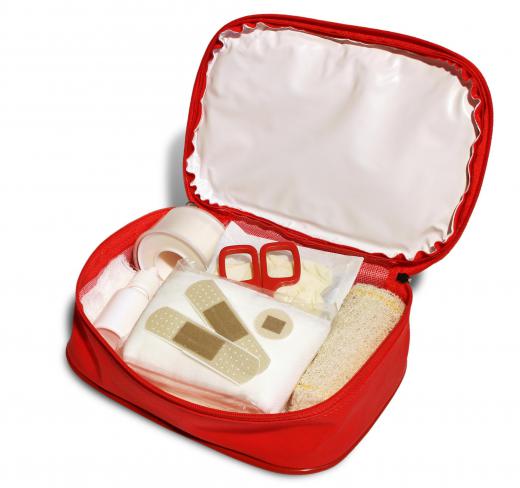 Non-adhering dressing is most often used for treating patients with first and second degree burns, grafts, venous and pressure ulcers, abrasions, nail extractions, lacerations and surgical incisions. This type of gauze is treated with a petrolatum emulsion to protect the skin from tearing when the dressing is changed or removed. The cotton inner layer absorbs drainage, which helps to keep the wound dry. Non-adhering dressing can be cut to the size of the wound without fraying at the edges, making it perfect for applying first aid to wounds of all sizes.
Gauze fluff rolls are used in basic wound care. They are made of woven gauze that is fluff dried, giving it a crinkle weave pattern. This design provides extra bulk to cushion and protect the wound. This dressing is distributed on a roll, allowing it to be wrapped securely around wounds located on limbs. These are most often used for securing bandages to wounds, providing extra absorbency and protection from bacteria.
Self-adhering foams are gauze sponges that are used to distribute a person's body weight and prevent breakdown of the skin around the wound. They are often places in casts and splints, as they self adhere to the equipment. Self-adhering foam can't be applied directly to the skin, as it causes irritation, but it can be used over dressing.
The 2 x 2 inch (5.08 x 5.08 cm) and 4 x 4 inch (10.16 x 10.16 cm) gauze sponges are the most commonly used bandages in basic wound care. They are found in most first aid kits, in these two sizes. Besides covering wounds, they can also be used for cleaning, sanitizing and absorption aides. Both sizes have an eight-ply thickness for extra absorbency.
AS FEATURED ON:
AS FEATURED ON:

By: lucato

First aid kits should contain gauze sponges.

By: Kelpfish

Gauze may be used for cleaning wounds.

By: picsfive

Gauze sponges can be used for protecting, cleaning, sanitizing, and absorbing.

By: Warren Goldswain

Gauze sponges are often used to clean and cover injuries after a fall.

By: Sherry Yates

Gauze pads are typically pre-cut and individually wrapped to ensure the dressings remain sterile.

By: vladans

Gauze sponges may be used to treat first and second-degree burns.