What are the Different Types of Goiter?
Thyroid goiters refer to enlargement or swelling of, as well as growths on, the thyroid gland. These swellings can be broken into different types based on the cause of and the shape. The main types are simple endemic, simple sporadic, toxic, myxedema, congenital, and thyroid cancer. These swellings typically develop as either a diffuse goiter with uniform thyroid gland enlargement or as a nodular goiter with asymmetric lumps forming on the thyroid. Most of these are small and are only discovered through a physical exam, but if an enlarged thyroid gland is left untreated, it can swell and protrude from the neck.
A non-cancerous enlargement of the thyroid gland is called a simple goiter and can form as a diffuse or as a nodular goiter. Simple goiters come in two sub-types, endemic and sporadic. An endemic goiter, also sometimes referred to as a colloid goiter, is cause by an iodine-deficient diet. Iodine is used in the production of thyroid hormone and when there is a dearth of iodine, the thyroid gland becomes enlarged to off-set the decreased production of thyroid hormone. Sporadic thyroid enlargement, also known as nontoxic goiters, are caused by certain drugs, regularly consuming anti-thyroid substances, genetics, or the cause can be unknown.
Toxic goiters are an enlargement of the thyroid gland resulting from an overproduction of the thyroid hormone, a condition called hyperthyroidism. These enlargements can develop as diffuse or nodular. Graves' disease is the most common form of diffuse, toxic thyroid enlargement, and is caused when antibodies attack the thyroid gland. Myxedema is caused by the underproduction of thyroid hormone, a condition known as hypothyroidism. Hashimoto's thyroiditis, a common form of hypothyroidism, is caused by an autoimmune attack on the thyroid which decreases thyroid hormone production.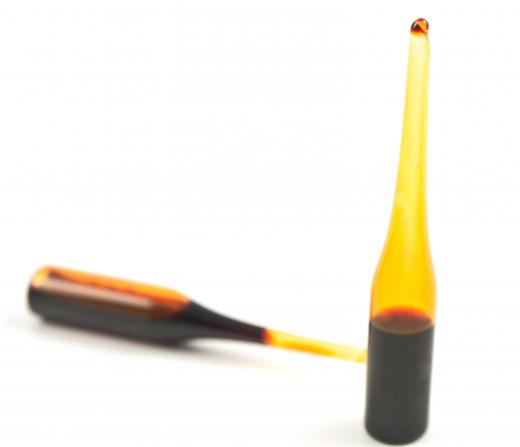 When a thyroid enlargement, either diffuse or nodular, is present at the time of birth, it is called a congenital goiter. These types of thyroid enlargements are caused by a birth defect which results in irregular production of thyroid hormone, or they are caused by the mother passing anti-thyroid substances or maternal antibodies to the baby via the placenta. Thyroid cancer is rare, but it can produce nodular thyroid goiters. The cause of thyroid cancer is unknown, but several factors, such as heredity, radiation exposure, and Hashimoto's thyroiditis can increase a person's risk. Any nodular thyroid growth is typically biopsied to be certain it is benign.
AS FEATURED ON:
AS FEATURED ON:

By: rob3000

Thyroid cancer may lead to the development of a goiter.

By: ksena32

Iodine deficiency is the leading cause of goiters.

By: Gabriel Blaj

Most goiters are small and will only be noticed by a doctor during a physical exam.

By: p6m5

The thyroid can become enlarged for a variety of reasons.

By: lom123

A thyroid enlargement that is present at the time of birth is called a congenital goiter.