What are the Different Types of Neck Lump?
There are several different types of neck lumps, with causes ranging in severity from mild to life-threatening. The most common type of neck lump is a swollen lymph node, which can have a variety of different causes, including bacterial or viral infections and even cancer. Other types of neck lumps include those caused by swollen salivary glands just below the jaw line, lumps in the neck muscles or those caused by an enlarged thyroid. A neck lump may also be cystic when it is in the skin or located just below the skin.
Lymph nodes are located throughout the body as part of the immune system, and help to identify and battle bacteria, germs and other unknown cells. Lymph nodes in the neck, also known as cervical lymph nodes, are divided into eight sub-types, depending upon their location. These include submandibular lymph nodes, located under the jaw on each side; submental lymph nodes, found under the chin; and jugular lymph nodes, situated above and below the sternocleidomastoid muscles (SCM) on both sides of the neck.
The remaining types are the posterior cervical lymph nodes, located in a line posterior to the SCM and in front of the trapezius, and suboccipital lymph nodes, found between the neck and back of the head. Situated behind the ears, the postauricular nodes are also included, as are the preauricular lymph nodes, which can be found in front of the ears. Others included are the supraclavicular lymph nodes, which are located in the hollow above the clavicle.
Common causes of cervical lymph node enlargement can include strep throat, tonsillitis and bacterial pharyngitis. Less common causes of swollen neck nodes may be Cat Scratch disease, tuberculosis and cancer. Malignancies that can cause cervical lymph node swelling are leukemia, Hodgkin lymphoma, non-Hodgkin lymphoma and mouth cancers.
Like cervical lymph nodes, salivary glands, which produce saliva in the mouth and throat area, may also swell in response to an infection or malignancy and result in neck lumps. A salivary gland stone or obstruction is an additional cause of a palpable neck lump. Mumps, a painful enlargement of the salivary gland caused by a contagious viral infection, may present in a similar manner.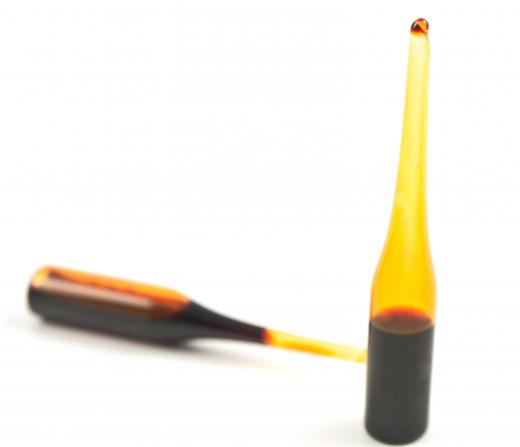 Thyroid disease or thyroid cancer may cause an isolated neck lump, several lumps or leave the entire neck completely swollen. Grave's disease, an autoimmune condition that is characterized by hyperthyroidism, or an overactive thyroid gland, may also cause a benign swelling of the thyroid, known as a goiter. Goiters may also be caused by an iodine deficiency, or the cause may be unknown.
A neck lump may be cystic in nature, if it is located in the skin or just below the skin. The most common type of cyst in the neck area is a sebacious cyst, which is typically a sac below the skin containing an oily or cheese-like substance. Equally benign, a neck lump may be caused by an injury to the neck muscle itself or by torticollis, a genetic condition that may result in a twisted neck. Any neck lump should be evaluated by a physician to rule out the possibility of a more serious cause, such as cancer.
AS FEATURED ON:
AS FEATURED ON:

By: triocean

Problems with the muscles of the neck can cause a lump in that area.

By: Kasia Bialasiewicz

An enlarged thyroid can cause a lump in the neck.

By: ksena32

An iodine deficiency can produce neck lumps in the form of an enlarged thyroid gland.

By: bst2012

Swollen lymph nodes can feel like a lump in a patient's neck.

By: Max Tactic

A neck lump may be due to a cyst.