What are the Different Types of Speech Therapy Materials?
Speech therapy materials help adults and children with speech disorders communicate efficiently. Both children who have certain speech impediments and adults whohave suffered from a stroke or other ailment may require specialized speech assistance. By applying certain speech therapy tactics, these individuals can learn to speak effectively.
While most people who need speech assistance work with speech pathologists, certain speech therapy materials can also be helpful within a home environment. The Internet is full of different speech therapy materials that both parents and caretakers can use. In most instances, these materials come in the form of games that are easy to play, simple to understand, and entirely engaging.
In most cases, practicing speech therapy movements each day is the best course of action. While no patient should be forced into speech therapy exercises, these methods should be employed regularly. In addition to home exercises, a professional speech therapist should be consulted. In every instance, the combination of a speech therapist with home exercises is the best way to help a person speak properly.
People who visit with speech therapists will be subjected to a large variety of speech therapy materials and tactics. Therapists tend to work with small groups of patients in order to provide each group member with peer support. Some exercises that are used within these groups include audiovisual materials, tongue exercises, and speech relays.
Flash cards, board games, and facial exercises are usually the speech therapy materials of choice. Also, a therapist may decide to strengthen the mouth area by asking a patient to suck on a straw, make blowing noises with the mouth, and chew on rough rubber objects. The idea behind any speech therapy practice is to strengthen the mouth area through various exercises.
It is not uncommon for a speech therapist to provide patients with home exercises that should be done a regular basis. By using a mirror, patients can practice facial movements. Patients that practice speech therapy exercises at home often progress faster. However, the rate at which a person begins to speak normally may vary from patient to patient.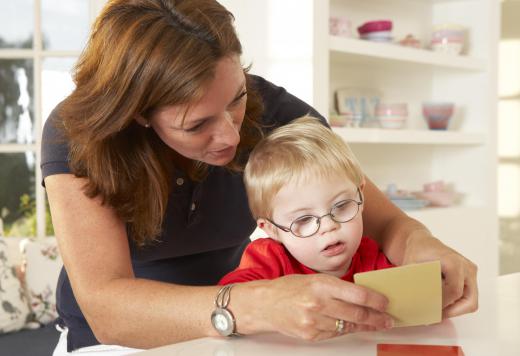 At the onset of any speech disorder, a professional speech therapists must be sought. Speech therapists can provide patients with a proper diagnosis, effective exercises, and the right speech therapy materials. These specialists can be found by asking your family doctor for a referral, searching through the phone book, or conducting an Internet search.


By: darko64

Board games are one type of speech therapy material.

By: WavebreakMediaMicro

Speech therapists often work with small groups so participants have peer support.

By: jordi2r

Go Fish is a popular game that may be utilized for speech therapy.

By: sneksy13

A speech pathologist may be employed to develop a treatment plan for children with semantic-pragmatic disorder.

By: Monkey Business

A commonly used speech therapy technique requires the therapist to make a list of words with which a patient has difficulty.

By: oneblink1

A patient who has been diagnosed with a swallowing disorder may be referred to a speech pathologist.

By: Gennadiy Poznyakov

A family doctor can help refer you to a speech therapist.