What Are the Effects of Mental Illness?
The effects of mental illness have physical, social, and financial implications. Depression, outbursts of frustration, and excessive stress can lead to a weakened immune system and increased risk of heart attack and coronary disease. Mentally ill individuals often experience financial difficulties due to the inability to sustain employment. The effects of mental illness sometimes extend to family members who must assume greater household and financial responsibilities.
Depression is one of the more common types of mental illness. Depending on its severity and duration, depression can impact all aspects of a person's life. A depressed individual might experience a loss of appetite, a decreased desire for social interaction, an inability to work and think clearly, and a decreased interest in sexual activity. The effects of mental illness in the case of depression extend to physical illnesses caused by a weakened immune system.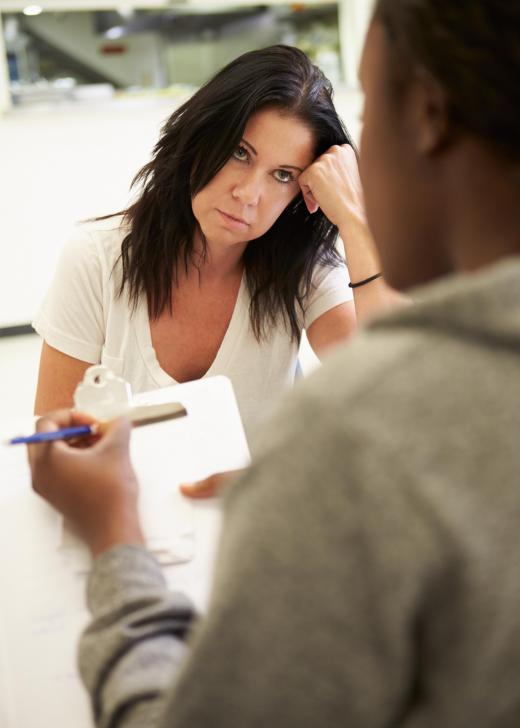 Physical effects of mental illness are particularly apparent in conditions that involve outbursts of anger and sustained stress. Individuals with phobias, delusions, and mood disorders often experience sustained periods of stress. A persistent state of worry and fear sometimes lead to a reduction in the supply of blood to the heart. In this case, mental illness can lead to increased risk for coronary disease and heart attacks.
Mental illness has social implications for those afflicted with the condition. A woman who feels sad all of the time will very likely avoid social events. A man suffering from persecutory delusions is likely to avoid social contact due to his distrust of people. Social isolation is a common occurrence in individuals with mental illness.
The effects of mental illness also, in many cases, impact family members. A schizophrenic individual who cannot generate an income, for example, will generally rely on his family members for financial support. In this case, the financial burden falls on relatives, whose stress levels are elevated from financially supporting the family while simultaneously taking care of the mentally ill relative.
Given the additional burden on family members, support services for the mentally ill often extend to relatives. Some therapists suggest that family members attend counseling sessions along with the patient. Many support groups exist to help family members cope with the stress and challenge of caring for mentally ill relatives. In some cases, family members experience feelings of guilt or anger in relation to their mentally ill loved one; often, one-on-one counseling helps relatives to develop coping strategies.


By: Alexander Raths

Mental illness can negatively impact a family's financial situation.

By: Monkey Business

Mental illness may severely impact a person's ability to think clearly.

By: Monkey Business

Depression is one of the more common types of mental illness.