What are the Most Common Causes of Diarrhea with Chills?
The symptoms of diarrhea with chills most commonly signal either a viral or bacterial infection. These are often known as "stomach flu" and "food poisoning" respectively. While the term "stomach flu" isn't medically correct, as viruses other than influenza are the cause, bacterial infections that cause symptoms such as diarrhea, or loose stools, and chills are usually caused by spoiled food or undercooked seafood. Another common cause of diarrhea with chills may involve stones in the gallbladder or bile duct.
Gallbladder stones, which are mainly made of excess cholesterol, are called cholelithiasis, while stones in the bile duct are choledocholitiasis. A person may have the stones for a long time before noticing any symptoms. When stones cause blockage, symptoms such as chills and fever with diarrhea as well as yellowing of the skin called jaundice usually occur. Pain in the upper right abdomen, a fast heart beat and sudden low blood pressure are other signs of bile duct problems; medical attention should be sought immediately as it may be an emergency situation. Chronic diarrhea, which is bouts of very loose stool at least four times a day for several months, that may include pain and nausea as well as chills, could be a sign of scarring and inflammation of the gallbladder.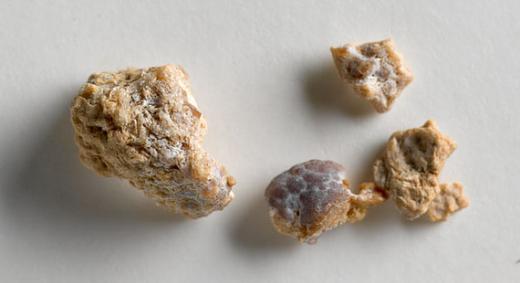 Vibrio cholerae is a common bacterial cause of chills and diarrhea. This bacterial infection may enter the body through seafood. Raw or undercooked seafood is especially likely to contaminate a person. In addition to chills plus diarrhea, nausea, headache and stomach cramps are typical symptoms of Vibrio cholerae. Vomiting is a less common symptom of the bacterial infection.
Viral gastroenteritis is one of the most common causes of diarrhea with chills. There are many different viruses that can cause the intestinal infection known as gastroenteritis. Children and seniors are especially susceptible to many of theses viruses, but anyone can get gastroenteritis since it's extremely contagious. Astrovirus is one that especially infects seniors and kids, while both the rotavirus and adenovirus commonly cause gastroenteritis in young children. Norovirus, from the group of caliciviruses, is known for being spread to people of all ages and for first causing vomiting before fever, chills and diarrhea.
Unwashed hands after using the bathroom is how gastritis is mainly transferred, but sharing foods or drinks can also spread it. Although it's more serious in infants and the elderly, most other cases of viral gastroenteritis go away without any medical treatment required. Avoiding dehydration from diarrhea and vomiting by drinking water and juices is important. Even when people experiencing viral gastroenteritis stop showing symptoms, such as diarrhea and chills, they can still pass the virus to others.
AS FEATURED ON:
AS FEATURED ON:

By: erik gould

Stones in the gallbladder can cause diarrhea and chills.

By: Nikolai Sorokin

Bananas can help bulk up stool in those with diarrhea.

By: NilsZ

Yogurt with live cultures can rebuild intestinal flora after diarrhea.

By: Dionisvera

Oak bark supplements can be used to treat diarrhea.

By: maximino gomes

Vibrio cholerae can cause stomach cramps, along with diarrhea and chills.

By: Baronb

Symptoms of the flu may include diarrhea with chills.

By: Balint Radu

Stones in the gallbladder or bile duct can be a common cause of diarrhea with chills.

By: Mikael Damkier

Diarrhea and chills, when accompanied by a headache, may be a sign of a more serious problem for an elderly individual.

By: ohmega1982

Consuming raw or undercooked seafood could cause diarrhea and chills.

By: igor

Vomiting may be another symptom of a bacterial infection.