What Are the Most Common Causes of Yellow Diarrhea?
The most common causes of yellow diarrhea are related to the liver, gallbladder or small intestine and can be a sign of a serious health problem, including parasite infection, liver disease and intestinal disease. Diarrhea that resolves itself within a day or two and is often associated with diet or medication. Pale bowel movements and chronic yellow diarrhea suggest more serious causes, such as gallstones or cancer.
If diarrhea persists longer than two days, a physician might perform a stool culture or blood test or might suggest avoiding certain foods to evaluate the risk for more serious conditions. Medical history and a physical examination are also key in determining the cause of persistent diarrhea. Most experts will agree that eliminating toxins, avoiding fatty foods and consuming electrolytes are essential to resolving diarrhea quickly.
If yellow diarrhea shows up suddenly, the most common cause is a bacterial or parasite infection, especially if the sufferer also has bloody stool. Typically picked up by consuming contaminated food and/or water, bacteria and parasites can enter the body and settle into the small intestine, where they can cause a variety of uncomfortable symptoms, including yellow diarrhea. Bacteria and parasites that cause diarrhea include salmonella, Escherichia coli and Giardia lamblia. Treatment might include antibiotics as opposed to over-the-counter medicines such as loperamide and bismuth subsalicylate. Additionally, a viral infection can cause severe diarrhea and generally resolves on its own within three to seven days.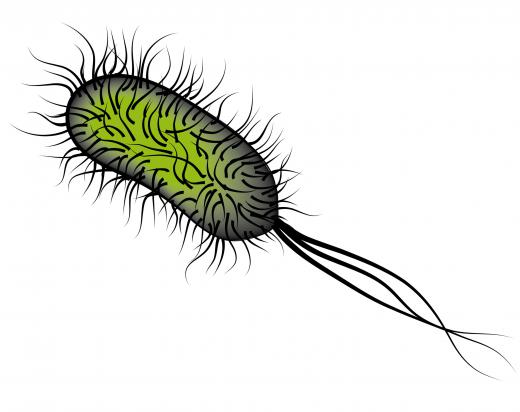 Yellow diarrhea can also be caused by a problem in the liver or gallbladder. In addition, liver and gallbladder problems are often accompanied by pain under the right ribcage. Pain under the left side suggests pancreas or spleen trouble. The color of feces is directly related to the amount of bile salts excreted from the liver. If this process is inhibited somehow, such as a by a gallstone, feces gradually will change color and become yellow or pale gray.
If the liver, pancreas and gallbladder suffers from fat malabsorption, feces can become yellow or gray, soft and smelly, as well as difficult to flush away. Cancer also is a possibility for sufferers of chronic yellow diarrhea that persists longer than four weeks. On a lighter note, some antibiotics, chemotherapy drugs and antacids containing magnesium can affect the liver and cause yellow diarrhea. One should consult a physician for alternative remedies and treatments if necessary.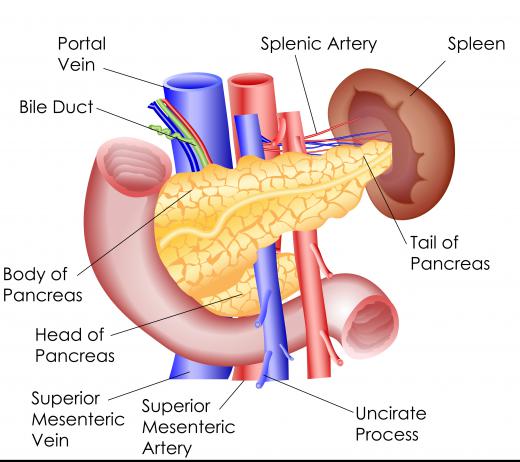 With respect to the small intestine, a variety of intestinal diseases can cause chronic yellow diarrhea along with fever, bloody stool and abdominal pain, just to name a few. If these symptoms are present, a physician likely will perform a medical history and physical examination, stool culture or colonoscopy. Blood tests can be used to determine whether a patient is at risk for inflammatory bowel disease (IBD), ulcerative colitis, Crohn's disease and celiac disease. These diseases are serious, and the severity of symptoms can be reduced by avoiding fatty foods, eliminating gluten and identifying other contributing factors.
Other Stool Discolorations
If you have discolored stool that is not yellow, this can be an indication of different health issues. Sometimes stool discoloration is temporary, and often due to a recent change in diet or medications. 
But never ignore a strange discoloration in the stool. Knowing what the different colors mean can help you assess your well-being and determine when it's time to see your doctor. 
Brown
The good one! Light brown to dark brown stool means a healthy gut and body. 
If your stool is consistently brown, this is a good sign that you are not suffering from many health issues discussed in this article. But diarrhea, even when a healthy brown color, is not a sign of a healthy digestive tract. 
Green
Green stool is often not a cause for concern and can be considered normal. It is common in tandem with diarrhea because food and liquids move through your system much faster. 
Certain foods cause green poop naturally, so before you call your doctor, think about if you ingested any of the following recently:
Green fruits (kiwi, avocado)
Green veggies (spinach, broccoli, asparagus)
Nuts (pistachios)
Seeds (pumpkin seeds)
Herbs (parsley, cilantro)
Medications high in iron
Red
A red or maroon stool could be caused by a particular diet that includes many red foods, especially baked goods or foods that contain red food coloring. 
Below is a list of foods that can turn your stool red:
Red or grape Kool-Aid
Red Jell-O
Red candy, like licorice
Fire Cheetos
Red food coloring
Cranberries
Paprika
Red peppers
Rhubarb
Tomatoes
Beets
While red stool can be innocuous, it could be a sign of health problems. If you have a red or maroon-colored stool, it could be a sign of one of the following health issues:
Hemorrhoids 
Gastrointestinal bleeding
Inflammatory bowel disease
Tumor
Diverticular bleed infection
If your stool is red, but you do not recall eating any foods that could be the culprit, you should see a doctor as you should not ignore all these health conditions. 
Black
Black stool can be quite concerning. In poor lighting, green stool can appear black, so try to verify the color before seeking medical help. 
Like other stool colors, black stool can be due to a specific diet. If you have eaten the following foods or medications, the black stool is likely not a health concern:
Medicines high in iron 
Pepto-Bismol
Cigarette ashes
Grape juice
Charcoal 
Oreo cookies
Licorice
If you have not consumed any of these items and your stool is consistently black, you should see a doctor immediately. Consistent black stool is a sign of GI bleeding (intestinal bleeding). When blood goes through your stomach, the stomach bile turns your blood a dark tar-like black. 
GI bleeding is a serious health concern and should be addressed promptly. The cause of GI bleeding is almost always a severe condition. GI bleeding means you could have one of the following conditions:
Benign tumors and cancer
Colitis
Colon polyps
Diverticular disease
Esophageal varices
Esophagitis
Gastritis
White
White stool is highly unusual and often caused by a liver or biliary disease. It can indicate a lack of stomach bile in the stool, necessary to process food. This disease most commonly occurs in babies because their bile ducts become blocked. 
But white stool might be caused by an unusual diet. If you eat a lot of the foods or medications listed below in a short period, it can cause stool to appear a white or light gray:
Fatty foods
Milk-only diets
High dairy diets (yogurt, cream, white cheeses)
Barium sulfate from a barium enema
Aluminum hydroxide (antacids
Sometimes pale yellow stool can be misconstrued as white stool, so try to identify the color before informing a doctor of your concerns and condition. 
Blue and Purple
Why would your feces be such a strange color like blue or purple? The answer is simple: food coloring. 
Artificial food coloring that people mostly put in baked goods and candies can not be thoroughly processed in your digestive system. So the color makes it through your body, changing the color of your stool. 
But don't worry, this is normal and not a cause for concern. Cut back on the jolly ranchers and colored frosting if your stool is consistently blue or purple. 
AS FEATURED ON:
AS FEATURED ON:

By: NilsZ

Yogurt with live cultures can rebuild intestinal flora after diarrhea.

By: Lyuba Bunakova

Salmonella, a common cause of food poisoning, can cause diarrhea.

By: psdesign1

An infection in the small intestine can cause yellow diarrhea.

By: snapgalleria

The pancreas and spleen are located under the left side of the ribcage.

By: ohmega1982

Yellow diarrhea can be caused by a problem with the liver or gallbladder.

By: digidreamgrafix

Parasites living in raw meat can cause yellow diarrhea.

By: Africa Studio

Diarrhea typically resolves on its own within one to two days.