What Are the Most Common Cephalexin Side Effects?
Cephalexin side effects are usually mild and do not pose any significant health risks, although any new or bothersome symptoms that appear after beginning treatment with this antibiotic should be reported to a doctor for further evaluation. Some of the most frequently reported cephalexin side effects include headaches, dizziness, and gastrointestinal disturbances. More serious side effects that should be reported to a doctor right away include yeast infections, bloody stool, and allergic reactions. Additional side effects are possible, so any specific questions or concerns should be discussed with a doctor or other medical professional.
A mild to moderate headache is among the most common of reported side effects, and over-the-counter pain relievers often provide sufficient results. Prescription pain medications may be prescribed in some situations, although it is more common for the supervising physician to attempt to adjust the dosage or change the medication. The development of a sudden or severe headache should be evaluated at the nearest medical facility in order to rule out serious complications such as stroke or aneurysm.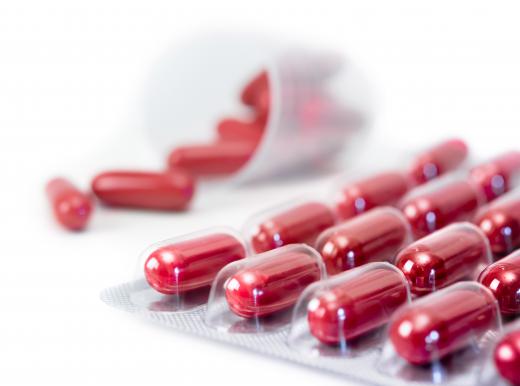 Dizziness may occur during treatment with cephalexin, so caution should be used when performing tasks that require focus or concentration. Digestive problems such as nausea, vomiting, and diarrhea are often reported as cephalexin side effects. Taking the medication with food or milk may help to reduce some of these symptoms. Abdominal pain, fever, and blood in the stool should be reported to a doctor immediately to make sure there is no significant damage to the gastrointestinal tract.
Yeast infections have been reported as possible cephalexin side effects. Vaginal yeast infections may be transmitted through sexual contact, so protection should be used in order to avoid affecting sexual partners. Symptoms of a vaginal yeast infection often include pain during urination or sexual activity, itching, and vaginal discharge that resembles cottage cheese. Thrush is a type of yeast infection that affects the mouth and causes symptoms such as pain, white patches, and difficulty swallowing.
Allergic reactions may occur when taking this antibiotic, even if the medication has been well tolerated in the past. Hives, itching, or swelling of the hands or feet should be reported to a doctor, and an over-the-counter antihistamine may help to reduce the severity of these symptoms. A potentially fatal type of allergic reaction known as anaphylaxis requires emergency medical treatment. Anaphylactic symptoms may include dizziness, facial swelling, and difficulty breathing. Any suspected cephalexin side effects should be discussed with a medical professional so that an individualized treatment plan can be developed.
AS FEATURED ON:
AS FEATURED ON:

By: anyaivanova

Cephalexin is used to treat bacterial infections.

By: memo

Headaches and dizziness are two common side effects that patients may suffer while taking cephalexin.

By: Alliance

Nausea and vomiting are possible side effects of taking cephalexin.

By: JPagetRFphotos

Diarrhea is one possible side effect of cephalexin.

By: jinga80

One of the most severe side effects of cephalexin is a deadly allergic reaction known as anaphylaxis.

By: Photographee.eu

Drug allergies can be serious, and CPR may be necessary if the person experiencing anaphylaxis is not breathing.

By: adam88xx

Cephalexin may cause a yeast infection in the mouth called thrush.

By: endostock

A doctor should be consulted if a yeast infection is suspected.