What are the Most Common Evening Primrose Oil Side Effects?
The most common evening primrose oil side effects are headache and nausea, although stomach pains and diarrhea may also occur and often indicate the dosage being taken is higher than needed. While studies have shown that animals given evening primrose oil experienced a drop in blood pressure, this does not seem to be the case for humans.
Evening primrose oil is commonly used to treat a variety of skin conditions, specifically eczema. It is also commonly recommended for individuals suffering from rheumatoid arthritis or those experiencing pains in the breast. Menopause and premenstrual syndrome (PMS) are two other conditions whose symptoms the supplement is said to help alleviate, but studies have yet to show any significant findings in these areas.
Overall, the number of potential side effects from evening primrose oil are minimal. The headaches that may result form taking the supplement are often mild and tend to fade quickly. Nausea tends to occur when the supplement regimen is first started, and it usually only lasts for the first few days. If these particular symptoms last longer than expected or begin to worsen, individuals should consult a healthcare professional.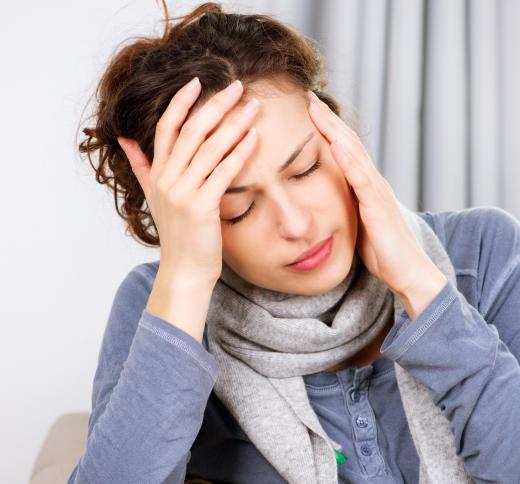 Other evening primrose oil side effects may be a warning sign that the individual should take less of the supplement. Loose stools and stomach cramps are reactions triggered by the gastrointestinal tract's inability to process larger quantities of the supplement. Most healthcare providers recommend starting with an average dose of 0.1 ounces (3 g) per day and slowly increasing the amount until improvement is noticed. Daily intake should not, however, exceed 0.28 ounces (8 g) per day.
Other side effects can be triggered by interactions with certain types of medications. Certain medications used to treat schizophrenia, particularly those in the phenothizine class of drugs, should never be mixed with evening primrose oil supplements, as this may cause seizures. Individuals taking any medications with blood-thinning effects, such as anticoagulants and anti-inflammatory drugs, should also avoid taking evening primrose oil.
Individuals looking to start taking the supplement should be aware of the fact that there are complications that can arise in individuals with other medical conditions. It should not be taken by individuals with diabetes or liver disease, as the sugar and alcohol content in the supplement tends to be somewhat high. There have also been cases of the supplement causing seizures; therefore, people who already have a history of seizures should avoid the using it as well. The supplement is also not recommended for pregnant mothers or those who are breastfeeding.
AS FEATURED ON:
AS FEATURED ON:

By: Sun Jeng Tan

Evening primrose oil capsules.

By: Subbotina Anna

Headaches are a potential side effect of evening primrose oil.

By: maximino gomes

Stomach cramps can be a side effect of taking too much evening primrose oil.

By: WavebreakmediaMicro

Because evening primrose is contraindicated for use with some medications, check with your physician before using it.

By: sebra

Certain medications used to treat schizophrenia should never be mixed with evening primrose oil side effects.

By: Fenton

Primrose oil may be helpful for reducing the inflammation of rheumatoid arthritis.