What Are the Most Common Problems during Adolescence?
Common problems during adolescence include mental and emotional issues, such as stress and depression. Eating disorders often occur during adolescence, as do other behavioral problems. Puberty can present problems in adolescents, as some teenagers reach puberty before their friends and others develop much later. School pressures can additionally put a teenager under a lot of stress.
Everyone goes through puberty at different rates. Starting puberty early or late are common problems during adolescence. A teenager who develops too quickly may be made fun of by her classmates. If puberty comes late, she may also face mockery by her classmates. The changes that occur during puberty, whenever they come, may make a person feel uncomfortable or nervous about her body.
Puberty brings its own set of troubles as well. Acne and pimples are common and can be embarrassing. Boys usually experience a deepening of the voice, which can make the voice crack or produce other embarrassing sounds as it becomes lower in tone. Body odor becomes much more noticeable as a child goes through puberty, meaning teenagers need to learn to use deodorant or face being made fun of.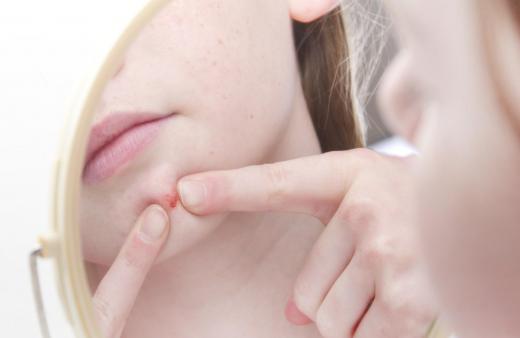 Changes in the body may cause girls and in some cases boys to become overly concerned with their weight. Eating disorders such as anorexia and bulimia may be problems during adolescence, though they may also occur earlier or later in life. If left untreated, an eating disorder can cause a person to experience a delay in puberty as well as other physical issues, such as heart problems, bleeding in the esophagus, and even death.
Some teenagers are unable to cope with problems during adolescence and may develop behavioral problems during this time. Usually, teenagers and older children have less adult supervision than they did as young children. If the adolescents are not prepared for less supervision, problems can occur, such as fights, underage drinking and illegal drug use, and other illegal activities. One way adults can help adolescents learn proper behavior is to give them responsibilities gradually and to provide teenagers with a supportive and caring environment.
Several mental health problems commonly arise during the adolescent years. During the teenage years, some people may first show signs of disorders such as schizophrenia or conditions such as depression. Depression among teenagers can be due to biological and genetic conditioning or as a result of stress. Although a teenager's life may seem carefree, it usually contains a lot of stress due to school and social pressures.
AS FEATURED ON:
AS FEATURED ON:

By: karam miri

Body odor often becomes much more noticeable during adolescence, so deodorant should be used.

By: Cheryl Casey

Acne is common during adolescence, and may be embarrassing.

By: Konstantin Kulikov

Teens may experience during adolescence if puberty occurs earlier or later than expected.

By: petert2

Adolescents often feel pressured by peers to engage in adult behavior.

By: Halfpoint

Adolescence is typically an emotionally turbulent time.

By: Lisa F. Young

Adolescents often push to gain more independence from their parents.

By: Klaus Eppele

Stress and depression are often issues for teens.

By: stokkete

Underage drinking is among problems that can arise if adolescents are not prepared for less adult supervision.

By: Sylvie Bouchard

Eating disorders such as anorexia and bulimia may be problems during adolescence.