What Are the Most Common Quercetin Side Effects?
Quercetin is a flavonoid with antioxidant properties. This compound has many natural sources, including fruits like apples and grapefruits, certain types of nuts, green tea; it is one of the antioxidants associated with good health effects of red wine. Flavonoids like quercetin are generally considered to be very healthy, and supplements are often recommended to enhance basic health. In addition, flavonoids are water-soluble, so the body usually excretes them if they are taken in excess. Despite these positive effects, however, serious quercetin side effects have been reported when very high levels are consumed.
Supplementation with quercetin is sometimes recommended for conditions like allergies, diabetes, vision problems caused by cataracts or retinal issues, atherosclerosis, and may also be recommended for anti-aging regimens. The quantity of quercetin varies in different supplements, but anywhere from 500-1,500 mg per day is a typical dosage for health benefits. On the other hand, some health professionals feel that even these levels of quercetin are too high and put a person at risk for quercetin side effects. These professionals suggest that quercetin should be obtained through a healthy diet rather than supplementation.
The most common of the quercetin side effects appears to be heartburn that occurs soon after taking a large dose. Acid reflux may also occur. Taking the supplement with or shortly following a meal will usually get rid of this relatively mild side effect.
Other quercetin side effects may include an increase in inflammation in the body. Although antioxidants are best known for their ability to fight inflammation processes in the body, a very large dose can actually have the opposite effect and induce inflammation. Reports on this side effect indicate that this often shows up as pain and stiffness in the joints.
Another possible side effect involves abnormal hormone levels. Estrogen, a female hormone, appears to be particularly susceptible to high quercetin levels. One study showed much higher estrogen blood levels in post-menopausal women taking estrogen therapy in addition to very high levels of quercetin when compared to a similar group of women who did not supplement with quercetin. High levels of female hormones have been associated with a higher risk of reproductive cancers and breast cancer in women.
Some scientists believe that quercetin side effects may also include a higher risk of certain cancers. While normal levels of quercetin from a healthy diet appear to help fight many cancers, very high levels as obtained from over-supplementing might have the opposite effect. This appears to be because high concentrations of quercetin can actually cause DNA damage.
As quercetin may potentially cause genetic damage, many health professionals recommend that pregnant women avoid strong supplements. This is to make sure genetic changes do not occur in the developing baby. Finally, very high doses should also be avoided in children because there is a slight association between a high concentration of quercetin in the body and certain leukemias in children.
Can Quercetin Cause Acid Reflux?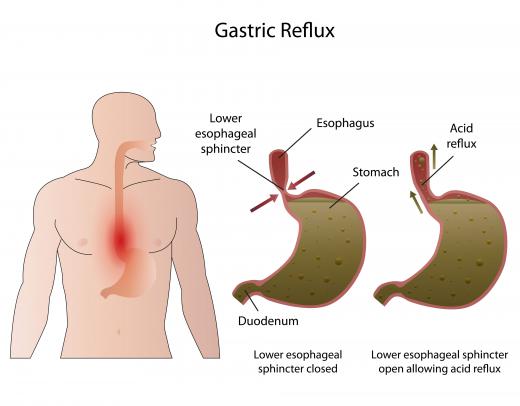 Acid reflux can be a side effect of using quercetin supplements. Heartburn and acid reflux symptoms are more common in people who have sensitive stomachs, who take large quantities of the supplement, or who take it without eating before or soon after ingesting it. This side effect is relatively easy to bypass simply by taking the supplement while you're eating a meal. It is also important to ensure that you are not taking too much of the supplement.
Is One of the Quercetin Side Effects Diarrhea?
People who have sensitive stomachs or who ingest too much quercetin at once can deal with side effects, which do include diarrhea. There are several other gastrointestinal side effects related to the consumption of quercetin as well. They include upset stomach, persistent abdominal cramps, sweating, flushed skin, and nausea or vomiting. Taking low doses of the supplement with food and fluids may decrease these side effects.
If these symptoms are severe, or if they accompany signs of an allergic reaction, it is important to stop taking quercetin right away and contact your doctor or a hospital emergency department. Signs of an allergic reaction include rashes, itching, hives, wheezing, difficulty breathing, and swelling of the tongue, lips, or throat.
Is a Quercetin Side Effect Insomnia?
Because quercetin can boost your energy levels, many people mistakenly believe that it can cause insomnia. While one study did show evidence that it can slightly alter the sleep-wake cycle by activating the GABA receptors, the alteration is not enough that it will cause insomnia as a common side effect in most people.
How Much Quercetin Should You Take?
The most common dose of quercetin is 200-500 milligrams, although some people take up to 800 milligrams at a time. Quercetin is meant to be taken up to three times a day, which means that a total daily dose is 600-2400 milligrams. People who try to take more than that per day most often deal with gastrointestinal side effects such as heartburn and diarrhea.
Does Quercetin Interact With Any Medications?
Quercetin is a natural component of several foods, including apples, grapefruits, oranges, onions, pomegranates, and black, white, and green teas. If you take any medication that indicates you should avoid consuming these foods, then you should also avoid taking quercetin supplements. It is always a good idea to talk to your doctor before starting any new supplements to ensure that there will be no adverse interactions. Quercetin is known to interact with cyclosporine, estradiol, and felodipine.
What Are the Benefits of Taking Quercetin?
There are several benefits of taking quercetin. Many people take it for energy and to lower inflammation levels in the body. It is a component in some athletic supplements because it increases endurance and overall energy, thereby somewhat boosting physical performance. The supplement is also useful for fighting pain and inflammation related to a variety of illnesses and disorders, including eye-related disorders, stomach ulcers, viral infections, chronic fatigue syndrome, and some skin disorders, such as hives or dermatitis. Other possible benefits of taking quercetin include allergy relief, pain relief, better heart health, and better liver health.
AS FEATURED ON:
AS FEATURED ON:

By: denphumi

Quercetin is a flavonoid found in apples and other foods.

By: NataliTerr

Green tea contains the flavonoid quercetin.

By: Irina Redko

Quercetin is responsible for some of the health benefits of red wine.

By: kmiragaya

Side effects of quercetin may include heartburn.

By: bilderzwerg

Acid reflux may be a side effect of quercetin.