What Are the Most Common Biotin Side Effects?
Biotin, a popular B-vitamin supplement, is generally safe, but some may experience mild side effects like nausea, cramping, or allergies. Are you aware of how your body reacts to biotin, and could you be overlooking subtle signs of intolerance?
Biotin, or vitamin B7, is a water-soluble vitamin that typically causes no side effects, even in those who take it in high doses. Those who do experience side effects most often report cystic acne breakouts that clear up when they stop taking the supplement. Certain people also have allergic reactions to it, and taking it with certain medications can make them less effective. Pregnant women should not take biotin without consulting a healthcare professional because of a very low possibility of miscarriage.
Acne
The most common biotin side effect is breakouts of cystic acne along the jawline and chin. It's not clear why this happens, but many cases subside after a few weeks, and almost all stop after a person stops taking the supplement. Lowering the dosage to 2,500 mcg or less per day can help decrease this effect, as can drinking lots of water. Different people experience different frequencies of acne with the vitamin, so preventing the problem may involve trial and error to find the right dosage.
Allergies
Allergic reactions are another of the potential, if uncommon, biotin side effects. Many people who do have allergies to this supplement are also allergic to cobalt and cobalamin (vitamin B12), though this is not always the case. The most common symptoms of a reaction to vitamin B7 are tightness and pain in the chest, swelling in the face and throat, nausea, and an itchy rash. Anyone with these symptoms should seek medical attention immediately, as this type of reaction can be fatal.
Miscarriage
Several studies have shown that high doses of biotin given to pregnant rats may increase their risk of miscarriage. It's not clear why this happens, though, or whether it would have the same effect on humans. To be on the safe side, pregnant women should not take B7 supplements without talking to their medical provider first.
Interactions
Biotin also interacts with some anti-seizure medications and drugs to reduce cholesterol, making them less effective. Additionally, it helps the metabolism, including regulating blood sugar levels and carbohydrate functions, which means that it can have an effect on blood glucose levels when taken in high doses. People taking anticonvulsants, cholesterol-lowering medications, or those with insulin sensitivity or diabetes should consult a medical professional before taking biotin to avoid any potential interactions.
Life-threatening interactions with this substance are extremely rare. The only recorded case is of a woman who experienced a life-threatening lung and chest condition called eosinophilic pleuropericardial effusion after she ingested a large amount of vitamin B7 along with vitamin B5. She recovered once she stopped using both vitamins. It is not known whether her condition stemmed from biotin side effects, vitamin B5 side effects, a combination of the two, or something else.
Prevention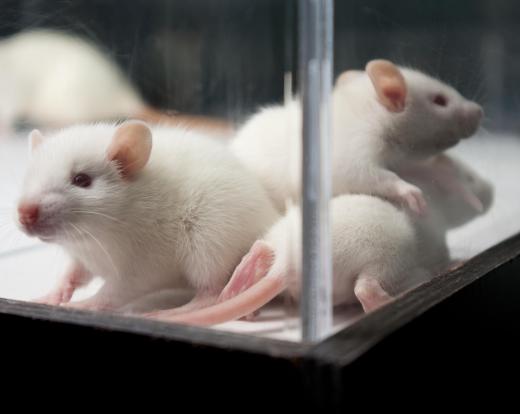 People can greatly reduce their chance of biotin side effects by taking supplements in the recommended dosage, which is generally around 30 mcg/day for adults and between 5 and 10 mcg for infants and children. Since it's water-soluble, drinking more fluids can also help flush any extra B7 out of the body. Other people prefer to avoid taking biotin in supplement form altogether and get theirs from dairy products, nuts, salmon, and whole grain products.
Does Biotin Cause Weight Gain?
No studies suggest that taking biotin causes weight gain. Some people claim it can have this effect, but they don't have any scientific evidence to support it. Any claims that biotin increases appetite are only anecdotal, not backed up by science.
Other people claim that biotin supplements can help you lose weight, but that conclusion isn't supported by studies either. Healthy levels of vitamin B7 may help lower triglycerides and blood sugar, but the results of studies are mixed. You should discuss treatment options for high blood pressure and diabetes with your doctor instead of relying on over-the-counter supplementation.
Can Biotin Cause Hair Loss?
People who have a severe deficiency of biotin can experience problems with hair loss. This effect can start as thinning hair on the scalp, and it can affect both men and women. If the problem is allowed to continue, it can trigger a loss of body hair, including arm and leg hair.
How is biotin linked with hair health? This vitamin helps your body produce keratin, a protein that gives your hair, nails and skin their structure. With sufficient levels of keratin, hair is stronger and less likely to break or fall out. Biotin also appears to increase the rate hair grows naturally.
This doesn't mean that biotin supplements can increase hair growth. There isn't much evidence suggesting that taking vitamin B7 supplements can reverse thinning hair unless the hair loss was caused specifically by a biotin deficiency.
Is Biotin Safe for Kidneys?
Biotin isn't listed as a vitamin of concern for people who have kidney disease. In fact, according to the National Kidney Foundation, your healthcare provider may recommend a B vitamin complex for kidney health. That said, if you have kidney problems, you should discuss any supplements with your doctor before taking them.
What Other Side Effects Can Biotin Supplements Have?
Getting too much vitamin B7 can interfere with thyroid testing results. High levels of biotin can lead to a false positive, making it look like you have a thyroid issue when you don't. It's also possible for excessive biotin to prevent your body from absorbing sufficient amounts of other B vitamins, potentially causing other deficiencies. You should never take more than 2.5 milligrams of vitamin B7 a day.
What Are the Symptoms of Biotin Deficiency?
As long as you eat a balanced diet, it's rare to require additional biotin or have a deficiency. You can get biotin from egg yolks, avocadoes, nuts (e.g., almonds, peanuts, walnuts, etc.) sweet potatoes, legumes, bananas, cauliflower and other veggies.
Signs of biotin deficiency include the following:
Brittle fingernails and toenails
Red rashes around the nose, mouth, eyes and other openings
Skin infections
Conjunctivitis
Tingling sensations in extremities
Feelings of exhaustion
Seizures or hallucinations
You should speak with a healthcare professional right away if you notice these symptoms. Your physician can perform a blood test to check your biotin levels and evaluate other symptoms.
Why Do Some People Need To Take Biotin Supplements?
It's important to speak with your doctor if you think you may have a deficiency in vitamin B7. Women who are pregnant and breastfeeding have an elevated likelihood of B7 deficiency. At the same time, taking too much of this vitamin can increase the risks of miscarriage slightly.
Certain medications can also lower the body's levels of biotin, potentially causing a deficiency. Anti-seizure medications and antibiotics can have this effect if you take them for an extended period.
Some babies are born with a rare disorder called biotinidase deficiency, a condition caused by a defective gene. Fortunately, doctors screen newborns in the U.S. for BTD. It's important to follow the doctor's instructions when treating babies or children for biotin deficiencies.
AS FEATURED ON:
AS FEATURED ON:

By: Ocskay Bence

Cystic acne on the jawline and chin is the most common side effect of biotin.

By: ohmega1982

Tightness and pain in the chest is a sign of a possible biotin allergy.

By: Ana Blazic Pavlovic

Nausea can be a sign of possible biotin allergy.

By: Louella Folsom

Biotin supplements rarely cause side effects.

By: lculig

Several studies have shown that high doses of biotin given to pregnant rats may increase their risk of miscarriage.

By: AAA

Whole grain breads and cereals are high in biotin, which is also known as vitamin B7.