What are the Most Common Spider Bite Symptoms?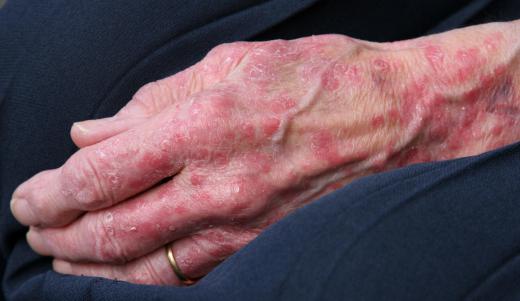 Unexplained bug bites and rashes are attributed to spiders every day, but in fact there are some very specific spider bite symptoms which can be used to determine whether or not a bite is from a spider, and how dangerous it is. Luckily for humans, most spiders have venom which can be processed by the body, so even if someone is bitten, he or she will not need medical attention. There are a few notable exceptions to this rule, including black widow, hobo, brown recluse, wolf, mouse, and funnel-web spiders. Common spider bit symptoms include a raised red welt, possibly with a bullseye appearance, accompanied by swelling, itching, and pain. More serious symptoms, such as a fever, dizziness, or confusion, are signs of a dangerous bite that should be reported to a doctor immediately.
Many people fail to notice that they are bitten by a spider at the time that the bite occurs. Spiders are shy, as a general rule, and they will only bite if they feel threatened or nervous. Sometimes, a small pinprick or pinch can be felt, but the first sign of a spider bite is often a raised red welt caused by the body's reaction to the venom, with a small dot in the middle where the spider bit down. Some spider bites have a distinctive bullseye appearance, with a ring of blanched skin around the bite, surrounded by a raised welt.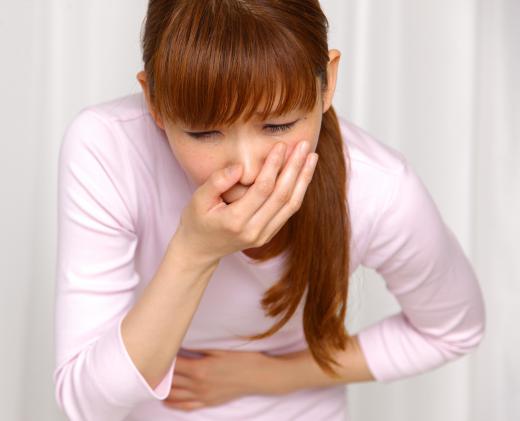 At the site of the bite, itching, swelling, pain, and redness are common. People can make themselves more comfortable by icing the site or applying remedies such as witch hazel to reduce swelling and itching. It is important to keep a spider bite clean to reduce the risk of infection and ulceration.
More serious spider bite symptoms include nausea, vomiting, headache, fever, and chills. In some cases, an increased heart rate, dizziness, shortness of breath, confusion, and unconsciousness can occur. These symptoms indicate that the patient has been exposed to dangerous spider venom.
When severe spider bite symptoms emerge, patients should go to the hospital. At the hospital, patients should explain that they think they may have been bitten by a spider, and describe the environments they have been in over the last few days, as this can help a doctor determine which species of spider did the deed. Patients who have direct contact with species known to be venomous should seek prompt attention for spider bite symptoms, or in the event that they notice a bite as it occurs.
Some people develop allergic reactions to spider bites, whether or not the venom is dangerous, and they can develop severe spider bite symptoms. Signs of allergies include hives, wheezing, and redness, and medical attention may be needed to address the allergic reaction. Patients with allergies may be issued an epi-pen which allow them to inject epinephrine for first aid in the event that they are exposed to allergens.


By: marilyn barbone

The development of hives after a spider bite may indicate an allergic reaction.

By: Greg Friese

A serious enough allergy may require the use of an epipen.

By: carla9

Serious spider bite symptoms may include nausea and vomiting.

By: Cheryl Casey

A spider.

By: dianamower

Products containing witch hazel can relieve irritation from spider bites.

By: chuugo

Confusion is one possible symptom of a serious spider bite.

By: jedi-master

Swelling, pain and redness are common spider bite symptoms.