What Are the Signs of an Allergic Reaction to Acetaminophen?
Most medications have the potential to cause an allergic reaction, although negative effects to commonly used drugs like acetaminophen are fairly rare. Knowing the signs of an allergic reaction to acetaminophen is still important for individuals taking this drug for pain or fever. The gastrointestinal (GI) tract and skin are the most likely places that symptoms will appear, and signs of a reaction can include diarrhea, nausea, vomiting, and swelling of the abdomen. Rashes, itching, or hives may also occur, and may sometimes affect the entire body. Studies performed around the world suggest a link between this dug and the development of asthma and allergies, as well.
Unlike food allergies, which do not usually affect the respiratory tract, some research suggests that a acetaminophen allergy can cause asthma or other symptoms can affect breathing. This effect may be due to elevated levels of histamine, a compound involved in allergic reactions, that the drug might cause. Wheezing, coughing, and difficulties with breathing accompany such reactions, and the problems may become worse at night.
At least one study performed by a major university has linked monthly use of acetaminophen with certain respiratory and nasal symptoms. Teenagers taking this drug were found to have a greater chance of having a runny or irritated nose, and red, watery eyes. Sneezing and coughing were also more common. This study did not suggest whether or not these symptoms were linked to a chance of developing asthma.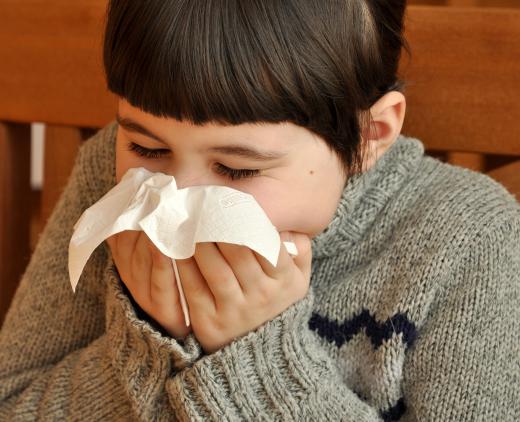 In the event of an extreme allergic reaction to acetaminophen, medical assistance may be required. Manufacturers of this medication often recommend that a medical professional should be contacted in the event that hives or breathing problems occur, because these could be signs of a severe reaction. Another symptom that can signal potential danger is swelling, especially when it affects the lips, tongue, or face.
Preventing an allergic reaction requires staying away from any products that contain acetaminophen. Should it be accidentally ingested in small amounts, there are a few ways of treating a mild reaction. Taking an antihistamine like diphenhydramine can relieve most symptoms, and a steroid cream may help reduce itching or hives. A sudden, life-threatening reaction can often be reversed with a shot of the drug epinephrine, used to treat many types of severe allergies.
AS FEATURED ON:
AS FEATURED ON:

By: Farina3000

Signs of an allergic reaction to acetaminophen may include nausea and swelling of the abdomen.

By: mellsva

Signs of an allergic reaction to acetaminophen may include runny nose.

By: sframe

Signs of an allergic reaction to acetaminophen may include coughing and wheezing.

By: Itan1409

Studies have suggested a link between acetaminophen and the development of asthma.

By: marilyn barbone

Signs of an allergic reaction to acetaminophren may include hives.

By: jinga80

One of the most severe adverse effects of acetaminophen is a deadly allergic reaction known as anaphylaxis.