What Are the Signs of an Allergic Reaction to Vitamins?
While it is more commonly accepted that a person can have an allergic reaction to prescription medications, many people do not realize that it is possible to have an allergic reaction to vitamins. Both multivitamins and specific vitamins, such as B and D, can cause reactions in some people. 
Vitamins are widely consumed by adults as dietary supplements. Food allergies affect almost 3% to 4% of adults in western countries. Even though studies show that multivitamins are effective and safe in small quantities, high doses for long periods can have adverse effects. 
As per recent studies, multivitamins can cause an immediate or delayed type of hypersensitivity reaction. The most common signs of a vitamin allergy include hives, facial swelling, skin irritation, and vomiting, among others.
This article will cover all you need to know about allergic reactions to vitamins, including the causes, signs and symptoms, and which types are more prone to causing allergic responses. 
But first, let's learn about the role of vitamins in the body.
Why Are Vitamins Important?
Like carbohydrates, fats, and proteins, vitamins are organic compounds the human body needs to work optimally. These compounds are required in small quantities by the body. Vitamins can be divided into two types, namely essential and non-essential.
Non-essential vitamins are produced by the body and do not need to be taken into the diet. On the other hand, essential vitamins should be consumed in the diet as the body can not produce them.
Vitamins and minerals are vital for different body functions, including bone growth, immunity, vision, skin health, etc. Vitamin D is crucial for normal bone development, while vitamin C is crucial for the tissues in the body as it helps in growth and repair.
What Causes a Vitamin Allergy?
In some cases, the body's immune system identifies a part of the vitamin supplement as a harmful substance. In response, the body starts producing antibodies (immunoglobulin E). The antibodies promote the mast cells (in soft tissues) to release inflammatory chemicals, i.e., histamine. Such individuals are recognized as allergic to vitamins. 
Common Signs and Symptoms of Allergic Reaction to Vitamins?
A person who experiences an allergic reaction to multivitamins may break out in itchy hives. While most hives are an itchy nuisance, it is possible to develop hives in one's throat, which can cause breathing problems and discomfort. 
Skin rashes may also develop as a part of the allergic response to vitamins. Allergic eczema, an itchy rash on the skin, can develop due to a vitamin B12 allergy. A case of eczematous skin lesions was seen after the individual consumed a high dose of vitamin B12 for long periods.
In most cases, allergic eczema is mild and does not need special medical attention. Antihistamines and calamine lotion can be used to help treat any discomfort the external hives are causing, but any indication that hives have developed in the throat requires immediate medical attention. Over-the-counter corticosteroid creams can also reduce inflammation and itching. 
Facial swelling is another common allergic reaction to vitamins. If a person begins taking a new multivitamin and experiences swelling in the face or tongue, it can be a sign of a very serious allergic reaction.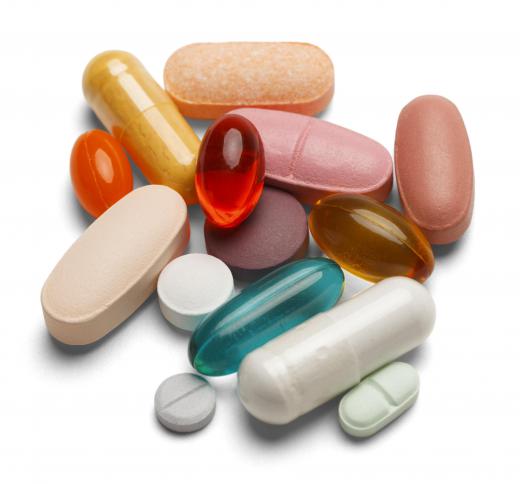 Shortness of breath is a serious symptom of food (vitamin) allergy. Allergic wheezing is also a serious condition that needs immediate medical attention. A person who feels as if his or her throat is closing or that he or she cannot breathe shortly after consuming a multivitamin should be taken to an emergency room as soon as possible. 
A person should be aware of the possibility of an allergic reaction to vitamins if they are beginning to take a specific vitamin. Vitamin B is a popular vitamin among people looking to have healthy hearts or ease the symptoms of severe anxiety. A person who begins taking vitamin B and notices a skin rash may be allergic. Nausea, vomiting, and other stomach troubles also may be signs of a vitamin B reaction.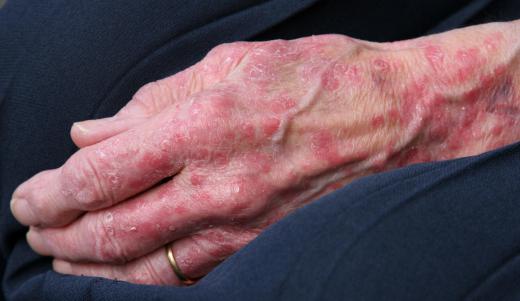 Similarly, a review of case reports revealed that the most common symptoms of vitamin D intoxication are dehydration, vomiting, and appetite loss. A study suggests that multivitamin supplements can cause only minor gastrointestinal upsets. Therefore, they are generally safe to consume.
Vitamin B12 (cobalamin) can trigger allergic eczema due to the presence of cobalt in it. The condition is rare and is not life-threatening. If a person believes they are allergic to vitamin B supplements, they should stop taking the pills and make a doctor's appointment to talk to their healthcare provider about the symptoms.
In addition to allergic responses, multivitamin supplements taken for long periods may also increase the risk of heart diseases and cancers. According to a study, short-term usage is safe and does not cause many problems, but long-term use should generally be avoided.
Hypervitaminosis A is a condition where the body responds to excess vitamin A. The most common symptoms of excessive vitamin A consumption include rash, nausea, vomiting, gastric upset (pain), and irritability. Patients feeling these symptoms should immediately stop taking the supplements and report to a doctor. 
A patient with a lot of food allergies may stand an elevated chance of being allergic to vitamin C, vitamin D, and other popular supplements. A person concerned about a potential vitamin allergy can arrange an appointment with an allergist for testing. 
An allergist can perform a skin patch test to learn which vitamins, if any, present a problem for a person. Doing a skin patch test upfront can save a person from suffering a severe allergic reaction to vitamins later. Discussing with a doctor the addition of vitamins to a daily health routine can help prevent allergic reactions before they start.
Vitamin Allergy in Infants and Children 
Infants are more prone to developing food allergies on vitamin intake. That is why vitamin supplements should be consumed with caution. As per an analysis, early vitamin supplementation increases the risk of asthma and food allergy in children.
Safe Dosage of Vitamins 
The National Institute of Health recommends taking multivitamins according to their Dietary Reference Intakes (DRIs). Some vitamins can be taken higher than the recommended dietary allowance (RDA) but should never exceed the Tolerable upper intake level (UL). 
You can learn about the recommended doses of different vitamins and minerals here.
Which Type of Vitamins Is More Prone To Causing an Allergic Response?
When taking vitamin supplements, you should watch for these types:
Fat-Soluble Vitamins 
Vitamins that dissolve in fats, such as A, D, E, and K, can accumulate in the body, quickly reaching toxic levels. The toxicity of such vitamins can trigger allergic responses in the body. Allergic response symptoms to vitamin A and C toxicity include nausea, vomiting, diarrhea, etc.
Minerals
A lot of multivitamins contain minerals. High doses of iron, zinc, and copper can also cause an allergic response, thus, causing havoc.
Water-Soluble Vitamins 
This type is generally safe as they don't accumulate in the body. However, allergic reactions to vitamin B and C consumption have been observed. 
AS FEATURED ON:
AS FEATURED ON:

By: Stacy Barnett

Facial swelling is a common allergic reaction to vitamins.

By: klsbear

People with a variety of food allergies may also be allergic to vitamin C and vitamin D.

By: pixelrobot

Multivitamins may cause reactions in people who are allergic to certain ingredients.

By: marilyn barbone

Signs of an allergic reaction to vitamins may include hives.

By: apichai

A person with many food allergies may have a higher chance of being allergic to Vitamin C.