What Are the Symptoms of a Blood Clot in the Foot?
Blood clots in any part of the body can be dangerous, and a blood clot in the foot is no different. Many people who experience foot swelling, or edema, as well as pain or numbness will not recognize these symptoms of a blood clot. These symptoms and other signs of a problem often go unrecognized until after the blood clot has relocated to another part of the body and has become a life-threatening condition.
In most cases, individuals suffering from a blood clot in the foot will notice that the affected foot is swollen and discolored. Depending on whether the blood clot is blocking the flow of blood going into the foot or out of the foot, the coloration might be purple or red, respectively. The victim might also notice that the veins on the surface of his or her feet appear to be larger than normal. This appearance is commonly referred to as varicose veins.
At this point, the victim might develop numbness in the affected foot, because the blood circulation is effectively blocked by the blood clot. At the other end of the spectrum, the victim also might begin to experience intense pain — which has been described as either a throbbing, persistent ache or a shooting pain — when standing, walking or flexing the foot. This numbness or pain might extend into the leg because the blocked vein deprives the leg of a proper blood supply.
Early detection and resolution of a blood clot in the foot is vital. With proper medical response, clots are treatable, and most individuals who detect them early will make a full recovery. Using blood thinners, such as aspirin or prescription medications, along with special therapies and techniques, medical professionals can usually dissolve a blood clot before it creates a serious threat.
Without proper medical attention, a blood clot can easily relocate to the heart, causing a heart attack. It might also break loose and lodge itself in a vein feeding the brain, causing a stroke. Blood clots that are dislodged and arrive in the lungs have equally disastrous potential, because they can result in a pulmonary embolism. These possibly fatal conditions are why prompt response is necessary when dealing with discoloration of the feet, foot and leg pain, numbness or any of the other signs of a blood clot in the foot.
Once you recognize the symptoms of a blood clot in your foot, you'll want more information. Understanding how and why these clots happen can help you determine if you have a clot and how you can prevent it in the future.
What Is a Blood Clot in the Foot?
Two sets of veins carry blood into your feet and back to your heart. One set is the superficial veins. When they're enlarged, you can see them through the skin. They're known as varicose veins if visible.
The other set of veins is deep veins. They're so close to your bones that you can't see them through your skin, even if they're enlarged. Both sets of veins can develop clots that result in inflammation. Doctors call inflamed veins phlebitis, regardless of vein type.
Blood clots often cause vein inflammation, so your doctor will call the condition venous thrombosis or thrombophlebitis. When you have inflamed veins, you experience the previously mentioned blood clots symptoms like swelling, redness, pain, and heat. 
How Do You Know If You Have a Blood Clot in the Foot?
You can tell you have a blood clot in your foot if only one of your feet, ankles, or legs is swelling. That shows you that the pain is localized to that side of your body. You might get calf cramps or sudden pain in your foot or ankle. If there's no explanation for foot, ankle, or calf pain, such as overexerting yourself, then you might have a blood clot in your foot.
Blood clots can go away on their own. You might find that the pain is sudden and then disappears. The body can break down the clot and absorb it in a week or month. However, if you're experiencing regular pain, you should see a doctor.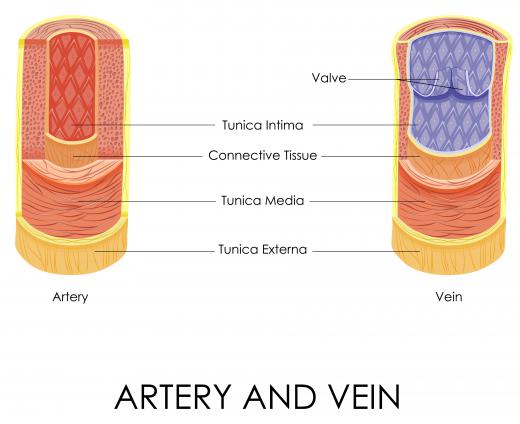 Blood clots are dangerous because they can move to other parts of your body. A blood clot might start in your foot but break loose and flow to your lungs, causing a pulmonary embolism. Your doctor might request a blood test, ultrasound, or CT scan to determine the location of the blood clot. At that time, they can determine how to safely break up or remove the clot.
A medical professional might administer thrombolytics. These drugs dissolve blood clots, and you can take them as a catheter in the affected vein or as an IV. The doctor will watch you carefully during this treatment since it increases your risk of bleeding.
Can You Prevent a Blood Clot in the Foot?
Blood usually won't clot in the vein. If you're experiencing blood clots in your veins and suffering from inflammation, you need to talk to your doctor. These things are usually hereditary. You might have a family history of rare blood clots. If there's nothing in your medical history, it could be from vein injuries, surgery, bed rest, pregnancy, or cancer.
If you have a family history of blood clots, your doctor can prescribe some prevention methods. These tips might include wearing loose-fitting socks and shoes or trying compression stockings. Raising your legs at least six inches over your head also increases your blood flow.
For people with no family history of blood problems, there are ways to prevent a blood clot in the foot. Eating a healthy diet is always a good way to keep your blood flowing smoothly. Eating right means you're more likely to maintain a healthy weight. When your body isn't straining to support itself, you'll have fewer veins problems, and your blood can reach all your extremities.
A healthy diet and balanced weight also give you more energy and make it easier for you to exercise. Regular exercise keeps your heart pumping, so the blood flows throughout all your veins. Non-smokers, or people who quit smoking, will also have better circulation than smokers.
If you can avoid sitting for long periods of time, you'll have increased blood flow. Getting up and moving your body is especially important during long flights or days at work when you have to sit at a desk. Taking regular walks and stretching your muscles encourage good circulation.
Final Notes
A blood clot is always dangerous, so you should stay aware of potential blood clots in your feet. However, knowing the causes and recognizing the symptoms will help you stay healthy and aware.
Frequently Asked Questions
What are the most common signs of a blood clot in the foot?
Redness, swelling, and discomfort in the afflicted region are the most common symptoms of a blood clot in the foot. Moreover, the region may become painful and feel hot to the touch. The foot may also have a discolored, blue, or purple tone. If you suspect you have a blood clot in your foot, it is important to talk to a doctor since sometimes individuals may have little or no symptoms.
What are the risks associated with having a blood clot in the foot?
The presence of a blood clot in the foot might be harmful. It might be fatal if the clot separates and enters the circulation, where it could obstruct the heart, lungs, or other vital organs. Moreover, a blood clot in the foot may damage tissue permanently and result in long-lasting swelling and discomfort.
How is a blood clot in the foot diagnosed?
An MRI or CT scan, together with a physical examination, is often used to detect blood clots in the feet. The doctor will check for swelling, redness, discoloration, and soreness during the physical examination. To gauge how quickly blood is flowing through the afflicted location, they could also utilize a Doppler ultrasonography.
How is a blood clot in the foot treated?
The size, location, and severity of a blood clot in the foot will determine how it is treated. Anticoagulant drugs like warfarin or heparin are often prescribed by doctors to dissolve the clot and prevent it from becoming bigger. In certain cases, a doctor could advise having the clot removed surgically.
How can I prevent a blood clot in the foot?
Keeping your blood moving is the best method to avoid a blood clot in your foot. The chance of having a clot may be decreased with regular exercise and a balanced diet. Talk to your doctor about what you can do to minimize your risk if you smoke, have a family history of blood clots, or have any other risk factors for blood clots.
AS FEATURED ON:
AS FEATURED ON:

By: Luis Santos

Swelling and discoloration of the foot may be indicative of a blood clot.

By: CandyBox Images

If left untreated, a blood clot in the foot could relocate to the heart and cause a heart attack.

By: ras-slava

Blood clots that form in the foot may travel to other parts of the body if untreated.

By: clearviewstock

A blood clot, also known as a thrombus, is the result of several blood cells lumping together.

By: Mercedes Fittipaldi

Swelling and numbness are symptoms of a blood clot in the foot.

By: stockshoppe

Most arteries carry oxygenated blood, while most veins carry deoxygenated blood.

By: p6m5

Early detection and resolution of a blood clot in the foot is vital.