What are the Symptoms of a Torn Knee Ligament?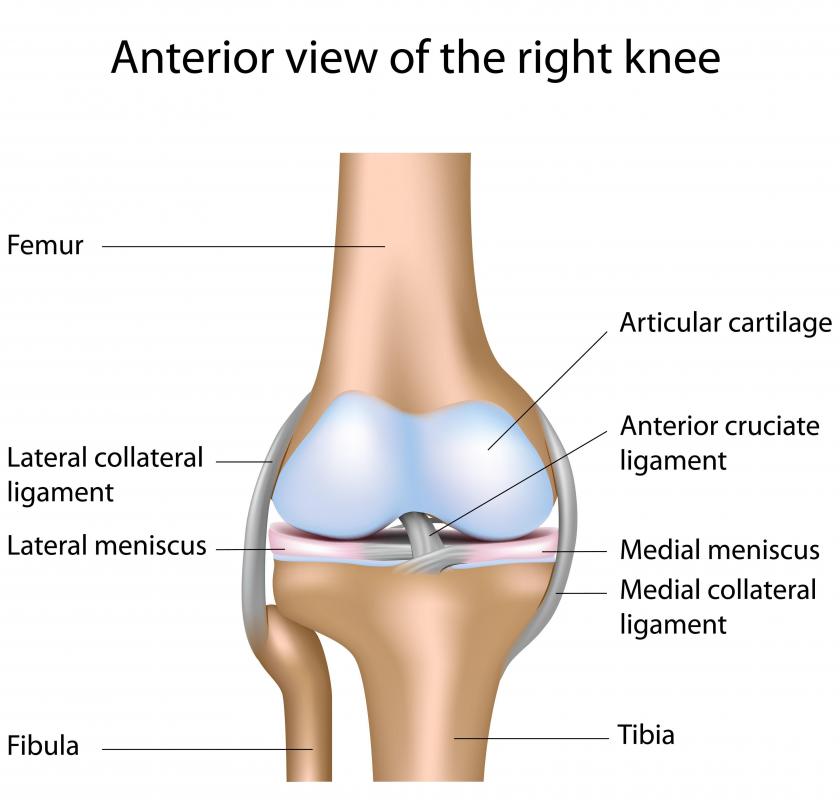 Some of the most common symptoms of a torn knee ligament are pain, swelling and, in some cases, an audible snap. The severity of these symptoms depends on which ligament has been torn. Most people will also suffer from knee instability, which can result in the knee giving way, but this may be masked by significant swelling.
The symptoms of an injury to a knee ligament depend on its severity. A Grade One sprain is the least severe and often only results in minor pain and instability. Grade Two tears are more serious and cause a greater amount of pain and instability. A Grade Three sprain, also referred to as a completely torn knee ligament, is the most severe. The symptoms also partly depend on which ligament is involved.
A knee ligament can be torn because an individual makes a twisting movement in the joint. When a tear occurs, there may be a popping noise, although this depends on which ligament is involved. An anterior cruciate ligament (ACL) tear is most likely to cause an audible snap. If the injury happens during an athletic activity, this noise is often loud enough for surrounding participants to hear.
Pain is common to all types of torn knee ligament, but is most severe if the ACL is affected. A tear to the medial ligament is often painful, but is not thought to be as excruciating. After the injury, the joint will swell in order to protect itself. This can happen immediately after the injury or there may be a short delay. Swelling is important in the initial stages because it helps to prevent further injury, but it needs to be managed carefully.
Instability is a common symptom of damage to the knee ligament. The main function of these ligaments is to provide stability in the joint; if one becomes torn, it affects the joint's balance. If the ACL is torn, for example, then there will be significant instability immediately after the injury. Once the joint begins to swell, however, then this may not be so obvious.
Proper treatment is essential for a full recovery. A physiotherapist may provide a conservative treatment plan or a set or exercises to perform in the lead up to surgery. If rehabilitation is ignored by the athlete, it can result in additional problems and may prevent a full return to competitive sports.
By: Alila

A diagram of the knee, including ligaments.

By: Stephen Coburn

A torn ligament could mean that an athlete must take a break from sports.

By: kosmos111

Pain and swelling are common symptoms of a torn knee ligament.

By: Dirima

The ACL is the most commonly injured ligament in the knee.

By: Monkey Business

A physiotherapist may provide a patient with a set of exercises to perform in order to care for a torn knee ligament.