What are the Symptoms of Hyponatremia?
Hyponatremia is the result of insufficient sodium in the body fluid that surrounds cells. Proper sodium levels are important in maintaining blood pressure and in keeping nerves and muscles functioning properly. There are several symptoms of hyponatremia, and though it occurs in only a small percentage of people, it is the most common electrolyte disorder treated in the United States.
Common symptoms of this condition include fatigue, irritability, headache, and water retention, loss of appetite, and nausea or vomiting. Other symptoms of hyponatremia are mental in nature and include abnormal or confused mental status, hallucinations, and possibly unconsciousness. Often, confusion and changes in a person's mental state are the first serious signs as the brain cells cannot accommodate the swelling caused the water retention that accompanies hyponatremia.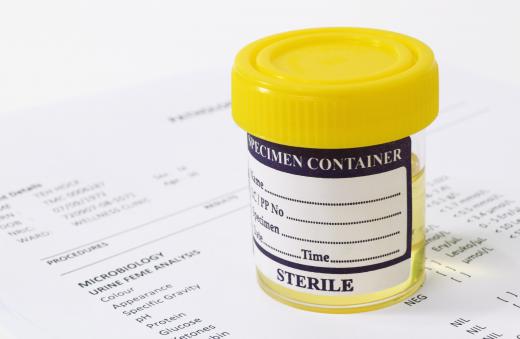 Hyponatremia is diagnosed through serum and urine testing. There is almost always an underlying cause of hyponatremia, which must also be diagnosed and treated. Insufficient sodium levels can be treated with intravenous fluids, a restricted diet, and supplemental oxygen. Medications that offset some of the symptoms of hyponatremia can also be administered to restore comfort and prevent seizures.
The causes of hyponatremia include burns, dehydration due to excessive vomiting or diarrhea, congestive heart failure, as a side effect of diuretics, kidney disease, and certain other diseases. Acute hyponatremia, which is a sudden reduction in sodium levels over a 24 to 48 hour period, often due to extreme physical exertion or dehydration, is considered more dangerous than the chronic hyponatremia that can occur with certain diseases or disorders.
Hyponatremia can be life threatening, especially if the brain cells cannot accommodate the swelling that may occur. This condition can also affect the heart. Though some signs of hyponatremia may be confused with other conditions, if a person suspects that he or she has an electrolyte imbalance or has other symptoms of hyponatremia or dehydration, he or she should seek medical attention immediately.
AS FEATURED ON:
AS FEATURED ON:

By: jcreaxion

A urine test is typically used to help diagnose hyponatremia.

By: Adam Gregor

Nausea is a common symptom of hyponatremia.

By: nebari

Symptoms of hyponatremia may include fatigue and irritability.

By: ShpilbergStudios

Intravenous fluids may be given to treat insufficient sodium levels.