What are the Treatments for Severe Spinal Stenosis?
Severe spinal stenosis, a condition in which an area of the spine narrows and chokes the spinal cord or the nerves, is typically treated with exercise, medication, and surgery. Injections of steroids may also be used prior to surgery to help reduce inflammation and pain. A doctor also may recommend a change of lifestyle to help a person relieve a certain amount of pain that is caused by this condition.
Two different areas of the spine are most commonly affected by severe spinal stenosis: the lower back and the neck. While the neck is typically the worst area for this condition to develop, the pain that is caused in the lower back can be just as debilitating. A person may experience numbness or pain in the neck, shoulders, back, legs, or arms. Weakness and loss of feeling can occur in the extremities.
Severe spinal stenosis often requires surgery, but because this route of treatment does not always work successfully, a doctor will often explore the uses of other types of treatment first. Exercise is typically recommended and is usually performed with a physical therapist. Activity is an important part of keeping a patient from becoming debilitated although it is not considered to be a cure for this condition.
Several different medications may be prescribed by a doctor to help improve the life of a person suffering from severe spinal stenosis. Antidepressants and antiseizure medications can help to reduce pain, along with opioids. Anti-inflammatory medications may be helpful in reducing the amount of inflammation around the spine as well.
Epidural steroid injections will most often reduce or eliminate the symptoms of severe spinal stenosis, but only for a short time. Many times, doctors use these injections as a prediction of how well a person will do after surgery. In general, if the steroid injection relieves the pain of this condition, then surgery may be successful at relieving the pain as well.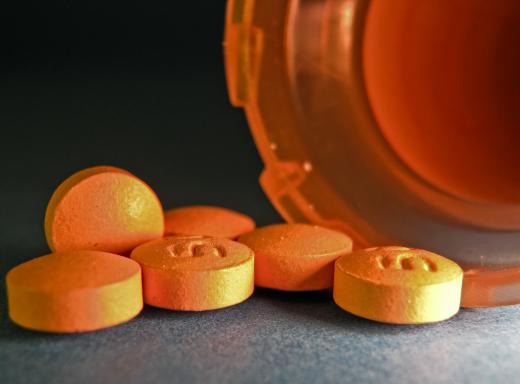 Lifestyle changes may be needed to help a person get around more comfortably. He may need to bend over while walking or to lean on a walker to reduce the amount of pain. Walking may have to be replaced by some other form of exercise if the pain is too great for the patient. When sitting down, he may also need to lay back in a recliner rather than sitting in a chair with a straight back.
Oftentimes, these treatment options for severe spinal stenosis will be attempted before surgery is considered. Some people may be able to manage or alleviate their pain without surgery, while others will not. There are several different types of surgery, but the main goal of each is to relieve the pressure that is being placed on the nerves or spinal cord. This involves cutting, removing, or readjusting areas that are causing that pressure.
AS FEATURED ON:
AS FEATURED ON:

By: Robert Kneschke

Anti-inflammatory medications can be useful in reducing the amount of inflammation around the spine.

By: nebari

Treatment may be needed to relieve neck pain associated with severe spinal stenosis.

By: Wynter

A doctor may prescribe opioid medications to alleviate the pain of severe spinal stenosis.

By: aceshot

The lower back is a common place impacted by severe spinal stenosis.

By: Syda Productions

Severe spinal stenosis may require surgery, which may or may not be effective.

By: Photographee.eu

Someone with severe spinal stenosis may experience pain or numbness in the shoulders.

By: chanawit

Epidural steroid injections can help eliminate symptoms of spinal stenosis for a short period of time.