Vaginal polyps are abnormal growths of skin that develop inside the vagina. These growths are often described as skin tags, which are like small stems or stalks of skin. In most cases, vaginal polyps are benign and do not cause any pain. A woman may be unaware that she even has them.
While vaginal polyps are often present without any symptoms, some women do notice changes related to them. For example, a woman may have an abnormal discharge that is unrelated to any other type of vaginal condition. She may also bleed between her menstrual periods. Sometimes, a woman may also experience discomfort or outright pain in relation to vaginal polyps.
A doctor can typically detect the presence of vaginal polyps through a physical examination. In many cases, a doctor may not recommend treatment, however. Vaginal polyps are usually benign, and if they're not causing symptoms, a doctor may see no reason to remove them. Since it can be difficult to be 100-percent sure the growths are not cancerous, however, he may recommend removing a polyp and performing a biopsy on it. This test is just to make sure the polyp doesn't contain any cancerous cells.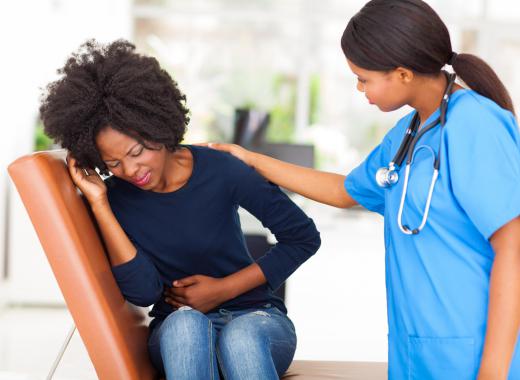 When treatment is necessary or desired, removal procedures can usually be handled in a doctor's office or outpatient clinic. To cut a polyp away from the rest of the vaginal tissue, a doctor may use a tool called a speculum to spread the vaginal tissues, so he can see inside and treat the affected area. He may then use a local anesthetic medication to ensure the patient won't feel pain during the procedure. Finally, a doctor typically uses a surgical tool to snip away the polyp from the normal vaginal tissue.
It is also possible to remove vaginal polyps using chemicals that freeze them off or with special lasers. A doctor may be reluctant to use these procedures, however, if there's a chance a polyp could be cancerous. Both types of treatments destroy the polyp, so there's no chance to perform a biopsy. For this reason, doctors may recommend against these forms of treatment unless they are sure the polyps are benign.
Following a procedure to remove vaginal polyps, it is normal to feel some discomfort. For example, a patient may experience minor cramping. Some patients may experience a small amount of vaginal bleeding as well. Many women are able to continue with their normal routines, without the use of pain killers, however.
What Causes Polyps in the Vagina?
Vaginal polyps may refer to polyps that have developed in either the uterus or the cervix. Doctors are not sure what exactly causes vaginal polyps, but many believe it stems from changes in hormones. Vaginal polyps are reactive to female hormones like estrogen, so they may grow as a result of drastic changes in levels of estrogen, which can happen at varying times in a woman's life. Girls that have not yet reached menstruation seldom develop polyps, further indicating their relationship with hormone fluctuation over time. They are also more likely to be found within the cervix when it has become inflamed from an illness, such as a cervical infection.
Other Factors
While they are not definitive causes, other risk factors may contribute to a woman developing vaginal polyps. Pre-existing conditions like hypertension and obesity have been common links among people who are diagnosed with polyps. There has been some investigation into certain drugs that are used to treat breast cancer, as many women taking them have been found to have polyps. Sexual risk factors and having a history of STIs may also predispose you to polyps. Lastly, women that are peri-menopausal and post-menopausal appear to be the most frequently affected age group.
Are Cervical Polyps the Same as Vaginal Polyps?
Yes, cervical polyps fall under the umbrella of vaginal polyps. Uterine polyps, also known as endometrial polyps, may be used interchangeably with the term. Both uterine and cervical polyps are small tumors growing within the female anatomy; they only differ in their exact location within the reproductive system. Cervical and uterine polyps carry the same risk factors, rates of malignancy, and removal processes.
Identification
If a woman has polyps and does not experience any symptoms, as the majority of women don't, she will likely not even know she has polyps. Doctors are often the first ones to discover the presence of polyps when they become visible during a pap smear. As most polyps are benign, the doctor may not see any reason for removal; however, if they believe the woman falls under the small percentage that has malignant polyps, they will start the process by doing a biopsy.
What is a Pap Smear?
A pap smear is a procedure doctors use to identify cervical cancer. It is generally started when a woman reaches the age of 21 or becomes sexually active, and it continues at annual check-ups every three years until she has reached the age of 65. They may be conducted more frequently if the doctor feels their patient is at a higher risk. Pap smears are an important measure of cancer and STI prevention, helping doctors get ahead of diseases before they have taken hold of the body. A few days before getting a pap smear, women should steer clear of sexual intercourse and invasive vaginal cleansing, like douching. These processes can irritate the vaginal canal, making cell collection painful for the patient as well as less accurate for the doctor.
The Process
When a woman is heading in to have a pap smear for the first time, the process can feel intimidating, or even downright scary, but knowing what is in store can help quell anxieties. The doctor will first ask the woman to undress, at which point they will step out of the room to give her some privacy. They will have her lie on an examination table and place her feet in stirrups that have been attached to the table. The stirrups help take the pressure off the woman's legs during the exam, and they allow the doctor to get a clear view of the vaginal canal. Next, the doctor will spread the walls of the vagina apart using a tool called a speculum. This part should not be painful, but it may be a bit cold and uncomfortable. The final step is for the doctor to scrape off a sample of cells from the cervix. After that, the pap smear is complete, and the doctor will once again leave the room and allow the patient to get dressed. There may be moderate spotting after the exam, but the patient can otherwise return to her day as planned.
Do Chances of Vaginal Polyps Increase as Women Age?
The risk for vaginal polyps is thought to greatly increase when a woman enters menopause. The majority of women who experience vaginal polyps are in their 40s and 50s which is consistent with the general age range of the menopausal process. While the chances of having polyps do increase with age, it is possible and not uncommon for younger women to have them as well.
Vaginal Polyp Symptoms
Women that have polyps within their cervix may not know. In fact, roughly two-thirds of women with polyps will not have symptoms, so they can be tricky to identify. For those who do have symptoms, they may experience one or many of the following:
Spotting between periods
Heavier periods
Bleeding after intercourse
Infertility
Irregular periods
Vaginal Polyp Removal
Polyps are sometimes identified during a pap smear, in which they are subsequently removed using polyp forceps. As they are small lesions, no anesthetic is needed during removal. When investigating if polyps are present or not, a doctor may perform one of many identifying procedures.
Hysteroscopies are one method used to locate the lesions, where a telescope allows for direct examination. Another possible procedure is a transvaginal ultrasound, which occurs when the doctor inserts a camera attached to a surgical wand into the vaginal cavity to survey the area. Doctors may perform a hysterosonography in conjunction with the ultrasound, where saline is used to flush out the uterus and expand it, giving them a clearer look.
If a doctor performs a biopsy, they will send it off to a lab to check for cancerous cells. The majority of polyps are benign, so there is typically not much to worry about. However, there may be more cause for concern if they are found in young girls who have yet to start their period, as this is not common.
Vaginal Polyp Bleeding
One of the key indicators of the presence of polyps is abnormal bleeding relating to a woman's menstrual cycle. When women shed their endometrial lining during their period, polyps begin to descend from the stalk they are attached to. The small blood vessels become exposed and irritated, resulting in additional bleeding. Consequently, periods may become extremely heavy, or women may continue to have vaginal bleeding even after they have experienced menopause and should no longer get a period.
Vaginal polyps are one of the leading causes of postmenopausal bleeding, and having them removed can typically solve the issue. If bleeding persists afterward, it can be a signal of other underlying health problems. It can be a symptom of a more serious condition like endometrial cancer, so catching it early is crucial. Postmenopausal bleeding is not a normal occurrence, so speaking with a doctor is the best choice to identify the cause.
Polyps and Fertility
As they descend, polyps may interfere with the fertilization process by interrupting the path of sperm. Doctors do not yet know how frequently women experience infertility as a result of the tumors, but a correlation has been discovered. Women facing infertility have many options, starting with the removal of the tumors.
If a woman is still having trouble getting pregnant after the polyp has been removed, she should seek out other possible causes, including STDs, stress, alcohol use, eating disorders, or diabetes. In addition to having polyps surgically removed, medications can increase a woman's chance of getting pregnant. In extreme cases, she may consider in vitro fertilization or surrogacy.
AS FEATURED ON:
AS FEATURED ON:

By: Stefan Gräf

A doctor may use a speculum in order to be able to treat vaginal polyps.

By: michaeljung

Some women experience cramping following the removal of vaginal polyps.

By: krishnacreations

For polyps of the uterus, a hysteroscope is commonly required for detection and removal.

By: Vlad Ivantcov

Bleeding between menstrual periods is a sign of vaginal polyps.

By: Dragos Iliescu

Vaginal polyps may cause abnormally heavy menstrual bleeding.

By: JackF

The surgical procedure used to remove vaginal polyps can typically be performed in the doctor's office.