Wheals are sections of skin that is irritated and somewhat elevated in comparison with the surrounding skin. Sometimes referred to as welts, the appearance is often anywhere from pale purple to fiery red in color. Often the area is tender to the touch and may also be itchy. Several conditions can create wheals, ranging from allergic reactions to some type of topical trauma to the skin.
In many cases, the appearance of these has to do with the outbreak of a skin condition, such as hives. At first, the wheals may appear to be somewhat pale red in color, barely distinguishable to the surround skin. In a short time, the areas begin to elevate and take on a deeper color, making them very obvious. As the wheals continue to form, the individual may begin to notice that the area is extremely tender, causing some degree of pain whenever the skin brushes against any other surface. Typically, as the allergy is treated and begins to subside, the inflamed areas will also begin to reduce in size and pale in color until they are no longer marring the surface of the skin.
Wheals may also form due to some sort of trauma to the skin. For example, a welt may form because of some blunt force that comes in contact with the skin, causing minor damage to the epidermal layers. As the body seeks to repair the damage, the affected area may elevate and take on first a red and then a purplish hue. Tenderness may or may not be present. Once the body heals the damage, the wheal quickly disappears.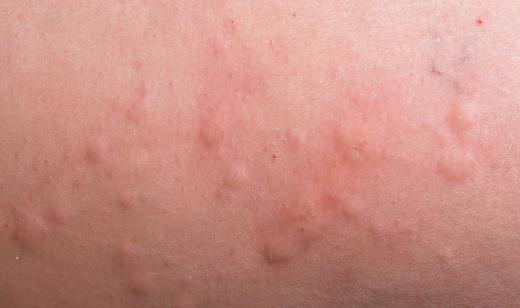 Scratches often accompany his condition. The area around the scratch rises as the immune system sets to work in protecting the punctured skin and repairing the damage. At first, the area may be red but as the body initiates the healing process, the redness gradually subsides. As the scratch scabs over, the swelling also begins to ease until the scab is more or less level with the surrounding area.
When dealing with any skin condition that has led to the development of wheals, it is important to determine the origin and respond appropriately. This often means refraining from itching even when the desire is very strong, as this will only aggravate the damaged skin or inflame the rash. Often, over the counter products such as salves and ointments will help ease the itching and also facilitate the healing process. Should the condition persists, see a physician for more aggressive treatment options.
AS FEATURED ON:
AS FEATURED ON:

By: uwimages

Itchiness may accompany an area affected by wheals.

By: Rob Byron

The appearance of wheals often has to do with an outbreak of hives.

By: stormy

In most cases, wheals are associated with hives triggered by exposure to soap, detergent, bubble bath or another allergen.

By: agephotography

Over-the-counter ointments can help relieve the itching associated with wheals.

By: sushaaa

Wheals might be caused by allergies.