What Can Cause Splenic Lesions?
The spleen is an organ that controls and creates blood cells. When the spleen's tissue becomes inflamed, it is known as a splenic lesion. There are several causes of splenic lesions, including cysts, organ trauma and sarcoidosis. The underlying cause of the splenic lesion will determine the treatment plan.
Cysts in the spleen can be a cause of splenic lesions. Infections are a typical cause of a spleen cyst. The size of the cyst, the amount of pain the cyst is causing a patient and whether the cyst is benign all play a major role when a doctor decides whether to remove a splenic cyst. If there are just one or two painful but benign cysts, a doctor might be able to drain or remove the cysts. When multiple cysts or cancer cells are found, then a patient might require a splenectomy, which is a surgery to have the entire spleen removed from the body.
Traumatic physical injuries are another cause of lesions on the spleen. Injuries to the abdominal area caused by fighting or an accident can injure the spleen. Spleen trauma can be very serious because it can cause a potential spleen rupture. After a spleen ruptures, a person can bleed internally, which can be life-threatening. Hospital treatment can determine whether a ruptured spleen needs to be removed immediately or whether the spleen can heal with proper care.
Sarcoidosis is a less common but valid cause of splenic lesions. This disease typically causes serious inflammation in the liver, lungs and lymph nodes. The spleen is part of the lymphatic system, so lesions can occur there even though the spleen is not the main site of this disease. A doctor might check the spleen for inflammation even if a sarcoidosis diagnosis is made by biopsying another part of the body, such as the lungs. Many patients who have sarcoidosis are placed on corticosteroid treatment, typically for one to two years.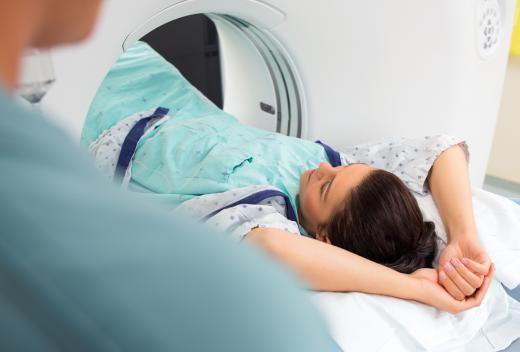 If a person has pain in the lower abdomen that cannot be explained, he or she might need to visit a medical professional who can determine whether a splenic lesion might be the cause. Being unable to finish a meal because of discomfort below the rib cage can be another sign something is wrong with a person's spleen. Patients might experience weight loss if this effect continues. A doctor can do a computed tomography (CT) scan to determine whether there is an issue with the spleen.


By: Aliaksei Lasevich

Trauma to the spleen may lead to the development of splenic lesions.

By: CLIPAREA.com

A splenic lesion occurs when the spleen's tissue becomes inflamed.

By: staras

Symptoms of a splenic lesion may include lower abdominal pain.

By: Tyler Olson

A CT scan is a diagnostic tool that can be used to assess the spleen.

By: nyul

An ultrasound can be used to identify cysts in the spleen.

By: aerogondo

Trauma to the abdomen may cause splenic lesions.