What can I do About an Infected Toenail?
An infected toenail is rarely serious, although it can be painful and ugly. Symptoms that include redness, swelling, and tenderness around the nail all point to an infected or possibly ingrown toenail. If symptoms are more confined to the nail itself, such as thickened, crumbly, dull, or dark color toenails, then it's likely a fungal nail infection. Although both can be caused by injury or illness, most often the cause is the condition in which the feet live each day. For both conditions, prevention is really the key. Anyone with diabetes or an immune disorder should seek medical advice immediately for an infected toenail.
An infected toenail can be caused by an ingrown toenail, which are in turn caused by the nail growing into the toe around it. This is most common in the big toe and can easily become an infected toenail if ignored. Before seeking medical help, try treating the symptoms at home. Foot soaks in warm salt water or warm, soapy water for 15 to 20 minutes a day will help reduce the swelling and the soreness. The bath will also soften the skin allowing the nail edge to be gently lifted away from the toe. Try putting pieces of clean cotton under the ingrown edge after each soaking. This helps the nail to grow away from the skin edge. It can also be helpful to apply a topical antibiotic to the affected area.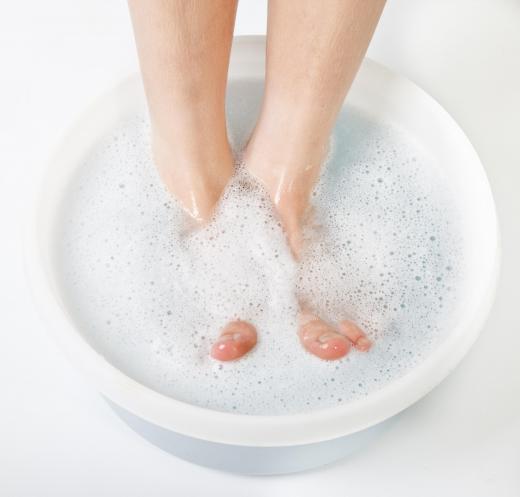 One way to help prevent ingrown toenails is to clip nails straight across. Ingrown toenails can also be caused by shoes that are too tight and it can be helpful to wear open-toed shoes while waiting for the nail to grow out. It is a good idea to take pain relievers such as acetaminophen or ibuprofen to help ease the pain of an infected toenail. However, keep an eye on the toe so that the symptoms don't worsen. If they do, seek medical advice. This is especially important if you have diabetes.
A toenail that is infected with fungus will become thickened, brittle, crumbly, or dull in color. It can also become darker in color and the nail can separate from the skin. Toes are an ideal location for fungal infection as fungus favor dark, warm, moist environments such as sweaty feet encased in shoes all day. It's easy to pick up the fungus from the floors of communal showers and public pools. Wearing flip flops can help prevent infection. Other risk factors include sweaty feet, working under humid conditions, and wearing tight shoes that lack airflow.
A suspected nail fungal infection requires attention from a medical provider as soon as possible. This condition can be difficult to treat and the longer the wait, the worse it can get. A doctor will take a sample of the infected toenail to identify it and prescribe either oral anti-fungal medications or something topical such as a cream or nail polish. The oral medications can have serious side effects, ranging from skin rash to liver disease.
Home remedies to try include vinegar foot baths and applying a mentholated topical cream. Neither of these has been clinically proven to help with nail fungus, but people have reported success with both.
AS FEATURED ON:
AS FEATURED ON:

By: Jan Andersen

A foot soak can help with an infected toenail.

By: Serhad

Toenails can become infected as a result of a fungus.

By: hsagencia

A foot bath that contains white vinegar may help heal an infected toenail.

By: johnnydao

Toenail infections may be caused by injury to the foot.

By: Coprid

A topical antibiotic can be applied to an infected toenail to help kill bacteria.

By: adam88xx

Severely infected toenails that do not respond to treatment may need to be removed.

By: mettus

Sandals are a breathable kind of shoe that may help in the treatment of several foot conditions.