What Causes a Fatty Pancreas?
There are several causes of a fatty pancreas, including obesity, alcohol use, and disease. Eating foods high in fat can lead to fatty infiltration around the pancreas and other organs in the body. This can also be caused by substances like alcohol which cause the pancreas to metabolize fats less efficiently, resulting in buildup.
Symptoms of a fatty pancreas may be vague at first, but can include nausea, vomiting, smelly stools, diarrhea, loss of appetite, back or abdominal pain, and spots on the pancreas during an ultrasound or another exam. These symptoms mimic those of other disorders. In most cases, this condition occurs as part of aging and does not cause serious problems. When it becomes severe, however, it may cause inflammation and cause the pancreas to work less efficiently.
Eating a diet high in fats and processed foods is one risk factor for fatty pancreas. Studies have shown that those who are overweight or obese have a much higher likelihood of suffering from pancreas issues than those who are at a healthy weight. Many times, losing weight and cutting out unhealthy foods from the diet is all that is needed to remove fatty infiltration from the organ.
People who drink excessive amounts of alcohol are also at an increased risk for fatty pancreas. Alcohol consumption changes the way the body metabolizes food and may cause inflammation of the pancreas over time. Sometimes abstaining from alcohol will take care of the problem, but this depends on the amount of damage already done. Irreversible damage may have already been inflicted.
Certain diseases may also contribute to fat around the pancreas, including hepatitis C. Treatment may vary based on the condition, or medications may be used to supplement pancreas function. This may include digestive aids to help break down food and injections of insulin, which is secreted by the pancreas.
Those with any symptoms of a pancreatic disorder should seek medical help right away. Although the symptoms may be indicative of any number of minor illnesses, sometimes a serious condition is the cause. Fatty pancreas shares some symptoms with liver problems and pancreatic cancer. Cancer of the pancreas is usually aggressive and needs to be caught early for optimum treatment options.
Fatty Pancreas Symptoms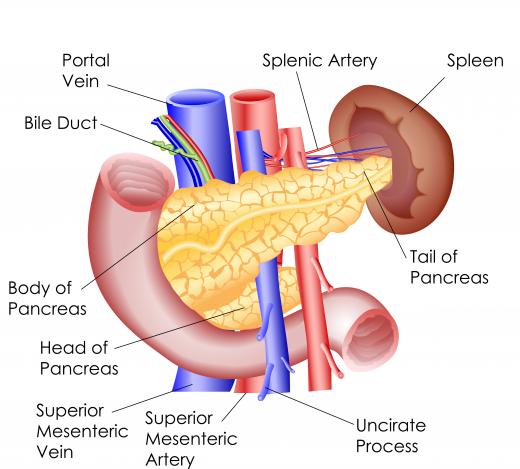 A fatty pancreas is also known as pancreatitis. People who have pancreatitis may experience a wide variety of symptoms. Acute fatty pancreas symptoms include upper abdominal pain that radiates into the back. Your abdomen may also feel tender to the touch. Other symptoms of acute pancreatitis include fever, nausea, vomiting, or a rapid pulse.
Some people experience chronic pancreatitis. Someone who deals with chronic fatty pancreas symptoms may have ongoing upper abdominal pain that feels worse after eating. They may also lose weight without trying or have oily stools with a strong odor. People who are experiencing any symptoms of acute or ongoing pancreatitis should schedule an appointment with their doctor.
Fatty Pancreas Treatment
Pancreatitis can be quite painful and often ends up with a visit to the emergency department. At the hospital, the doctors will begin several initial courses of treatment. The first is to allow you to eat bland food and liquid as soon as you feel able, as it helps to heal the pancreas. If the pain is too severe, your doctor will also likely provide you with prescription pain medications. IV fluids are also common as they can combat dehydration.
After the initial treatment is provided, your health care team will determine how to treat the underlying cause of your fatty pancreas. One common treatment is to undergo a procedure to remove obstructions in the bile duct. This is done via an endoscopic retrograde cholangiopancreatography. Other possible solutions include other endoscopic procedures, gallbladder surgery, medication changes, or treatment for dependence on alcohol.
Does Fatty Pancreas Mean Cancer?
A fatty pancreas does not automatically mean that you will develop pancreatic cancer, but it does mean that you are at a higher risk for doing so. Pancreatic cancer does not show any early symptoms for the most part, which means that most of the time, by the time the doctor finds it, it is already large or has spread to other parts of the body. There are some symptoms to watch out for, though.
Jaundice is perhaps the most common symptom of a fatty pancreas and the possibility of pancreatic cancer. If you notice that your skin or eyes look yellow, it may indicate a problem with your pancreas. Other symptoms include pain in the belly or back, dark urine, greasy stools, or itchy skin that does not go away after treatment of pancreatitis. As pancreatic cancer advances, patients may lose weight, be nauseated, or have enlargement of the liver or gallbladder. On rare occasions, pancreatic cancer can cause blood clots or diabetes.
Are There Ways To Prevent Fatty Pancreas?
One of the best things you can do to prevent fatty pancreas is to limit your alcohol consumption. It is also important to eat a low-fat diet. Fatty diets may lead to gallstones, which is one of the leading causes of acute pancreatitis. Maintaining a healthy weight and exercising regularly are also important for maintaining overall health and preventing pancreatic problems. Finally, avoid falling victim to crash diets. Weight should be lost gradually. Crash diets often lead your weight to go up and down rapidly, which can actually cause your liver to create more cholesterol and cause problems for your pancreas.
AS FEATURED ON:
AS FEATURED ON:

By: Africa Studio

Eating fatty foods like french fries can lead to a fatty pancreas.

By: Joshua Resnick

Consuming alcohol and processed foods can cause a fatty pancreas.

By: CLIPAREA.com

Certain diseases may cause a fatty pancreas, including hepatitis C.

By: snapgalleria

The pancreas is a pear shaped organ that is found deep in the abdomen.

By: pixdesign123

The pancreas gland aids in digestion and produces insulin.

By: freshidea

Avoiding fast food can help decrease the fat content of the pancreas.

By: Ljupco Smokovski

Treatment for a fatty pancreas may include injections of insulin.

By: stocksolutions

Greasy food choices can contribute to a fatty pancreas.