Arthritis is the name for a fairly large group of conditions involving joint damage and pain, and because there are many types, there are also many different causes. The condition may also appear as a secondary symptom to a variety of diseases, including familial Mediterranean fever (FMF), hemochromatosis, hyperimmunoglobulinemia D with recurrent fever (HIDS), inflammatory bowel disease, lupus erythematosus, Lyme disease, and vasculitis. It may also appear as an autoimmune reaction to an infection elsewhere in the body.
Osteoarthritis (OA), also called degenerative arthritis or degenerative joint disease, is usually caused by trauma, although there is some evidence of a genetic factor. It is the most common type and the leading cause of chronic disability in the United States. Osteoarthritis can also be caused by joint infection, and the risk of developing this condition increases with age.
Rheumatoid arthritis (RA) is an autoimmune disorder that causes joint inflammation and damage along with anemia. The causes of this form are not known, though it is significantly more common in women, cigarette smokers, and Native Americans. It is also linked to the inherited tissue type major histocompatibility complex (MHC) antigen HLA-DR4.
Septic arthritis is caused by infection of the joint. It is typically caused by bacteria, but may also be the result of a viral, fungal, or mycobacterial infection. Common bacterias that cause it include Staphylococcus aureus, Streptococci, Haemophilus influenzae, Neisseria gonorrhoea, Escherichia coli, Mycobacterium tuberculosis, Salmonella, and Brucella.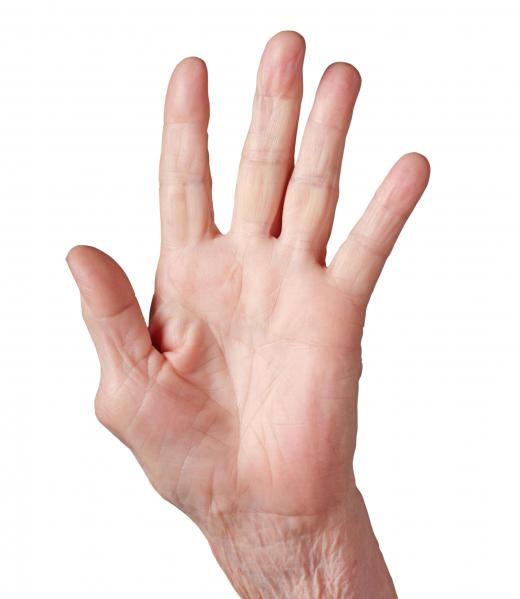 Gout is caused by the buildup of uric acid in the joints. It may be a primary syndrome or secondary to conditions including diabetes, hemolytic anemia, hypertension, leukemia, metabolic syndrome, and renal disorders. Primary gout can be caused by a diet high in protein, fat, and alcohol, or by chronic lead poisoning.
The cause of juvenile idiopathic arthritis (JIA), the most common, persistent form in children, is unknown. There is evidence of both environmental and genetic factors, however. JIA affects both sexes, and onset may occur anywhere from preschool-age to the early teenage years. Ankylosing spondylitis (AS), another form of the condition that can appear during the patient's childhood, is a genetic disorder. It most commonly develops between ages 18 and 30.
AS FEATURED ON:
AS FEATURED ON:

By: Peterfactors

Arthritis is the term used for explaining joint damage and pain.

By: aboikis

A hand with osteoarthritis.

By: uwimages

Osteoarthritis is normally caused by trauma to the joint.

By: peterjunaidy

An illustration of a healthy spine and one with spinal osteoarthritis.

By: Mr Korn Flakes

Rheumatoid arthritis is more common among cigarette smokers.

By: maska82

There are more than 100 forms of arthritis, which can affect any part of the body.