What do I Need to Know About my Stomach Lining?
The lining of the stomach is a rather unique anatomical feature. The stomach is essentially an enlarged area of intestines turned into a bag which holds acids and other substances which help people digest their food. The stomach lining is responsible for secreting substances used in digestion, and for protecting the rest of the body from the highly acidic environment of the stomach. When something goes wrong with the stomach lining, it can cause serious health problems.
Some people are surprised to learn that the lining of the stomach is actually highly wrinkled in a series of structures known as rugal folds. As the stomach fills, these folds flatten out, allowing the stomach to expand. Rugal folds allow the stomach to be flexible while keeping it strong so that it will not rupture, although if someone eats enough food, it is in fact possible to cause the stomach to break, a very undesirable state of affairs.
The stomach lining has a number of types of epithelial cells, divided by type. Mucous cells generate the mucus which stands between the stomach lining and the acids of the stomach, creating a protective layer. Parietal sells secrete acid, while chief cells make enzymes used in digestion, and G cells make gastrin, a hormone. The surface of the stomach lining is covered in a series of tiny pits which develop into glands, and it looks sort of like a honeycomb when magnified.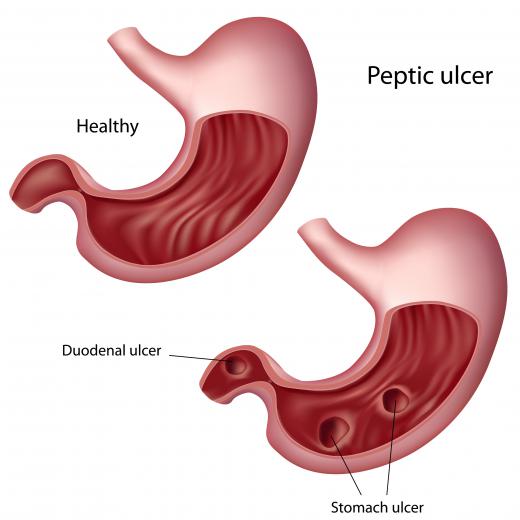 A number of diseases can involve the stomach lining. Like other cells, the epithelial cells in the stomach can become cancerous, causing the development of stomach cancers. The stomach lining can also become inflamed in a condition known as gastritis, or ulcerated. Gastritis and stomach ulcers can be caused by infection and diet. These conditions are accompanied by pain, as the delicate stomach lining becomes irritated by the harsh acid in the stomach, and many people experience vomiting, acid reflux disease, heartburn, and other gastrointestinal problems when their stomach linings are injured.
If the damage to the stomach lining is severe, it may be necessary to have surgery to remove the damaged area and create a bypass which allows the stomach to function as normally as possible. In other cases, it can be possible for the stomach lining to heal itself, with the help of medications to make the stomach less acidic, nutritional supplements to encourage healing, and changes in dietary habits such as abstaining from coffee and acidic foods like tomatoes and orange juice.
AS FEATURED ON:
AS FEATURED ON:

By: pixologic

An illustration of a human stomach, including the stomach lining.

By: Alila

A healthy stomach and one with peptic ulcers.

By: Balint Radu

A diagram of the digestive system, including the stomach.

By: Ljupco Smokovski

Ulcers can damage the stomach lining and cause pain.

By: Alliance

A peptic ulcer might be the underlying cause of unexplained stomach pain.