What Happens during a Gynecology Exam?
Although most women do not look forward to it, an annual gynecological exam is a necessity. A normal gynecology exam will typically start with a round of questions. The patients weight, blood pressure, and height will then be recorded and she will be instructed to undress. The doctor will then examine her breasts and reproductive organs.
Doctors and nurses will usually ask a number of questions during a gynecology exam. For instance, during a patient's first gynecology exam, she will most likely be asked about her medical history as well as her family's medical history. Questions about menstrual periods, sexual activity, birth control, and previous pregnancies are also not uncommon.
After a nurse records a patient's weight, height, and vital signs, she will then instruct her to take her clothes off. The patient will be given a thin paper gown, and possibly a sheet. Most gynecology offices, however, allow women to leave their socks on.
The doctor will then enter the examination room. He should always be accompanied by a female nurse. This helps ensure that the patient is protected from any sort of sexual abuse. It also helps protect the doctor from false allegations.
A breast exam is usually the first part of the physical part of a gynecological exam. During this exam, the doctor will usually visually inspect the breasts first. He will then feel them for any abnormalities, such as lumps. While he is doing this, he may also inform a patient about how to perform a breast self exam at home.
The pelvic examination is typically the next part of a gynecology exam. To perform this exam, the patient will need to move her hips to the end of the exam table. She will then rest her feet in two stirrups at the end of the exam table and spread her knees apart. Some gynecological exam tables also have separate rests for the patient's knees.
The gynecologist will first inspect the external portion of the vagina, searching for any signs of infection or sexually transmitted disease. This can include such things as irritation, discharge, sores, or even parasites like pubic lice. When this inspection is complete, he will then move on to examining the internal sex organs.
To do this, he will need a tool called a speculum. This instrument is used to spread the walls of the vagina apart, and it is usually made from plastic or metal, which can be quite cold. Most doctors will lubricate the tool or vagina to make insertion easier, but for many patients this can be quite uncomfortable. Once the walls of the vagina are spread, the doctor will then be able to see a patient's cervix. He will then usually collect samples of mucus and cells from the cervix. These samples can be used to diagnose certain medical conditions, like sexually transmitted diseases and cancer.
Many times, a gynecologist will also insert a finger into the vagina and press down on the abdomen with his other hand. By doing this, he is able to find out things like where the cervix is located as well as its size. He may also be able to tell if there is any swelling or infection in these areas. It is also not uncommon for a gynecologist to insert one finger into the rectum, which can enable him to feel abnormalities behind the uterus.
While a gynecology exam can be very stressful, it is important to relax, since clenched muscles will cause the internal portion of the exam to be more painful. A patient can relax by taking deep breaths. A doctor may also try to help a patient relax by making small talk.
Does a Gynecological Exam Hurt?
As previously mentioned, the insertion of the speculum can be uncomfortable. The collection of cells from the cervix takes only a few seconds but can be slightly painful because the tool is literally scraping the cervix. It's important for the patient to tell the doctor immediately if she experiences any pain, both so that the doctor can make adjustments (such as suggesting the patient lie on her side) and because pain could potentially indicate a need for further investigation.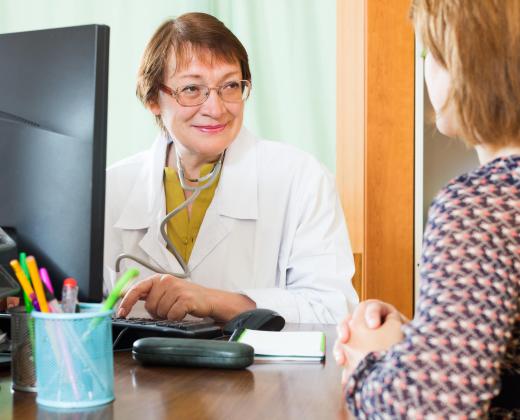 In addition to relaxing the muscles as much as possible, patients may find it helpful to schedule the exam for a day when they are not menstruating and to urinate shortly before the appointment (unless the exam includes collection of urine for testing). Taking an over-the-counter pain reliever such as ibuprofen or acetaminophen before the appointment begins can also help reduce discomfort (unless a patient knows or suspects she is pregnant, or a doctor has advised her against it).
How Often Should You Have a Gynecological Exam?
Once a year is the recommended schedule for a standard preventative exam. According to the American College of Obstetricians and Gynecologists, girls should begin annual exams between the ages of 13 and 15, although exams for younger teens will not usually include an internal examination unless symptoms suggest it would be a good idea. Twenty-one is the recommended age for a first Pap test (the collection of cells from the cervix). Generally, the Pap test is performed every three or five years depending on a patient's age, but certain health conditions or symptoms may require more frequent screening.
Some symptoms require investigation by a gynecologist without waiting for the standard annual exam. These symptoms include (but are not limited to) abnormal vaginal bleeding, internal pelvic pain, sores on the vulva, changes in menstruation or vaginal discharge, difficult or painful sexual intercourse, and changes in breast tissue. Patients who wish to begin using birth control or switch to a different method can also schedule a gynecological appointment.
Does Medicare Cover Gynecological Exams?
Depending on a patient's age, health status, and risk factors, Medicare covers Pap tests, pelvic exams, and breast exams either every 12 months or every 24 months. Medicaid coverage varies from state to state. Under the Affordable Care Act, all insurance plans sold through the federal Health Insurance Marketplace and some private insurance plans are required to cover gynecological exams.
Where Does Obstetrics Come In?
Obstetrics is the medical field that focuses on pregnancy and childbirth. Obstetricians are also gynecologists (they are commonly referred to as OB/GYNs); however not all gynecologists are also obstetricians. In addition to providing gynecological care, OB/GYNS provide pregnancy and postpartum (the period after giving birth) care as well as delivering babies.
Both gynecologists and OB/GYNs can choose to specialize in a particular area. In the United States, all doctors are required to graduate from medical school (earning an MD) and then to spend several years as a resident in a particular branch of medicine. After residency is completed, doctors can choose to spend more time in a fellowship in order to specialize within their field. Specializations in obstetrics and gynecology include maternal-fetal medicine (high-risk pregnancies), infertility, and reproductive surgery.
What About Men?
Urology is the branch of medicine that focuses on both the male and female urological systems as well as on the male reproductive system. It's recommended that men start receiving an annual urological exam as early as age 40 and certainly by age 50. These exams include physical examinations of the urinary system and the genitals, screenings for prostate cancer and other diseases, and urine tests. Blood tests, ultrasound imaging, and X-rays may also be performed if a patient's symptoms indicate a need for more information.
Gynecology Annual Exam While on Period
What should you do if you have a gynecology appointment scheduled during your period? Do you have to cancel or reschedule your exam? What you do in this situation is a matter of office policy and personal preference. Some women prefer to wait or reschedule so they do not have to deal with the potential mess or discomfort. Women who deal with cramping during menstruation may wish to avoid any additional stimuli that can make cramps worse.
However, it is important to remember that menstruation is a natural bodily function that doctors and nurses are very accustomed to. Most offices will still see patients who are on their periods as long as the flow is light to moderate and will not inhibit a thorough examination. The best practice is to call the office first and ask them about their policy when it comes to this type of issue. Use your best judgment to determine whether or not having a gynecological exam while on your period will still work well for you.
When Should a Girl Have Her First Gynecological Exam?
Females should see a gynecologist for the first time between the ages of 13 and 15. This is around the time that most young women are entering puberty and beginning the menstrual cycle for the first time. There is no need to rush to schedule an appointment to see an OBGYN as soon as the first period occurs though; this type of exam is just to establish a relationship with your doctor while making sure everything is developing normally. However, if you are experiencing atypical symptoms, it is important to schedule an appointment promptly. These can include:
Frequent yeast infections
Bleeding before the age of 11
No menstruation after the age of 15
Excessive bleeding that requires changing your pad or tampon every hour
Severe pain or cramping
It's also important to see a gynecologist at this time to discuss sexual health, including protection against pregnancy and sexually transmitted diseases. A doctor can answer questions about development and healthy sexual practices as well. Anything you discuss with a gynecologist is private and will not be shared with others, including your parents.
Metal Gynecologist Tool
During a vaginal exam, doctors often use a metal tool to help them more easily access the inner tissues for examination and testing. This tool, called a speculum, looks a bit like a long duckbill. Once inserted into the vagina, it is opened slightly to allow the gynecologist to examine the cervix and, if necessary, take samples for routine testing known as a pap smear. While it can be uncomfortable and a little unsettling, the process is very quick and rarely painful. Your doctor will talk you through the entire process.
Most gynecologists use some type of lubricant to allow the speculum to glide in more easily. Some offices use heating pads to warm the tool first, so it isn't such a shock to feel the cold metal. Metal speculums are cleaned and sanitized so they can be used again. Some speculums are made of plastic and are disposed of after use.
AS FEATURED ON:
AS FEATURED ON:

By: Alila

A diagram of a healthy ovary and one with cysts, which a gynecologist can help with.

By: JPC-PROD

A gynecology exam typically includes a breast exam to check for lumps or abnormalities.

By: goodluz

A gynecologist helps women lead healthy lives through regular check-ups and preventative care.

By: casanowe

A speculum is a common tool used by gynecologists.

By: Zsolnai Gergely

A doctor typically exams a woman's reproductive organs during a gynecological exam.

By: JackF

An OB/GYN who specializes in both obstretrics and gynecology may perform a gynecology exam.

By: endostock

Gynecologists are medical doctors who specifically see women to give advice on, as well as diagnose and treat, a variety of health-related issues, including fertility, cancer and incontinence.