What Is a Fungoid Tincture?
Many common bacterial infections of the fingernails and toenails are treated with prescription-strength, oral or topical medications, which quickly work to fight the invading virus. An over-the-counter Fungoid Tincture®, produced by American-based Pedinol Pharmacal, has been respected as a complementary treatment since the 1920s, also proven effective by the scientific community as a countermeasure against the fungal infection called onychomycosis. This bacteria is the cause of common conditions like athlete's foot, nail yellowing, ringworm, yeast infections and even jock itch, but it appears to lose some ground against the tincture, when properly applied to the skin and cuticles around the nails, instead of the nails themselves.
Often recommended alongside other proven over-the-counter antibacterial agents like Lamisil®, the active ingredient of Fungoid aTincture® is miconazole nitrate. It is certified effective by the U.S. Food and Drug Administration at a level of no more than 2 percent. According to Pedinol, doctors have been recommending the use of this drug since 1925 for athlete's foot and various ringworm infections. The alcohol-based Fungoid Tincture® is applied with a dropper to the skin where it is itchy, inflamed or flaking. It is suggested by the labeling that this medicine be applied twice a day for a month, on the cuticles and other skin — anywhere but directly on the nails or scalp.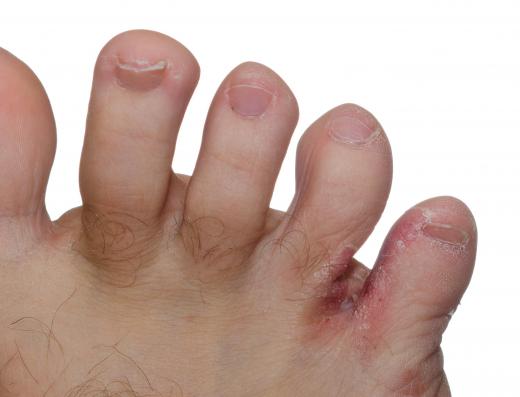 Onychomycosis is a communicable infection that can be picked up at a public pool or shower. The labeling of the Fungoid Tincture® states that two of its most common symptoms, athlete's foot and ringworm of the toes and fingers, should start improving within a month. After a month with no improvement, prescription-strength antibacterial agents like itraconazole or fluconazole griseofulvin might be needed, particularly if severe yellowing of the nail has occurred.
Results appear to vary widely, depending on the cocktail of antibacterial agents employed. A 1992 study performed by the Department of Dermatology at the Columbia University-Presbyterian Hospital Center in New York City found that all 10 patients treated for onychomycosis with Fungoid Tincture® had no bacteria present after a year. This compared to just a majority of another 10 treated with a common prescription anti-fungal cocktail. Still, the company states on its labeling not to continue dosing after one month, the point at which medical attention is needed.
The study was published online at the U.S. National Institutes of Health's (NIH) PubMed Web site. Study results and the company's claims appear to be contradicted by the advice offered by the NIH in its online entry for onychomycosis. Just half of all patients suffering from the condition will see all fungus completely eradicated, the NIH states — even when treated with prescription and Fungoid Tincture® at once.
AS FEATURED ON:
AS FEATURED ON:

By: roblan

Fungoid Tincture has a long history as an athlete's foot treatment.

By: Jürgen Fälchle

Walking barefoot in public places may cause foot fungus.

By: 3ThousandPhotoSTD

Many bacterial infections of the fingernails and toenails are treated with topical medications.

By: Leonid Smirnov

Unchecked toenail fungus may necessitate surgical removal of the entire nail.

By: schankz

Onychomycosis is the cause of common conditions like ringworm.

By: Andrey Kiselev

Individuals with jock itch, which can be caused onychomycosis, should refrain from sexual activity.