What Is a Groin Hematoma?
A groin hematoma is a collection of blood that forms outside of the blood vessels in the area of the groin. Hematomas in the groin can be under a few layers of skin, or they might develop in the muscular tissue. This condition typically occurs when there has been damage to the wall of a blood vessel that caused blood to leak into the surrounding tissue. Groin hematomas vary in size from small bruises to large, swollen masses.
Large hematomas of the groin occur when the damage to the blood vessel was severe enough to slow or prevent the blood from clotting. A hematoma also might be large if the trauma occurred in a vessel that contains more pressure, such as a major artery. The blood that forms a hematoma is irritating to the tissue around it, thus causing it to become inflamed. The inflammation typically causes redness, pain and swelling in a localized area around the site of the trauma.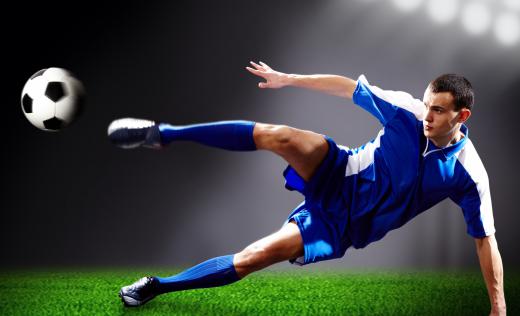 The most common cause of a groin hematoma is trauma to the groin area. Traumas that might cause hematomas include falls, broken bones, gunshot wounds and car accidents. Many hematomas of the groin, however, occur following surgeries that involve the groin area, such as cardiac catheterization. Groin hematomas also occur frequently after sports-related groin injuries. Finally, a hematoma might occur in the groin because of an aneurysm or a weakened area in a blood vessel's wall.
The treatment for a groin hematoma typically consists of elevation, ice, rest and compression. If the individual is experiencing pain, treatment might also include an over-the-counter pain medication, such as ibuprofen or acetaminophen. The type of pain medication prescribed depends on the circumstances of the patient. Patients who take anticoagulants have a higher risk of complications because the medication prevents their blood from clotting efficiently, so they usually cannot take ibuprofen, which might cause gastrointestinal bleeding. On the other hand, patients who have liver disease cannot take acetaminophen, because of the risk that it poses to the liver.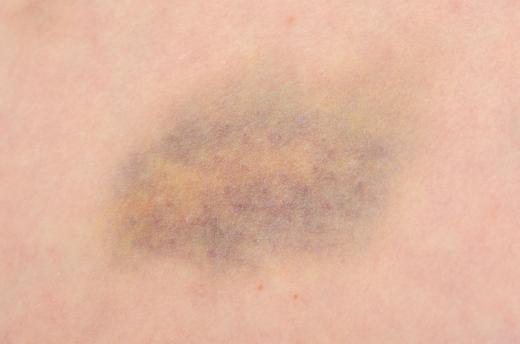 Most groin hematomas repair themselves with proper medical treatment. Nonetheless, sometimes an individual might acquire an infection at the site of the injury. The hematoma retains no supply of fresh blood and antibodies, so bacteria might colonize in the area. An infected groin hematoma typically is treated with antibiotics.
What Are The Differences Between a Hematoma and a Bruise?
Patients often mistake hematomas for bruises. Both hematomas and bruises have very similar characteristics. Hematomas and bruises both cause discoloration on the skin. They also cause tenderness to the affected area. Unfortunately, the two are fundamentally different and require different forms of treatment. 
Bruises form when blood leaks from smaller blood vessels. As a result, the affected tissue becomes tender and darkens. Usually, bruises take on a blue or purple color. As the bruise heals, the color changes to yellow before going away. In most cases, bruises are not severe. In most cases, a bruise will heal on its own.
There are some cases when a bruise is more concerning. Severe bruises occur when the damage is done to the inner tissue or organs. In this situation, treatment would be required to prevent infections. Additionally, frequent bruising can indicate a more serious underlying concern, such as anemia or vitamin deficiencies. 
On the other hand, hematomas are leakages from more prominent blood vessels. Hematomas are caused by more severe traumas and take on a darker blue or black appearance. In some cases, hematomas can be severe and require medical intervention to heal. Hematomas can take weeks or even months to heal, depending on their size and location. 
What Complications Can Occur from a Groin Hematoma?
While some hematomas will heal independently, others may need medical intervention to recover. Patients must take hematoma injuries seriously, mainly if they cause significant pain or discomfort. Hematomas left untreated can cause critical complications. In some cases, untreated hematomas can be lethal. 
If a hematoma is large enough, the hematoma can cause blood pressure to drop. This complication can be extremely dangerous and even life-threatening, as reduced blood pressure can affect the blood and oxygen supply of the internal organs. The situation can become dire in a short time and can lead to organ damage, organ failure, and even death. 
Another complication with hematomas is the risk of infection. Hematomas create the perfect conditions for infections to grow and spread. The stagnant blood supply provides nutrients to the infection while allowing the infection to colonize and grow. 
For patients, it can be difficult to recognize whether or not their hematoma is infected. The symptoms of an infected hematoma are very similar to those of a regular hematoma. Infected hematomas exhibit increased pain, swelling or heat, increased redness or red streaking leading to the affected area, pus, and fever. 
Patients need to visit their physician as soon as their hematoma shows signs of infection. In extreme cases, hematoma infections have led to sepsis, a severe and life-threatening body response to infections where the immune system stops attacking the infection and attacks the body instead. 
Fortunately, complications are very rarely observed with groin hematomas. In most cases, groin hematomas are healed using the RICE method for treating injuries. The RICE method requires patients to rest their injury, add ice and compression to their injury and keep the injury elevated. Ibuprofen might also be prescribed to keep any inflammation down. 
How Are Groin Hematomas Diagnosed? 
During the diagnostic phase, your physician may start by examining the physical appearance of the affected area. Most hematomas can be diagnosed by physical inspection. However, your physician may choose to conduct further tests to understand the underlying cause of the hematoma. 
There are no defined tests to discover the direct cause of a hematoma. However, doctors can conduct a number of laboratory tests to understand the probable cause and overall health of the patient. These tests include a complete blood count (CBC), coagulation panel, and liver test. Your doctor may also conduct an x-ray to check for broken bones. 
If an internal hematoma is suspected, your doctor may conduct a computerized tomography (CT) scan of the abdominal cavity. A magnetic resonance imaging (MRI) scan can also be used to help determine the presence of an internal hematoma. However, MRI scans are usually not used for diagnosing hematomas unless the suspected hematoma is in the brain or skull. 
Depending on the type of hematoma and severity of the injury, your doctor will arrange for a treatment plan. For superficial hematomas, treatment plans are centered around the RICE (rest, ice, compress and elevate) method of treating injuries. However, for severe or internal hematomas, a blood transfusion or surgical intervention may be required.
AS FEATURED ON:
AS FEATURED ON:

By: pressmaster

Sports-related injuries are a common cause of groin hematomas.

By: pixelrobot

Icing a groin hematoma is part of the typical treatment plan.

By: roblan

Groin hematomas may appear as small bruises.

By: Bob Rannells

Ibuprofen can help relieve pain associated with groin hematoma.

By: Tom Wang

A groin hematoma may occur as a result of a car accident.