What Is a HIDA Scan with CCK?
A hepatobiliary iminodiacetic acid (HIDA) scan with cholecystokinin (CCK) is a medical imaging study that traces the flow of bile from the liver, through the gallbladder, and into the small intestine. A doctor may recommend this test as part of the diagnostic process for a patient with a suspected biliary tract disorder. The HIDA scan with CCK is minimally invasive but does carry some risks, as it involves the use of a radioactive tracer material and requires the patient to fast prior to testing.
Before a HIDA scan with CCK, the patient will need to fast for four to six hours. Patients should discuss any medications they take with their doctors to determine if they temporarily need to stop taking drugs or need to taper back the dosage. In other cases, patients may need to take some extra medications to improve the quality of the test, and could receive these in the days prior or on the day of the test. Patients may find it helpful to schedule the test in the morning so the fasting will not present a hardship.
When a patient arrives at an imaging center for a HIDA scan with CCK, a technician can administer an intravenous injection of radioactive tracer and start the imaging study. The tracer attaches to bile and allows the technician to see how it moves through the body. A separate administration of CCK will cause the gallbladder to contract, allowing the technician to measure how much bile it secretes with each contraction. All this information can be pulled together in a set of detailed test results for the doctor.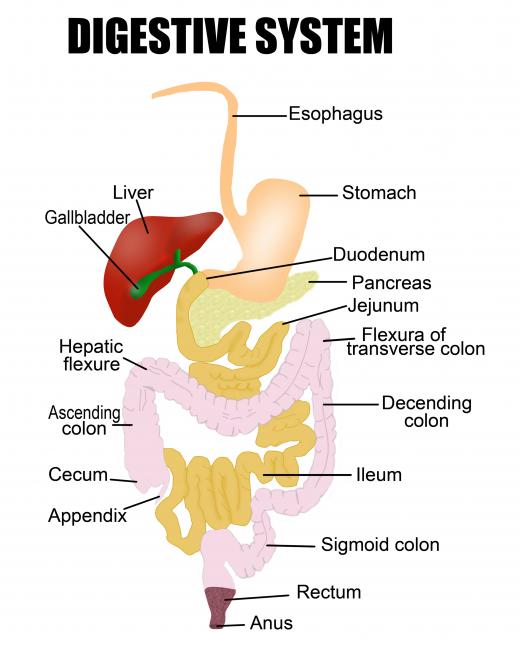 One potential risk of a HIDA scan with CCK is a reaction to the tracer material. While most tracers are nonreactive, some patients do experience allergies and may notice symptoms like rashes and burning. People with a history of allergies may want to discuss them with the technician to determine if there are any ingredients in the tracer that might be a cause for concern. Some patients also find the fasting difficult and may experience stomach cramping or other discomfort. Small sips of water or sucking on ice chips can help with this.
Tracer dyes like those used in a HIDA scan with CCK should disappear from the body within a few days. Patients who need numerous imaging studies in a year may want to discuss the risks with a doctor to determine if there are any causes for concern. Repeat exposures to small doses of radiation can be an issue, and the doctor may want to change the testing schedule or determine if it is possible to wait on a test to allow the patient's body more time to recover from previous exposures.
How Long Does a HIDA Scan With CCK Take?
How long a HIDA scan takes depends on how fast your gallbladder moves bile through your system. Generally speaking, the scan will last for one to four hours. Once the CCK is administered, you'll have to lay still so the camera can get accurate images. If you can't lie still, you may have to repeat the test.
What Does the Gallbladder Do?
The gallbladder is a small organ under your liver that stores and releases the bile your liver creates. Bile is a yellow-green fluid that helps your digestive system deal with the fat you consume.
When you eat, your gallbladder contracts, shooting bile into the biliary duct, which empties into the duodenum, which is the first part of your small intestine, where food waits to be digested.
Even though the gallbladder serves an important function in your digestive system, you can live without it. Your gallbladder could be removed if you have severe gallstones, gallbladder cancer, or low biliary function.
What Is a HIDA Scan With CCK Simulation?
A HIDA scan is a nuclear imaging study that allows your doctor to see what's going on in your gallbladder and liver. Some conditions that could be diagnosed with a HIDA scan include:
Obstruction of the bile duct
Inflammation of the gallbladder
Birth defects in the biliary system
Complications of surgery involving the gallbladder and liver
Function of the liver after transplantation
Measurement of the rate bile is released from the gallbladder
The drug CCK, or Kinevac, will be used to contract your gallbladder, causing the release of bile into the small intestine. Normally, gallbladder contraction happens after you eat, and the bile helps digest the food you've eaten.
What Symptoms Might Warrant a HIDA Scan With CCK?
There are several symptoms that something might be wrong with your gallbladder. These include:
Upper-right abdominal pain
Middle-right abdominal pain
Abdominal pain that radiates to your shoulder
Abdominal pain after eating a fatty meal
Jaundice
Nausea
Vomiting
Fever
Light brown urine or light-colored bowel movements
How To Prepare for a HIDA Scan With CCK?
Before you have your HIDA scan, you must fast for four to six hours. HIDA scans are often scheduled in the morning to make fasting easier. Inform your doctor ahead of time of all medications you're taking. Also inform your doctor if you are pregnant or breastfeeding; the scan may have to be postponed if you are, to avoid harming your baby.
Once at the hospital, you may be asked to change into a hospital gown and leave all your jewelry and other metal accessories in a locker. Wearing anything metal can cause ghost images to appear on your scans, and would necessitate another study to be done.
What To Expect During Your HIDA Scan With CCK?
You'll be asked to lay down on a table. You'll have a pillow for your head, and may have a bolster to go under your knees to make you more comfortable. The imaging technician will position a large camera over your belly.
Next, the technician will start an IV in your arm or hand and inject a radioactive tracer material that moves into your liver, where it's absorbed into cells that produce bile. The tracer will move through your gallbladder and into your small intestine. The technician will take a series of images to track how the tracer moves through your biliary system.
Then the imaging technician will give you an injection of CCK through your IV and take more pictures to show how your biliary tract works once your gallbladder contracts.
Is a HIDA Scan With CCK Painful?
You may experience some soreness from laying still for the duration of the test. Some discomfort may also come with the IV that will be used to administer the CCK. True pain is highly unlikely.
What To Expect After a HIDA Scan With CCK?
Once your HIDA scan is complete, you'll be able to get up and get dressed immediately. You can resume your normal day-to-day activities right away. You may have a small bruise where your IV was inserted. You may also be a bit stiff and sore from lying still for so long.
Your HIDA scan results will go to a radiologist, who will interpret them and send his or her findings to your doctor. You'll have a follow-up appointment with your doctor to see what the outcome of the scan was.
If all is well with your biliary system, your doctor may order more tests to figure out what's causing your symptoms. If your gallbladder is having problems, the most common course of treatment is to remove it surgically.
AS FEATURED ON:
AS FEATURED ON:

By: sepy

A doctor may perform a HIDA scan with CCK if he or she suspects that a patient has a biliary tract disorder.

By: Balint Radu

The HIDA scan with CCK traces the flow of bile from the liver, through the gallbladder and into the small intestines.

By: Lisa F. Young

Before a HIDA scan with CCK, the patient will need to fast for four to six hours.

By: Klaus Eppele

Fasting before a HIDA scan with CCK may cause stomach cramping in some patients.

By: kaianni

Located underneath the liver, the gallbladder stores and concentrates bile produced by the liver.