What Is a Long Luteal Phase?
The luteal phase is the second half of a normal menstrual cycle, beginning the day after ovulation and continuing until menstruation begins. Unlike the pre-ovulatory phase, which can vary in length from month to month, a woman typically will have a very set luteal pattern. Most women experience a luteal phase between 10-16 days, with 14 days being very common. A long luteal phase is when the body continues to produce increased levels of progesterone for more than 16 days after ovulation. Long luteal phases are very rare, but can affect fertility and conception planning.
Just before ovulation, the female system experiences a surge in the hormones that promote implantation of a fertilized egg. This spike typically presents as an slight increase in temperature and results in the release of progesterone to aid possibly fertile eggs in their next stage of development. This increased level of progesterone combined with ovulation is what indicates that a woman has entered the luteal phase of menstruation.
Typically, the increased flow of progesterone decreases if no fertilization has occurred, allowing menstruation to begin. For most women, doctors recommend assuming that the luteal phase will last about 14 days. If a long luteal phase is suspected, determining the date of ovulation is vital to understanding when the luteal phase actually began. Keeping a daily record of body temperature can also give a more clear picture of when the temperature spike associated with the phase began and ended. Certain hormone-based blood tests can also help determine if a woman has a long luteal phase.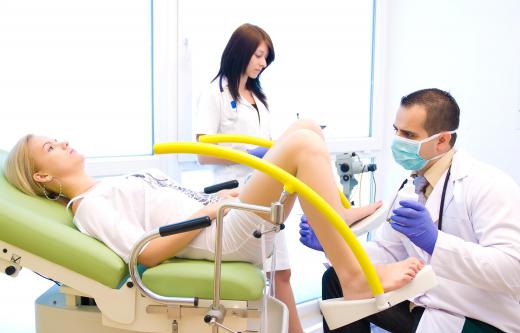 It is possible to mistake other conditions for a long luteal phase. The pre-ovulatory phase is typically between 12-14 days, but can vary based on lifestyle factors. Increased stress, a change in diet, or increasing or decreasing physical exercise can delay or speed ovulation from month to month. If ovulation is delayed from day 14 to day 17 by lifestyle changes, it is easy to think a longer luteal phase has occurred. Most women with a long luteal phase have it consistently, so a rare delayed period is more likely a result of late ovulation.
For women trying to get pregnant, a long luteal phase can cause frustration and concern if misunderstood. Many women may realize that their cycle has gone on for more than 28 days and think this indicates pregnancy, when in fact the long luteal phase has simply not allowed for menstruation to begin. Additionally, high progesterone and extended increased temperature can indicate pregnancy, so even women monitoring their temperature daily may be confused by this condition.
Although a long luteal phase can be inconvenient, once discovered it is typically easy to work around. Since the phase is typically fixed, women can simply alter their calendars to fit the likely day of menstruation based on the longer length of their individual phase. There is little information that suggests that a long luteal phase can result in infertility or miscarriage, although studies on this subject are not readily available. If a long luteal phase is suspected, speaking to a gynecologist may be useful in obtaining more information and possibly undergoing necessary tests to determine if the condition exists.
What Is the Luteal Phase?
If you've been looking for a natural way to track your fertility or better understand your menstrual cycle, you may have come across the terms "follicular" and "luteal." These terms refer to the first half and the second half of a woman's menstrual cycle, respectively. Below are more in-depth descriptions of what to expect during each phase.
The Follicular Phase
This is the first phase of the menstrual cycle which can last between 11 days and over three weeks. It's called the follicular phase because, during this time, the egg-containing follicles grow and prepare to release their eggs. At the end of this phase, one follicle will release an egg, and the luteal phase will begin.
The Luteal Phase
This phase is the second half of a woman's menstrual cycle. After the egg is released from its follicle, it begins to travel through the fallopian tube. During this time, the body produces more hormones as it prepares for pregnancy. If the egg is not fertilized, the period begins and the process starts again after menstruation with the follicular phase.
How Long Should Luteal Phase Be?
It's normal for a luteal phase to vary in length from woman to woman, but you should expect this phase, on average, to last for roughly two weeks. If it's under 10 days, you may have trouble conceiving. In the worst-case scenario, a too-short or too-long luteal phase could signify an underlying medical problem.
Is a Long Luteal Phase Bad?
A long luteal phase isn't necessarily bad, but it could mean that you have a condition such as polycystic ovary syndrome. Symptoms of PCOS can be successfully treated medically, but they can interfere with your daily life. You may notice the following signs and symptoms of developing PCOS:
Irregular periods that range from extremely light periods to absent periods
Hair changes that include bald patches as well as excessive body hair growth
Skin changes such as acne and extra oil produced
Cysts on your ovaries
On the other hand, a long luteal phase may not be what you think. If your period just doesn't seem to be coming, it may not be a luteal condition: You may be pregnant! Consider taking a pregnancy test if you've never before experienced your current symptoms and think there is a chance you may be pregnant.
What Causes a Long Luteal Phase? Is Shorter Better?
In addition to PCOS and pregnancy, a long stretch of time between ovulation and menstruation can be caused by a number of hormonal issues including thyroid disease. Premenstrual symptoms can be severe during this time if there are imbalances as well.
A shorter luteal phase isn't always better, and sometimes not having a long enough luteal phase means that there is not enough time for an egg to successfully implant. A Luteal Phase Defect is a condition physicians reference when a woman is not able to get pregnant due to a thin endometrial lining.
If you notice any of the above signs and symptoms, it's important to speak to your primary care practitioner or OBGYN to determine the cause. If you are trying to get pregnant, it's better to address these issues sooner rather than later for the best possible outcome!
AS FEATURED ON:
AS FEATURED ON:

By: Africa Studio

Keeping accurate track of a menstrual cycle can help determine the length of a long luteal phase.

By: Zsolnai Gergely

A woman wishing to learn more about luteal phases can consult her gynecologist.

By: reineg

The luteal phase occurs during the days between ovulation and the onset of the next menstrual cycle.

By: logos2012

A long luteal phase is when the body continues to produce increased levels of progesterone.

By: Maya Kruchancova

Most girls start to menstruate between the age of 10 and 15 years old.