What is a Natural Antihistamine?
A natural antihistamine is a substance found in nature that can fight against histamines in the bloodstream. Antihistamines can treat allergies, colds, and sinus problems by blocking histamines and alleviating symptoms caused by excess histamines in the blood. Some of the most common natural antihistamines include butterbur, chamomile, and stinging nettle.
Histamines are a defense mechanism used by the body to protect against organisms it views as a threat. When an allergen is encountered, the body releases histamines into the blood to fight against the perceived intruder. Some people develop an allergic reaction to the abundance of histamines in the bloodstream. Common allergy symptoms include compressed airways, runny nose, itching, skin rash, swelling, or watery eyes. Natural antihistamines can combat an allergic reaction and may help those who battle seasonal or chronic allergies.
Some seasonal allergy sufferers find that butterbur works as well as prescription-strength drugs for easing the stuffy nose and clogged sinuses that accompany allergies to grass or pollen. One major benefit of this natural antihistamine over its chemical counterparts is that butterbur does not cause drowsiness, a significant problem with many over-the-counter allergy medicines. Butterbur is generally taken in capsule form and may be consumed regularly to help counteract chronic problems.
Crushed flowers from the chamomile plant produce natural antihistamine oils that can work to heal allergies affecting the skin. Itching, rashes, and swelling may be reduced or eliminated by applying a topical ointment containing chamomile extract. Mild antihistamine properties can also be found in echinacea, which is sometimes combined with chamomile in teas or cold treatments.
Stinging nettle is another popular natural remedy known to restrict the production of histamines when ingested. Stinging nettle treatments include extracts made from dried leaves. Tea can be made from immersing dried leaves in hot or boiling water, and mixing the herb with alcohol forms a tincture of stinging nettle. As its name indicates, stinging nettle leaves feature tiny hairs that sting when touched. Heating the stinging nettle leaf destroys these stinging hairs.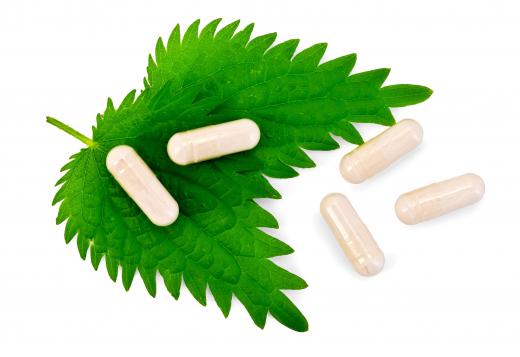 Some less common natural antihistamines include basil, bromelain, and quercetin. Most of these herbs address the reaction to histamines and offer antioxidant properties that help counteract poisons. When taken regularly, basil supplements can control chronic allergy symptoms. Bromelain may thwart allergic reactions that result in swelling of the lips or other facial areas. Quercetin can aid with allergy symptoms by inhibiting the release of histamines, helping to alleviate runny nose and itchy, watery eyes.
AS FEATURED ON:
AS FEATURED ON:

By: Barbara Pheby

Basil can act as a natural antihistamine.

By: lily

Chamomile's antihistamine properties come from the flavonoid quercetin.

By: taisiya1985

Some natural histamines may help relieve runny noses and other allergy symptoms.

By: kostrez

Stinging nettle is a popular natural antihistamine.

By: jinga80

Natural antihistamines are typically not strong enough to prevent anaphylaxis.

By: jovanmandic

Natural antihistamines may be used to treat seasonal allergies.

By: vladimirfloyd

Lightheadedness may occur as a result of seasonal allergies.