What is a Palpebral Fissure?
The palpebral fissure is the space in the corner of the eye between the eyelids, in the area where the lower and upper lids meet. There are some normal variations in size and shape of this anatomical feature that can occur between populations. Abnormalities of the palpebral fissure are associated with certain congenital conditions. For patients who experience problems because of abnormalities, surgery to correct the problem can be performed by a surgeon who specializes in oculoplastics, a branch of surgery focused on reconstruction and repair of the eye and surrounding area.
In most people, the palpebral fissure is horizontal and quite small, about a third as tall as it is wide. People may notice that it sometimes collects fluids extruded from the eye, and it may become crusty or irritated as a result. In people with active eye infections, this region may become red and inflamed. The length of the fissure varies slightly between different populations. Injuries to the eyelids can sometimes cause tears to the area that may distort or damage it.
Certain congenital abnormalities can cause this structure to slant, usually upwards, and may make it longer or wider than it is in most individuals. These variations are primarily cosmetic in nature and should not cause health problems for the patient. They can also be a telling diagnostic sign that can be used in a workup of an infant who appears to have a congenital abnormality.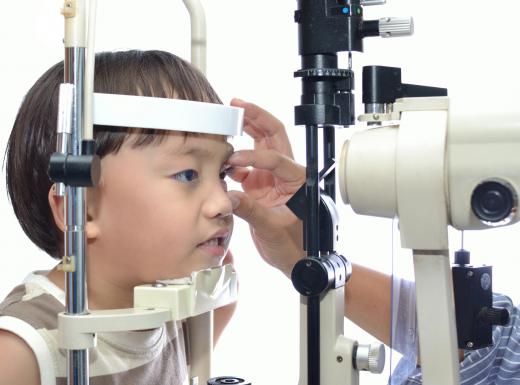 Some conditions associated with changes to the palpebral fissure include trisomies, in which someone inherits three copies of a chromosome instead of two, as well as fetal alcohol syndrome and Grave's disease. Usually the patient has a number of other symptoms that are indicative of a medical problem, including other variations in facial structure such as a flattened nose.
Other problems that can involve this area of the eye include infections, inflammation, and irritation. It is also possible for sties, skin tags, and boils to form in the palpebral fissure. These can be painful and uncomfortable for the patient and may lead to irritation of the eye if they are allowed to grow. Treatment options can include medicated eye drops to reduce inflammation and treat infection. Keeping the eyes clean by washing the face regularly with warm to hot water and soap will help maintain eye health and prevent infection and irritation of the eyes. People with chronic eye conditions may want to discuss the issue with an ophthalmologist.


By: ASK_H

The palpebral fissure refers to the area where the lower and upper eyelids meet.

By: lightwavemedia

Washing the face regularly may help prevent infection of the eyes.

By: Peter Orsaeo Sr

Surgery may be needed to correct a palpebral fissure.

By: arztsamui

Abnormalities of the palpebral fissure are assoiciated with some congenital conditions.