What is a Radiation Burn?
Radiation burn, also known as radiation dermatitis, is a skin reaction that can occur as a side effect of radiation therapy for cancer. Skin damage from radiation can range from mild to severe. In many cases, it is limited to redness, swelling, and pain akin to that of a sunburn. In more severe cases, skin can begin to blister and peel, and some patients have even reported blackening and flaking of the burn area. Treatment for radiation burn generally involves medicated topical creams, antibiotics, painkillers and cold compresses, though tissue that has been badly damaged by radiation may need to be debrided to prevent infection and speed recovery.
Skin problems are considered common during radiation therapy, since skin is believed to be particularly vulnerable to the effects of radiation. This therapy is typically used to direct doses of radiation to internal cancers, but it is usually directed externally through the skin. The effects of radiation burn usually begin within the first two or three weeks of radiation therapy. Radiation burns sometimes worsen as treatment continues, but they often remain in a stable condition after the first few weeks. Once treatment is discontinued, radiation burns may heal within a few weeks, though they usually require some form of medical intervention.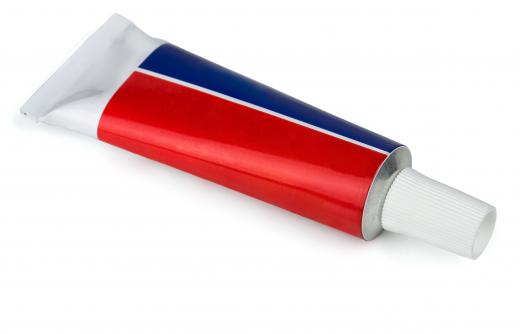 A mild radiation burn is said to look and feel like a sunburn. The skin generally becomes faintly reddened, although in some patients, it can take on a darker brown color. As skin damage progresses, the radiation burn may become more inflamed and more painful. Swelling can sometimes be significant. Hair loss can occur in the treatment area as well.
Severe radiation dermatitis may cause blistering and peeling of the skin. In the worst cases, skin may blacken before flaking off. Blistering and peeling are considered more likely in areas where skin folds occur, such as beneath the breasts. Radiation burn in these areas can cause open wounds and sores that may be likely to get infected.
Topical ointments and creams are often prescribed to treat radiation burns, and cold compresses can be applied to relieve the pain of radiation burns. Painkillers may be prescribed when the pain is severe. If severe skin damage occurs during radiation therapy, the area may be debrided to remove any dead tissue. Removing dead tissue from the burn area usually decreases the risk of serious infection and can support rapid healing.
AS FEATURED ON:
AS FEATURED ON:

By: Coprid

Topical creams and antibiotics are usually part of the treatment for radiation burns.

By: Wissmann Design

A mild radiation burn may have the same look and feel as a sunburn.

By: prudkov

Radiation therapy may cause hair loss.

By: Piotr Marcinski

Radiation therapy may cause some cancer patients to experience nausea and vomiting.

By: jovannig

Skin problems are the most common side effect of a patient undergoing radiation therapy.

By: Photographee.eu

Special dressings may be used to promote healing and prevent infection on severe radiation burns.

By: Lovrencg

A cold compress can help with radiation burns.

By: yevgeniy11

Blisters may develop as a result of a radiation burn.

By: Sherry Young

Topical ointments can be used to help treat radiation burns.