What Is a Sensual Massage?
Sensual massage is a form of massage which is designed to increase intimacy between people in a relationship. This intimate massage is usually performed in the environment of the home by people who are in a relationship with each other. Unfortunately, "sensual massage" is sometimes used as a code word for sexual services and this concept is sometimes misinterpreted as a result; in point of fact, whether performed at home or in a spa, massage is not intended to be sexual in nature.
In a sensual massage, the goal is to developer deeper emotional connections with a partner. After the massage, both partners should feel closer and more comfortable with each other. The massage techniques used can vary; partners can develop their own massage moves, integrate techniques from various massage traditions, and even take couples massage classes which are taught by professional massage therapists who provide people with tools which can be used in sensual massage.
This type of massage is designed to be relaxing. At the end of the massage, both partners should feel calmer and more at ease. While the partners may trade massages with each other, the massages are usually performed at different times so that someone who has just received a massage does not have to emerge from a highly relaxed state into the more focused state of massage giver.
Touch in general tends to encourage deeper emotional connections as well as making people feel more relaxed. In sensual massage, there is a focus on maintaining constant physical contact throughout the massage and on massaging the whole body. People can use aids such as massage oil or cream, although these are not necessarily required, and the massage can also be performed fully clothed if partners feel more comfortable that way. Massage tools such as exfoliating gloves or aids to assist with deeper massage work can also be incorporated into a sensual massage.
People can also focus on specific areas of the body with massage. For example, some couples may enjoy giving foot massages at the end of the day to relieve stress. Likewise, partners may massage each other's necks or backs to address tension, reserving full body massage for special occasions.
Every couple may have its own approach to massage. There are not any methods which are necessarily wrong or right or any prescribed length for a sensual massage. However, people should be careful to avoid injuring each other. If a massage is painful, the pressure should be reduced, and people who have not had formal training should avoid deep muscle work because they can inadvertently cause injury.
How To Give a Sensual Massage
There are a few concepts to keep in mind when you want to give a sensual massage. Set the tone by including positive sensory elements. Try a variety of techniques during the massage. Most importantly, focus on your partner. Your goal is to increase his or her health and the affinity between you. With focused touch, you can find and relieve tensions and promote healing. Being close and touching can also promote healthy sexuality between you.
Set the Mood
A massage is touch-based but should include the other senses as well. Considering the setting can elevate the mood and add sensuality to the massage. Think of ways to entice all the senses during a massage.
Create Comfort
Use a massage table or another suitable surface. Add clean, comfortable coverings or pillows as needed. Make sure the room is warm since your partner will be at least partially undressed. Some individuals may be comfortable fully naked, but providing a towel is customary. Talk with your partner beforehand and as you go about how much of the body you can touch and massage. Clear consent and intent will allow you both to connect and enjoy the massage together. You can even take turns giving massages and have fun practicing techniques that stimulate healing or spark lovemaking.
Mood Lighting
Consider making the appearance of the room more appealing. Clean up the massage space to create ease. Lower the lighting to create a relaxed atmosphere. Use candles for soft lighting or to add a sense of romance.
Serene Sounds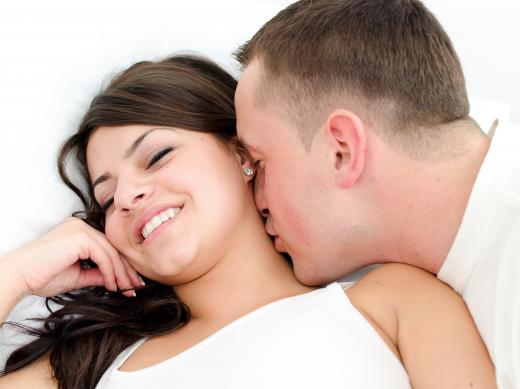 An appealing soundscape adds to the experience. Play music to set the tone for the massage. Pick something ambient and relaxing, or choose music that evokes the mood you want. Turn off cell phones, televisions, and other devices that may make unwanted noise. Speak in even tones to create calm and connection. Focus on your partner's breathing.
Enticing Aromas
Add sensual aromas to boost the enjoyment of the experience. Make sure to have scented candles, oil defusers, or fresh flowers on hand to add to the ambiance. Add beneficial aromatherapy scents to the room. Some good essential oils to add include rose, eucalyptus, frankincense, lavender, geranium, coriander, and bergamot. Remember to ask your partner about any allergies.
Massage Oil
Choose a neutral carrier oil such as sweet almond, jojoba, cold-pressed coconut, or grapeseed. Apply small amounts of oil to your hand, not directly on your partner. Remember, always warm up the oil by rubbing it between your hands. It is shocking to feel a cold touch. Always use enough oil so that your hands can glide without friction. Don't use so much oil that it runs and drips.
Sensual Massage Techniques
A good massage is relaxing and healing. Consider and discuss whether you will be practicing surface touching or deeper stimulation. Each has merits.
Light Touch
Begin with gentle motions, using fingertips and open palms to caress and warm up the skin. The French refer to this style of massage as "effleurage," which means "light touch." Pleasingly connect the person to the sense of touch. Focus on using long, slow, and light motions, especially in gradual, sweeping circles. Pay attention to any areas that feel tense and may need further attention. This type of massage stimulates the skin, nerve, and muscle systems. It increases pleasure and bonding.
Deep Tissue Massage
There are a variety of techniques the work on deeper nerve and tissue issues. These can not only increase intimacy but improve health. Kneading along with muscles and soft tissue can bring relief, improve circulation, and help joint functions. Work slowly when applying pressure, paying attention to how your partner responds. When you locate a trigger point, gradually massage it into relaxation.
Focus on Your Partner
There can be several desired outcomes for the massage. Perhaps the goals include relieving pain, bringing pleasure, or creating connection. Various techniques can facilitate healing. Sensual massage is supposed to create a pleasing experience.
Talk to the person getting a massage with a focus on the individual's enjoyment. Start by asking where your partner would like you to focus your massage. Similarly, as you select ambiance, get feedback on your pick for songs and scents. As you go, pay attention to the nonverbal responses to the techniques you employ. Focus on areas and movements that elicit positive responses. Try using different parts of your hand and various pressures depending on how you both feel.
The purpose is to increase your enjoyment of each other while making each other feel good. Any related health or sexual benefits are a bonus!
AS FEATURED ON:
AS FEATURED ON:

By: dalaprod

Some couples may enjoy a sensual neck massage.

By: Couperfield

A sensual massage may help increase intimacy in a relationship.

By: marinasvetlova

A sensual massage can sometimes be a code word for sexual behavior, although the two don't have to be connected.

By: Dmitry Ersler

A sensual massage may be performed at a spa.

By: Gennadiy Poznyakov

Some people may enjoy a sensual foot massage at the end of a long day.

By: Hunor Kristo

A sensual massage may include elements of foreplay.