What is a Septated Ovarian Cyst?
A septated ovarian cyst is a growth, located on the ovaries, that is made of components that are solid, semi-solid, and liquid. This type of cyst also has walls that form within it, dividing it into different parts. These cysts can be dangerous and are more likely to be cancerous than any other cyst.
Septated ovarian cysts are usually found during routine exams. Sometimes a woman will go to the doctor to get an exam done because she is experiencing the symptoms that are often associated with this type of cyst. Ultrasounds may be used to determine whether or not this kind of cyst exists, and to determine the thickness of the walls within the cyst. Generally, the thicker the walls, the higher the chance the cyst is malignant.
There are several different symptoms that a woman may experience with this type of cyst, and any other kind. Her menstrual cycle may be irregular, heavy, or absent, there may be pain in the pelvic region or lower back, and she may experience mood swings. Sharp pain might be experienced in one area near the ovaries and it may travel down into the upper thighs.
A septated ovarian cyst must be taken care as quickly as possible because of the complications that can occur because of it. If the cyst becomes twisted, it may twist around the ovary and cut off the blood flow to that organ. A woman who is experiencing this will most likely need immediate surgery if the ovary is to be saved. Sometimes, the damaged ovary must be completely removed along with the cyst.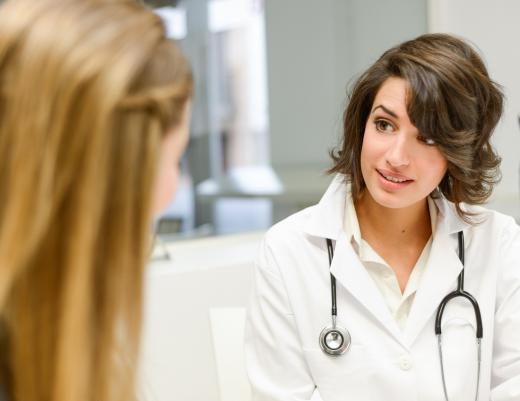 Treatment will vary, depending on the size of the cyst and its malignancy. Blood tests and a biopsy are generally done to determine whether or not the cyst is cancerous. If it is small enough, certain medications may be prescribed along with painkillers to keep it under control. At times, though, surgery is required to remove the septated cyst. Women are often encouraged to see their gynecologist once a year for a checkup because it is much easier to treat these types of cysts if they are found while still in the early stage of development.
There is no known cause for this kinds of cyst, but there are some factors that may contribute to them. These may be obesity, genetics, a increase and decrease in blood sugar levels, neglect, stress, smoking, and age. A weak immune system may also contribute to the development of these types of cysts.


By: OOZ

The female reproductive system, including the ovaries.

By: Alila

A healthy ovary and one from a woman with PCOS.

By: Alliance

Septated ovarian cysts can be life-threatening, with an increased risk of becoming maligant.

By: javiindy

Septated ovarian cysts are more likely to be cancerous than any other type of cyst.

By: Zsolnai Gergely

Septated ovarian cysts are usually found during routine exams.