What Is a Shoulder Bone Spur?
A shoulder bone spur is a bony growth that forms on the edge of the bone within the shoulder joint. Also known as an osteophyte, a bone spur may go undiagnosed for years, but upon discovery, treatment may include anti-inflammatory and pain medications, and, in some cases, surgery. Individuals experiencing a limited range of motion, swelling, or discomfort of the shoulder joint should seek medical attention to prevent further damage.
The formation of a bone spur in the shoulder generally results from either the presence of osteoarthritis in the shoulder joint or persistent stress to the joint as associated with repetitive movements. Over time, the cartilage within the joint wears down and calcium builds up along the edges of the bone. Resulting from the body's inability to sufficiently compensate for the loss of cartilage, calcium collection contributes to the formation of compensatory bone known as a bone spur. Bone spurs are considered to be the body's way of reinforcing and protecting worn joints to prevent damage, but they can sometimes cause inflammation, swelling, and pain.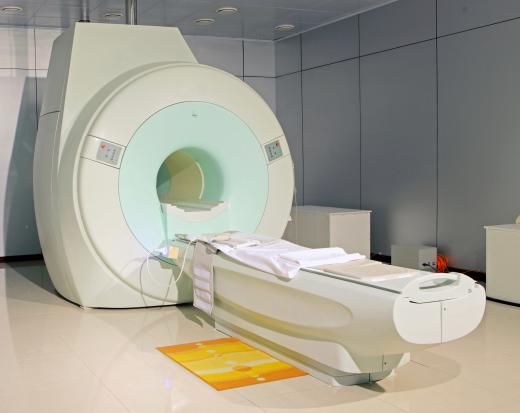 The existence of a bone spur is generally discovered during the administration of an X-ray or other imaging test. The presence of a bone spur may create pain in the joint or limit one's ability to move the affected joint. Symptoms associated with bone spurs are generally dependent on the location of the calcium collection. Individuals with a shoulder bone spur may experience a limited range of motion of the shoulder and arm, as well as inflammation and swelling affecting the rotator cuff.
The shoulder pain associated with a bone spur does not originate from the spur itself, but the irritation and inflammation the spur causes. The shoulder allows for diverse movement and, with time, the bones, ligaments, and muscles begin to break down and may rub against one another causing irritation of the soft tissues. Due to the shoulder's intricate composition, a bone spur may limit the joint's functionality, causing a compression of the soft tissues within the shoulder joint known as shoulder impingement.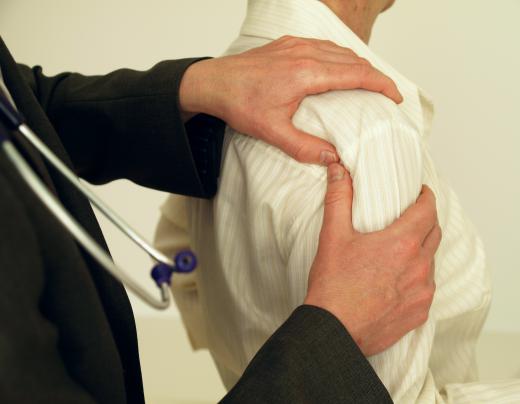 Those who experience swelling and pain in the shoulder should seek medical attention to determine if a shoulder bone spur is the cause of the discomfort. A variety of tests are generally administered to establish a diagnosis of a bone spur. During a physical examination, the physician will generally take a complete medical history and ask the individual a series of questions regarding activities and when the pain and swelling first manifested. Additionally, the physician may move the individual's arm to determine the origin of the discomfort. To confirm the existence of a suspected shoulder bone spur the individual may undergo a series of tests that include an X-ray, a magnetic resonance imaging (MRI) test of the affected area, and a computerized tomography (CT) scan.
A shoulder bone spur that is not causing discomfort or complications is generally not treated. Those spurs which impair an individual's range of motion or create extreme discomfort may be treated using medications or surgery. Medications utilized to treat the inflammation and pain associated with shoulder impingement may include nonsteroidal anti-inflammatory drugs (NSAIDs), muscle relaxants, or corticosteroids. In some cases, cortisone injections may also be used to alleviate inflammation and discomfort. Individuals whose pain is accompanied by a limited range of motion or other complication may require surgery to remove the spur and repair the joint to restore normal shoulder function.
How to Diagnose Shoulder Bone Spur?
You will be referred to a rheumatologist when you visit your family doctor. The specialist will conduct a physical examination, which could include pinpointing the pain.
You will also have to discuss your medical history with your physician honestly. Like how long you've had the symptoms, current medications, if any, and family history of bone diseases.
You can prepare some questions to ask the doctor too. Will it interfere with your current medication or the method of treatment you could adopt, given the cost and quality of life?
What Are the Symptoms of Shoulder Bone Spur?
Shoulder bone spurs do not show early symptoms unless they've outgrown or pressed on a nerve ending. Osteoarthritis is also painful. However, you might notice the following signs:
Stiffness of the hand when you try to move it around.
Reduced range of motion for the hand when you try swinging it around.
Tendinitis (nearby tendons start to swell).
A tingling feeling on your arms when bone spur presses on the spine.
What Are the Treatment Options for Shoulder Bone Spur?
A doctor will recommend physical therapy or medication to remedy a shoulder bone spur. Stretches can help strengthen the muscles around the joints and reduce pain. You could be prescribed over-the-counter painkillers or cortisone shots for more potent painkillers.
Osteoarthritis can be a tremendous chronic pain that medication and physical therapy cannot help. Your doctor, in such cases, would recommend surgery to minimize pain and improve range of motion.
Arthroscopic debridement is a minimally invasive surgery where the surgeon accesses the arthritic shoulder and removes any bone or cartilage "debris" affecting the joint function.
The physician makes a small long deep cut (incision) and inserts an arthroscope which is then navigated into the damaged area. The arthroscope is fitted with a tiny camera with a light-emitting diode and can capture live images broadcast on the monitor.
Recovering From a Shoulder Bone Spur Injury
A shoulder bone spur surgery is a small incision, and the recovery is quicker than the open surgery (you can do light duties in two to three weeks unless the doctor prescribes otherwise.) Your arm could also stay in the sling for one to six weeks.
You should spend four to six months in rehab for a complete shoulder bone surgery to recover. You can start light weight lifting and jogging after about three months.
What Can You Do When Recovering From a Shoulder Bone Spur Surgery?
Healing from a medical procedure can subject you to both mental and physical stress. Creating a routine case saves your mind as you pass the time. Here is a list of activities that you can do to keep you healthy:
Always keep the dressing over the incision clean. You do not want to create a breeding ground for pathogens.
Rest whenever you are tired. Understand your body and give it sleep when it wants. Keeping a thin pillow on your arm can improve ergonomics.
Try a walk every day. Try to beat your previous record every time. It will keep you motivated, improve the blood flow and prevent opportunistic diseases like pneumonia.
Do not lift heavy stuff for two to three weeks. Anything more severe than a plate could be overloading your healing harm.
Drink a lot of fluids unless your physician declines.
You might also feel a little pain and shoulder stiffness as you recover. If your doctor fails to prescribe any painkiller and you feel some pain, you must first consult a qualified physician for a prescription.
Do You Need Surgery or Not?
You might be uneasy with needleless scalpel piercing and slicing off your skin. Or you have a busy schedule and can't remember to take the pills on time.
The surgery is also more expensive than other methods of medication. The surgery costs about $79 or even more if you lack health insurance. Plus, you will need extra money for the slinging. You can find OTC pain relievers for $30 a total dose.
Doctors seldom recommend surgery unless the bones have been scratched for a long, especially in old age. The surgery is also a quick procedure, and you shouldn't be scared of the pain. There is also anesthesia that wears out after
Eating a well-balanced diet with plenty of calcium and vitamin D could prove valuable. Doing weight-bearing activities like boxing and chest press-up can also help strengthen your bones. You should also practice proper weightlifting to avoid injuries that can create health problems you can avoid in the future.
AS FEATURED ON:
AS FEATURED ON:

By: Mikhail Kondrashov

An MRI may be used to confirm the existence of a suspected shoulder bone spur.

By: sunabesyou

Shoulder pain and a limited range of motion may be symptoms of a bone spur.

By: Photographee.eu

A physical exam may need to be conducted by a physician to properly diagnose a shoulder bone spur.

By: Dirima

Shoulder pain associated with a bone spur originates from the inflammation the spur causes.

By: Distinctive Images

A bone spur in the shoulder will show up on an X-ray.

By: joshya

A shoulder bone spur may be caused by excessive stress on the shoulder joint.