What is a Squamous Papilloma?
A squamous papilloma is a wart-like growth caused by viral infection of the skin. This usually benign growth can be found on various areas of the body but most often occurs in the mouth or genital regions. Squamous papilloma growths often present due to a human papillomavirus (HPV) infection and are typically are not contagious. The name results from its unusual stalk-like structure.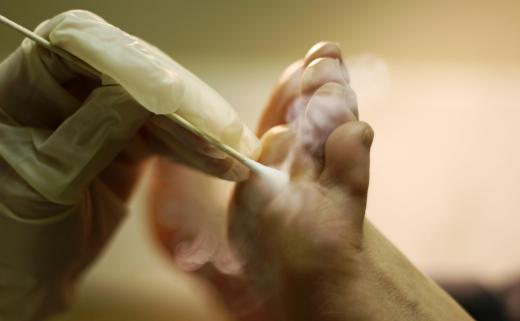 Mucous-producing tissue comprises the squamous papilloma. The mass has small projections with pointed or rounded ends, and it can be pink or white due to overproduction of a protein called keratin. A typical size of roughly 1 inch (about 2.5 cm) or less may make the irregularity hard to detect. The lesions also tend to occur in small numbers. In fact, it is not uncommon for individuals to report only a single growth.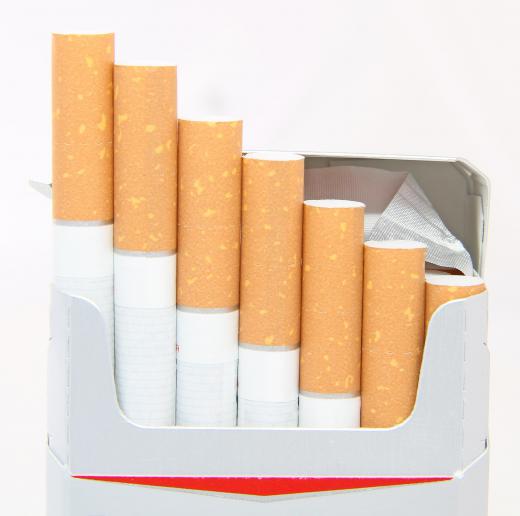 While a squamous papilloma can theoretically occur anywhere on the skin, it is most commonly found inside the mouth and throat or around the anal or genital areas. Skin infections are usually called warts, and genital infections — typically transmitted sexually — are known as genital warts. Regardless of location, the growths are often painless, though once present, they may remain for an indefinite period of time. Mouth infections are especially common.
An oral papilloma differs from other types of papilloma in a few important ways. While most of these growths are noncancerous in nature, a growth within the mouth does have a slightly higher likelihood of developing into a malignant mass. Oral papillomas also occur in greater frequency and are more likely to recur. As a result, they pose a potential respiratory risk if they overpopulate the throat.
Viral infections of the squamous cells in the skin's epithelium are the usual culprits of a squamous papilloma, particularly the human papillomavirus. These double-stranded DNA viruses are so efficient because they can seamlessly integrate with the host's own DNA. HPV viral types are also prolific, numbering 68. Types HPV-6 and HPV-11 most often lead to development of a squamous papilloma. On the positive side, this type of papilloma also has a low likelihood of contagiousness.
Treatments for squamous papilloma can range from doing nothing to minor surgery. If it is a non-intrusive and benign skin growth, the papilloma may be left alone for years with no consequence. On the other hand, if the growth becomes larger, unsightly, or otherwise abnormal, a medical appointment should be considered to eliminate the possibility of malignancy. A physician may subscribe keratinolytic agents containing lactic acid or a liquid nitrogen treatment for benign cases. Surgical removal may also be recommended.


By: vladimirfloyd

A squamous papilloma most often occur in the mouth.

By: Gordon Lau

Some occurrences of squamous papilloma can be removed using liquid nitrogen.

By: illustrez-vous

Individuals who smoke cigarettes may be more susceptible to contracting genital warts.

By: isyste

A squamous papilloma is a wart-like growth caused by viral infection, often on a woman's genitals.

By: naypong

Surgical removal may be recommended to treat squamous papilloma.