Commonly, stress rash is what is known as hives or urticaria, and it might occur in greater or lesser amounts under a variety of stressful circumstances. It's important to note that urticaria has many different causes, and its presence doesn't always indicate stress. Instead it might suggest allergic reaction to ingested food or coming in contact with substances to which the skin is sensitive. Stress rash could be the diagnosis if a person can associate the development of hives with stress. It's also possible for high levels of stress to cause other rashes that are disease based, like herpes on the genitals or face.
Many people want to know why stress might result in a rash, and the answers to this are not as clear-cut. Stress may affect the body's immune system, which can have an effect on inflammatory response. The reaction may be similar to what occurs when the body responds to a substance to which it is allergic, but in this instance, stress could be considered the allergen. As stress levels rise, so can inflammation and histamine levels. Essentially, some people may be having an allergic response to stress. This causes the telltale signs of stress rash where bumps, red raised skin, and itchiness may cover the body in small to large amounts.
This idea of stress allergy is an interesting one, since some people clearly don't have and will likely never get a stress rash. Yet all people undergo stress. Some people's bodies may simply be better at coping with difficult or anxious times, and others find that slight nervousness can trigger an inflammatory skin response. There may be physical differences in the way people handle and process anxiety that accounts for the variation in stress rash expression.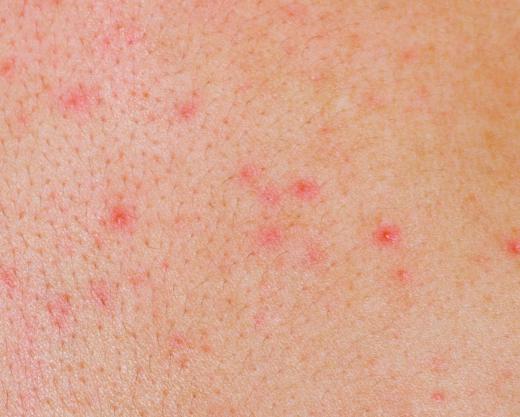 Treating stress rash can take several directions. The first of these is to promote comfort when a person has an active rash. First line treatment is typically oral antihistamines, which help dull inflammatory response and make the rash go away. This can take a few days to be fully effective.
Prevention of stress rash is vital, too. While people can't always prevent stress, they might be able to find new methods for coping with it, such as: learning relaxation exercises, adopting stress reduction techniques, participating in talk therapy, or finding additional methods to handle high anxiety levels. Sometimes people benefit from medication to treat conditions like depression, anxiety, posttraumatic stress disorder, or panic disorder. These could also help dull the body's response to stress. Given the individual nature of stress response, each person will likely derive a specific plan that best works, and evidence the plan is working would be reduction of stress rashes.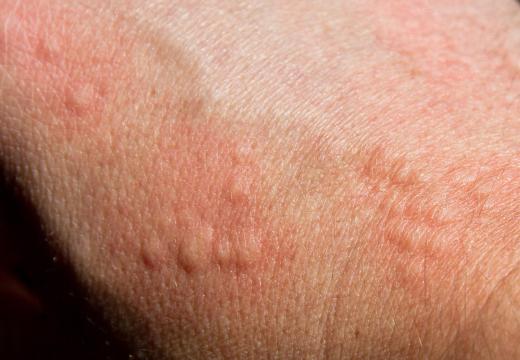 It shouldn't be assumed hives is a result of stress. People should also plan to see a dermatologist if they have recurrent rashes. Sometimes allergy testing is recommended to determine its cause. Since many illnesses are manifested by skin rashes, it's also good idea to get diagnosis of the rash, instead of assuming it's hives.


By: ampyang

Some individuals may experience a rash during stressful times.

By: fabfotos

Symptoms of a stress rash may resemble those of an allergic reaction.

By: Valua Vitaly

Reducing the level of stress may be helpful when dealing with a stress rash.

By: defun

A stress rash.

By: Jürgen Fälchle

Stress may trigger hives, which are very itchy.

By: Wellford Tiller

Oral antihistamines can help eliminate a stress rash.

By: ArTo

Since many illnesses are manifested by skin rashes, it is a good idea to get diagnosis of the rash.

By: Piotr Marcinski

Stress can cause acne in adults.

By: librakv

The presence of red, itchy bumps may be a sign of a stress rash.