What is a Tibial Tubercle?
Alternately known as the tibial tuberosity, the tibial tubercle is a bony protrusion on the anterior, or front, part of the top of the tibia bone in the lower leg, which forms a small bump roughly 1 inch (2.54 cm) below the kneecap. It serves as a point of attachment for the patellar ligament, which originates above the kneecap as the suprapatellar tendon, where the quadriceps femoris muscles insert, and then continues past the patella, or kneecap. Both the patella and the tibial tubercle are visible through the skin at the knee joint. Furthermore, the entire chain of quadriceps, tendons, patella, ligament, and tibia acts as a lever to extend the leg at the knee through the contraction of the quadriceps muscles.
Because the tibial tubercle is an end-point for the chain of muscles, tendons, and bones involved in knee extension, a group activated during movements ranging from cycling to jumping, injuries to this bony point are possible, though uncommon. One type of injury is known as an avulsion fracture, in which a fragment of bone breaks off from the main body of the bone — in this case the tubercle is split from the tibia.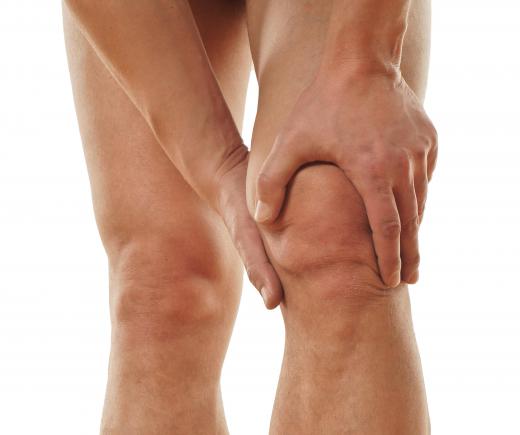 This particular avulsion, which is most common in male adolescents, tends to occur following an extension of the knee joint during the push-off or landing phase of a jump. The injury happens where the ligament attaches to the bone, as the forces causing the extension on the knee joint, which pull upward on the ligament, are greater than the forces holding the bone together. Outside forces, such as a high-impact landing, are usually more responsible for a tibial avulsion than internal forces, such as a very powerful quadriceps muscle contraction, due to built-in neurological reflexes that prevent a muscle from excessively lengthening during extension.
To treat a tibial avulsion, orthopedic experts recommend immobilizing, elevating, and icing to treat swelling. In many cases, rest and immobilization via a cast or splint are enough to heal the injury. When the tibial tubercle breaks away entirely from the tibia bone, however, surgery may be required to reattach the piece of bone using screws. Recovery from surgery may take up to six months, with more healing time recommended prior to returning to sports. In the case of mild fractures, as little as four weeks of immobilization followed by light therapy may be indicated.
AS FEATURED ON:
AS FEATURED ON:

By: underdogstudios

The tibial tubercle is on the front of the knee just below the kneecap.

By: NICOLAS LARENTO

The tuberosity is the ridge at the top of the tibia (lower bone) in this side view x-ray of the knee.

By: Marina Lohrbach

Alternating hot and cold therapy can help reduce pain and swelling.

By: CandyBox Images

The tibial tubercle is used in extending the knee.

By: amawasri

A tibial avulsion must typically be treated by first immobilizing the leg.