In the field of medicine, a urinary stent is a tube that is inserted into the ureter to aid the flow of urine from the kidneys to the bladder. This is a common treatment for a variety of urinary problems, including kidney stones. It is usually a temporary treatment designed to physically relieve an obstruction that is preventing the normal passage of urine to the bladder.
Kidney obstructions occur when something blocks or impedes the ureter, the muscular tube that leads from each kidney to the bladder and through which urine flows. Such obstructions may have a number of different root causes. Kidney stones, or particles of stones, can move into the ureter and block it. The ureter itself may become narrowed due to scarring or other problems. Obstructions may also occur after urinary surgery due to infection.
Ureteral stenting is a vital procedure when kidney obstructions occur, because if urine is allowed to build up in the kidneys then serious problems may result. High pressure builds in the kidneys, resulting in damage. Infection can also occur as the urine in the kidney stagnates.
The root cause of kidney obstructions cannot always be detected and treated immediately. The insertion of a urinary stent is, therefore, a common procedure in urology, in order to prevent permanent damage to the kidneys while the root cause of the problem is resolved. Another scenario where a urinary stent may be important is after surgery to the ureters. This can allow the ureters to heal while providing a temporary help to the drainage process.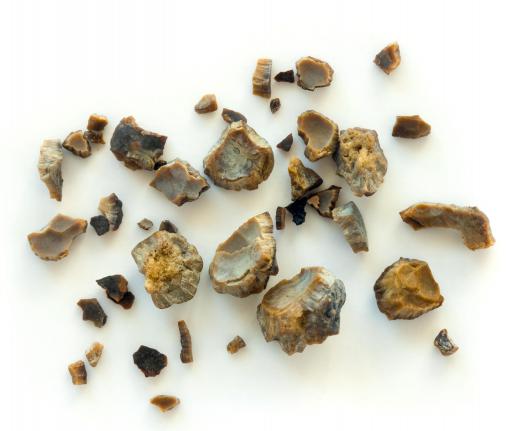 Urinary stents are usually made from flexible plastic. They are thin, hollow tubes with a coiled portion at each end. Once the stent is inserted, the straight part of the stent, which is usually around 24 to 30 centimeters in length, runs along inside the ureter. One coiled end is present inside the kidney and the other inside the bladder. The coiled parts of the stent keep it in place.
A urinary stent is usually inserted under general anesthetic. It may be done during other urinary surgery, or as a stand-alone procedure. In the latter case, the procedure is usually performed using a device called a cystoscope. This is a kind of telescope that is pushed up via the urethra, which is the tube leading from the bladder to the external urinary opening. Once inserted, the position of the urinary stent may be checked using an x-ray.
AS FEATURED ON:
AS FEATURED ON:

By: London_England

If urine is allowed to build up in the kidneys, then serious problems might result.

By: airborne77

A urinary stent may be temporarily used to treat kidney stones or other bladder obstructions.

By: oneblink1

Kidney stones can be very painful.

By: acherst

An ultrasound may be used to detect kidney stones.

By: joshya

Individuals who experience frequent urinary problems may have an increased risk of developing bladder cancer.